If You're Shaken To The Core By Netflix's 'The Push,' Here What To Do Next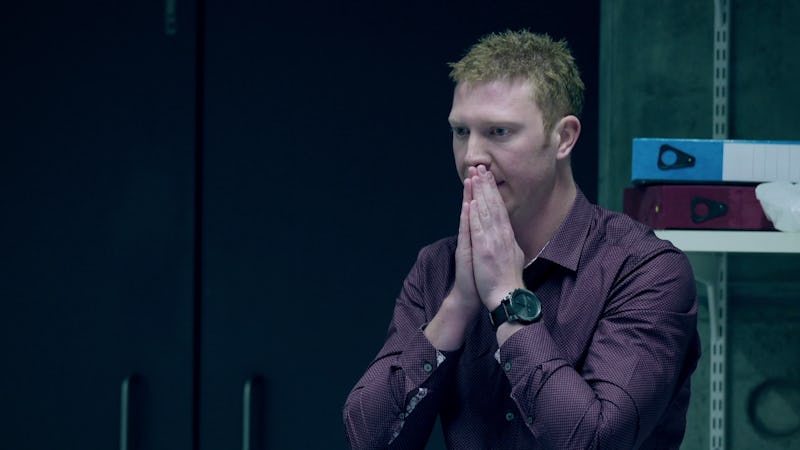 More often than not it seems, when Netflix debuts a new series or movie, it causes quite a stir. Their latest headline-grabbing project is the new documentary The Push, which plays like an episode of a reality show in which the unwitting contestant is manipulated into possibly committing a murder. It's pretty wild, and it really seems like there's potential for more than just one installment, so will there be more episodes of The Push on Netflix?
UK-based fans may already know the answer to this question, since The Push isn't as new as Netflix would have you believe. The doc actually premiered on the UK's Channel 4 back in 2016 as Derren Brown: Pushed to the Edge, and it remains the lone installment in what was always meant to be a one-off social experiment, not an ongoing series. Therefore, it seems highly unlikely that Brown would repeat this same experiment again in another episode of The Push for Netflix.
However, that doesn't mean Netflix won't be airing other similar one-off documentaries from Brown. In fact, The Push is just the first of three such specials the streaming giant will be airing in the coming months after reaching a deal with Brown in January, according to Deadline.
After The Push, Netflix will be premiering another old Brown special called Derren Brown: Miracle, which also originally aired on Channel 4 in 2016. In Miracle, Brown, an atheist, performs a stage show in front of a live audience under the guise of being a religious zealot. He demonstrates ideas like the healing power of faith by convincing audience members that he can heal them through God, and some actually believe he's able to do so. Of course, he's doing nothing of the sort, but the mind tricks he plays on his faithful subjects leave some believing that he truly is a miracle worker.
As for Brown's third Netflix special, details are a bit scarce because it's a new production that will premiere for the first time on Netflix. According to Deadline, the new special will be as "daring and jaw-dropping" as his previous specials, but the site didn't go into anymore detail than that. Given what fans have seen from Brown's career so far, it seems likely that the new special will revolve around the illusionist and his accomplices manipulating people in some kind of deranged and extreme social experiment.
Brown, who is categorized as a mentalist and illusionist, has a long track record of exposing frauds in his field and making people do unsettling things through his mind experiments. His first foray into television was on the 2000 series Mind Control, which saw him conduct a number of psychological experiments on real people in order to put them in outlandish situations. This was followed by a similar series, Trick of the Mind, which aired in the UK from 2004 to 2006. In 2007, Brown debuted a series called Trick or Treat were participants would be subjected to either a good or bad experience depending on what card they drew — trick or treat.
Brown also made his US television debut in 2007 with the short-lived Syfy series Mind Control with Derren Brown, which combined new segments with footage from his previous series. He also had a four-part series called The Events in 2009, which saw him commit to large scale experiments in front of a live audience — such as convincing them he could predict winning lottery numbers. The next year, he starred in the three-part series Derren Brown Investigates, which saw the host attempt to debunk people who claimed paranormal abilities, like ghosthunters. His final series was 2011's The Experiments, which like The Push, saw Brown, aided by an army of actors, attempt to manipulate an unwitting person into committing a horrific act.
In between his numerous series, Brown has also starred in a number of one-off specials similar in format to The Push. Some examples include his apparent performance of a game of Russian Roulette, his convincing people to rob a van, and his tricking various faith communities into believing he was their messiah.
Netflix may not be continuing The Push, but the streaming service will definitely be showing lots more controversial experiments from illusionist Derren Brown — some of which may end up making The Push look tame by comparison.