Brett Kavanaugh Will Be The Next Supreme Court Justice — If He Clears This One Hurdle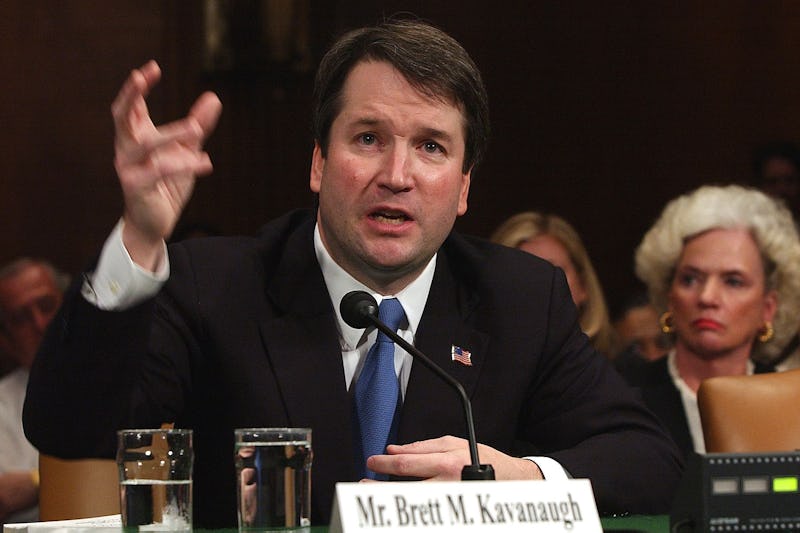 DENNIS COOK/AP/Shutterstock
After much anticipation, on Monday evening President Donald Trump announced his pick to fill Anthony Kennedy's seat on the United States Supreme Court. Now that Trump's announcement has been made, you may want to know if the Senate will confirm Brett Kavanaugh. Because confirmation only requires 51 votes, there's a good chance that Kavanaugh will be confirmed. However, the outcome will likely largely depend on the votes of several more centrist Republicans and Democrats.
Back in April 2017, Senate Republicans introduced the nuclear option into the Supreme Court nomination process in order to secure the confirmation of Neil Gorsuch, Trump's pick to replace the late justice Antonin Scalia. The nuclear option means that only 51 votes (a simple majority) are required to confirm a new justice to the Supreme Court. Prior to the nuclear option being introduced, a filibuster-proof 60 votes were needed to confirm a SCOTUS nominee.
Since only a simple majority is needed for confirmation, it is quite likely that Kavanaugh will be confirmed as the newest Supreme Court justice. Currently, the Senate has 51 Republicans, so if all members of the GOP vote for Trump's pick, Kavanaugh will be confirmed. However, this scenario can only occur if Senator John McCain returns to the Senate chamber. McCain has been home in Arizona battling brain cancer and cannot vote from afar. As CBS News reported, it is unclear whether he would return to the Senate chamber to vote on Trump's nominee and/or whether he would support Kavanaugh
In the case of a 50-50 tie (i.e. if McCain is absent and all other Republicans vote for Kavanaugh and all Democrats vote against Kavanaugh's nomination), Vice President Mike Pence would cast the deciding vote. It is certainly expected that Pence would vote to confirm Trump's nominee, which would mean that the nomination would ultimately succeed.
Securing all Republican senators' votes is far from a guarantee, however. As CNN reported, more moderate Republican Senators Lisa Murkowski and Susan Collins could potentially vote against Trump's pick, particularly if they believe that Kavanaugh would be likely to overturn the landmark abortion case, Roe v. Wade. Indeed, Collins told CNN in early June that she would not vote for a nominee who supported overturning the case because it would "mean to me that their judicial philosophy did not include a respect for established decisions, established law."
Murkowski has also indicated that it is not a guarantee that she will vote along party lines. As the senator told Politico in a June 28 article,
There's pressure because of the gravity of such a nomination ... I am not going to suggest that my opportunity as a senator in the advise and consent process is somehow or other short-cutted just because this is a Republican president and I'm a Republican.
Republican senators are not the only ones who may not vote along party lines, though. As CNN explained, Democrats Joe Donnelly of Indiana, Joe Manchin of West Virginia, and Heidi Heitkamp of North Dakota could all potentially support Trump's pick, as they all voted to confirm Trump's previous nominee, Neil Gorsuch, back in April of last year. These three Democrats are all up for re-election in states which supported Trump during the presidential election and, as such, may be more likely to support Trump's SCOTUS pick as a way to retain the support of their constituents — and help ensure their reelection.
Overall, while Trump only needs the votes of 51 senators to make Kavanaugh the next Supreme Court justice, these votes are certainly not a guarantee.