Ivanka Was Asked If The Trump Org Will "Hire American" & Her Answer Is Puzzling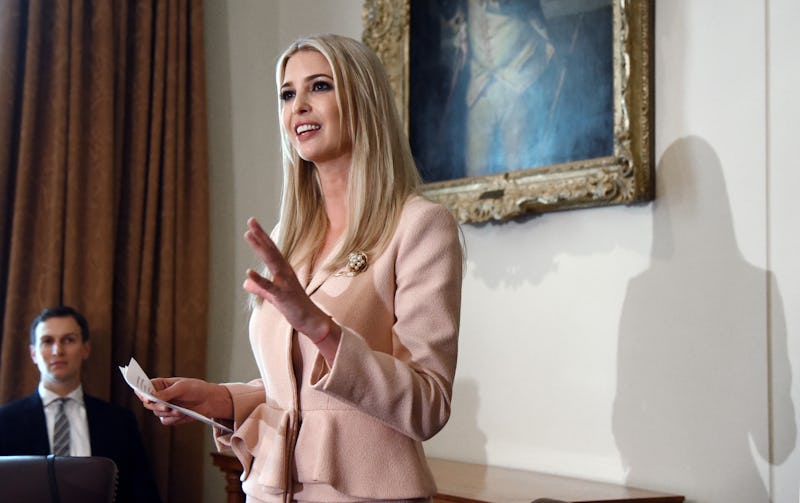 Pool/Getty Images News/Getty Images
First Daughter Ivanka Trump has taken to the road to promote a new Trump administration program. What isn't so clear is whether or not she will voluntarily apply that program to her family's business. After Iowa-based ABC affiliate KCRG asked whether the Trump Organization would sign the "Hire American" pledge, Ivanka sidelined the question. The plan is also known as the "Pledge to America's Worker."
The pledge is a result of the Trump administration's new National Council for the American Worker, which was formally established via executive order on Thursday. It aims to help fill 3.7 million jobs by promoting job training and the hiring of American workers, NBC reports.
"This is about really thinking holistically about skills development, vocational education, apprenticeships, through the arc of one's career," Ivanka told KCRG's Washington bureau chief, Jacqueline Policastro. "And we're going to take it across the country so it's called the 'Pledge to America's Worker' and we are hoping that companies large and small join with us."
According to Ivanka, a significant group of companies has already agreed to get on board. Pledge participants, she said, come from organizations both large and small.
"We are inviting large employers, small employers, trade associations to join us and sign this pledge to America's worker," she said. "IBM, Lockheed Martin, Walmart. Walmart pledged one million workers. Fed-Ex the founder of Fed-Ex Fred Smith pledged to create job opportunities for 500 thousand additional workers. So, we had unbelievable numbers."
But when Policastro asked Ivanka whether or not the Trump Organization would sign on to the pledge, Ivanka declined to confirm or deny, suggesting it was out of her hands.
"It's a great idea!" Ivanka responded. "I will recuse myself from calling them, but somebody in this room should do it!"
When it comes to the new worker's council, Ivanka and her father have emphasized a perceived need to train American workers so that they can fill the job vacancies that exist. Such training, they have argued, doesn't necessarily come from a four-year college education. Instead, they say, more workers need practical training that isn't generally taught in a typical college environment.
"We have tremendous numbers of people who really are phenomenal in every way but they're not trained and they're not qualified," Trump said during an interview with CNBC's Joe Kernen, which aired last Friday, the day after he signed the executive order.
Trump suggested that job preparedness has changed in recent decades. That change, he said, has left some companies in a peculiar position.
"We need people who are skilled," he told Kernan. "We need people who are trained. It's much different than it was 30 years ago and 40 years ago."
Ivanka echoed her father's words in her interview with ABC.
"For the last several decades there has been a narrative that there's one path and that's 4-year college," she said. "And that works really well for a lot of people. And it doesn't work as well for a lot of other people who come out of college and they are saddled with massive amounts of student debt and they don't actually have a skill that employers are looking for."
Whether or not the Trump Organization will sign the pledge is currently unknown. Ivanka made clear that she did not think it was her job to see that it does.