Yes, There Will Be Restrooms At The Women's March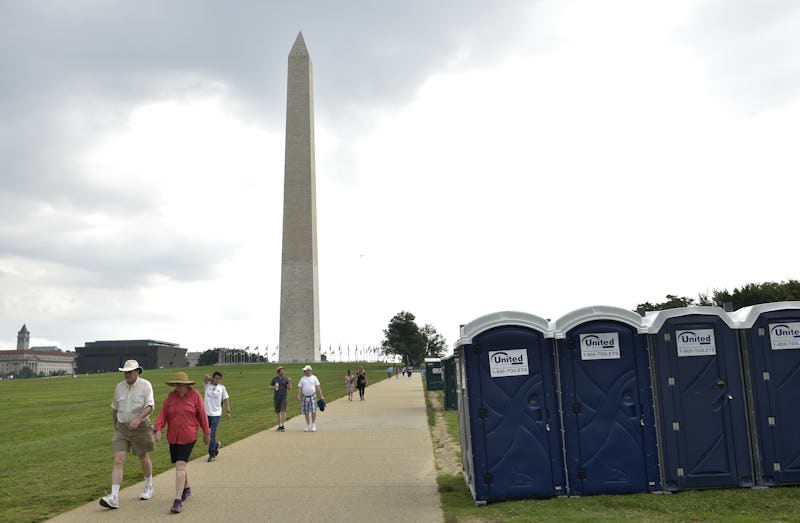 MANDEL NGAN/AFP/Getty Images
The Women's March on Washington is coming up at 10 a.m. on Saturday, Jan. 21, and if you plan on attending this empowering feminist event, you may have some practical questions in mind. Namely, will there be bathrooms at the Women's March?
The answer is yes, but they will likely be of the portable variety. The march organizers are planning on having restrooms along the march route and rally location, according to the Women's March website. But considering that more than 200,000 people have signed up to attend the Women's March on the event's Facebook page, the wait times for using the restrooms during the event will probably be a bit long.
Of course, if you know a place that has a restroom that just happens to be along the route of the march, you might be able to sneak off to use it. The march officially starts at the intersection of Independence Avenue and Third Street SW, which is near the U.S. Capitol. But you won't be able to plan out an exact bathroom route; an official route for the march hasn't been released due to security reasons. But the Women's March will be ending at the Washington Monument, so you might be able to come up with a few options.
The Women's March is happening the day after the inauguration of President-elect Donald Trump, but the march doesn't explicitly bill itself as an anti-Trump protest. Instead, the march's organizers describe it as a movement of solidarity for women and people from traditionally marginalized groups. And instead of being just a one-day event, the organizers intend for the march to be "the first step towards unifying our communities, grounded in new relationships, to create change from the grassroots level up."
There was some controversy when the march was first created due to there not being any women of color on the leadership team. The team has since been diversified to include women of different backgrounds. As a woman of color myself, I appreciate the inclusive way the event has been marketed, including through its intersectional principles of unity.
If you can't be in Washington D.C. for the Women's March but you still want to be get involved, there will be marches in all 50 states, and in many other countries as well. You can find a sister march near you here. Additionally, you can make a tax-deductible donation to the women's march. Here's to a successful Women's March, and to a movement that continues until women's rights are acknowledged by all to be human rights.