There Could Be Another KVD x Too Faced Collab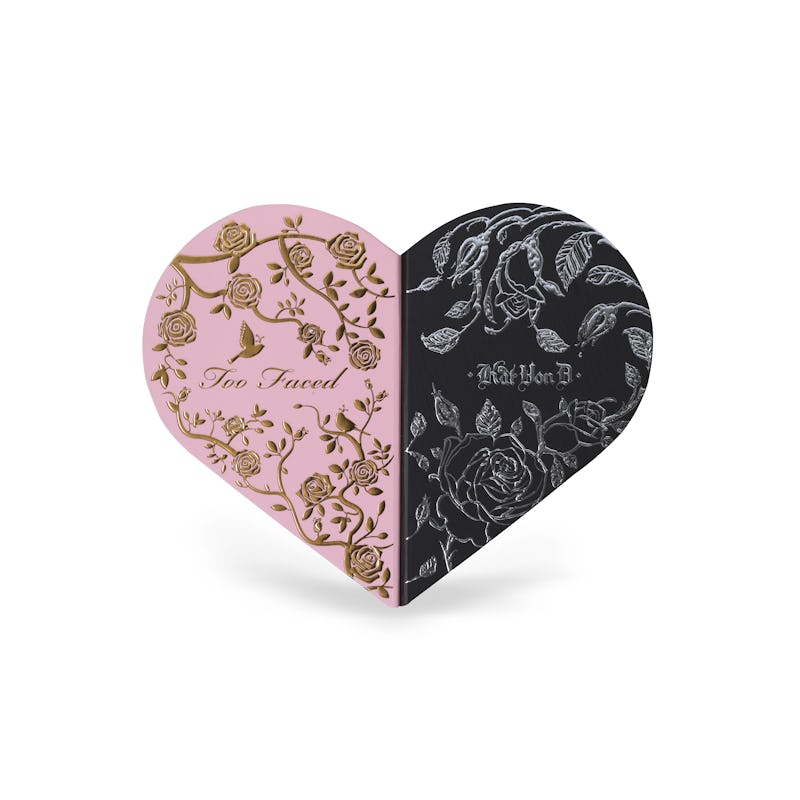 They are indeed "Better Together!" The Kat Von D x Too Faced Better Together collab is a first-of-its-kind makeup mashup between two brands. I am thinking there will be a follow up collection.
Upon receiving official press materials for the collab, I was struck by the fact that the collection was described as "Volume 1."
My immediate reaction was this: "If this is Vol. 1, that must mean there will be a Vol. 2." So, is a second Kat Von D x Too Faced Better Together collab in the works?
We don't know, but Bustle reached out to the Better Together PR reps for further details and clarification.
That said, I grabbed the heart-shaped, magnetic eyeshadow palette and it effectively represents the products and aesthetics of both brands, which are more complimentary than you'd think. This collab is proof that opposites do attract, wonderfully so. KVD's rock 'n' roll vibe meshes perfectly with Too Faced's fun 'n' feminine energy. The collection features the aforementioned palette and a lip and cheek set with a cute, two-sided makeup bag featuring each brand's beloved pet aka furry mascot. There's also a slay-tastic eye combo, boasting the KVD Tattoo Eyeliner and Too Faced's Better Than Sex Mascara, which are both brands' hero products. The collab is super limited edition and is expected to sell out.
The exact wording in the Better Together press release was this: "The highly anticipated Kat Von D Beauty x Too Faced Cosmetics 'Better Together' Volume I Collection is finally here! Kat Von D and Too Faced Co-Founder and Chief Creative Officer Jerrod Blandino are making history with this super-covetable collection created to celebrate love, true friendship and a passion for makeup."
One can't help but make the leap that Volume 1 will be followed by Volume 2. Perhaps these two brands have something up their sleeves for summer? We can only hope... all the while enjoying Vol. 1
The best! Let's pause not for a station identification but to gawk at the general awesomeness of Better Together.
Seriously, though. The current collection is stellar. I cannot help but want an encore.
Grab the Volume 1 collection while it's still grabbable.
Images: Courtesy of Kat Von D x Too Faced (5)