The U.S. May Be Spared The Rage Of A Third Potential Hurricane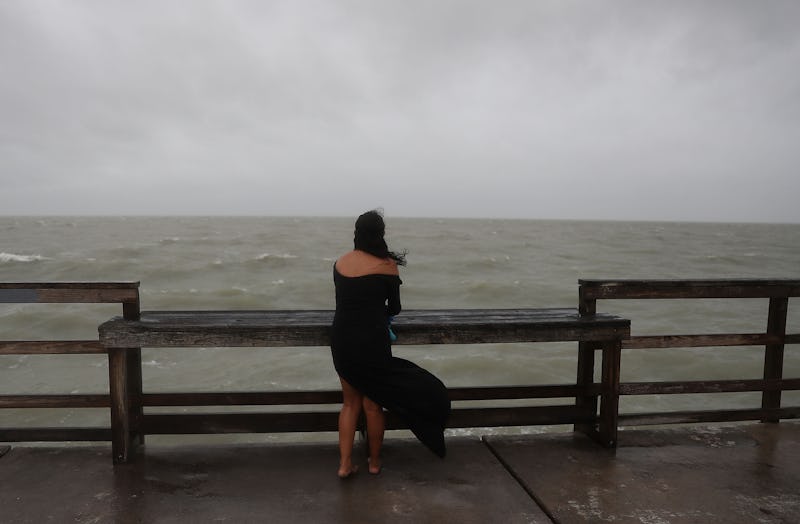 Joe Raedle/Getty Images News/Getty Images
While residents of Houston and other coastal Texas cities cope with the aftermath of Hurricane Harvey, and Florida prepares for the likely impact of Category 5 Hurricane Irma, yet another storm is brewing. Now designated as Tropical Storm Katia, it is expected to grow to hurricane strength. Thankfully for Texas, however, Tropical Storm Katia isn't projected to hit the U.S.
Formed in the Gulf of Mexico, meteorologists predict Katia will move west from its current location in the Bay of Campeche, and could be at hurricane status when it makes landfall in Mexico. The National Hurricane Center predicts Katia could hit the south-central coastline of Mexico some time on Saturday. They also expect that landfall to significantly weaken Katia, downgrading its status back to a tropical storm as the system moves westward over Mexico.
That doesn't necessarily mean less in economic and human costs, of course. Hurricane Harvey also weakened to a tropical storm by the time its rains hit Houston with a deluge of flooding, but the full impact of Harvey's damage still remains unknown. So residents in Katia's path are well-advised to watch the storm's movements closely, and make any and all necessary preparations to ride out the storm as safely as possible.
Besides Katia, there is another storm building to the east. Now designated as Tropical Storm José, the system is forming in the Atlantic Ocean, and is on a westward track towards the Antilles. The National Hurricane Center has identified the storm, and projects that it will become a hurricane on Wednesday or Thursday. As of now, its path will turn sharply north, and is not expected to impact U.S. residents on the mainland.
While millions will be watching to see how Irma impacts Florida and other coastal states, islands in the Caribbean are already being hit hard with winds of 185 miles per hour from the Category 5 hurricane. While Prime Minister Gaston Browne of Antigua and Barbuda has given thanks for being "spared the worst of Irma," the island of St. Martin could be hit directly with the hurricane's eye wall. And as this is the strongest hurricane on record in the Atlantic, the potential devastation from such an impact could be catastrophic.
For anyone living in the path of a hurricane or tropical storm, it's best to be prepared for the worst. Thankfully for American residents, Hurricane Katia is not expected to approach anywhere close to the U.S. And for a place still reeling from Harvey and preparing for the massive Hurricane Irma, that can only be heartening news.