Another Tropical Storm Is On Its Way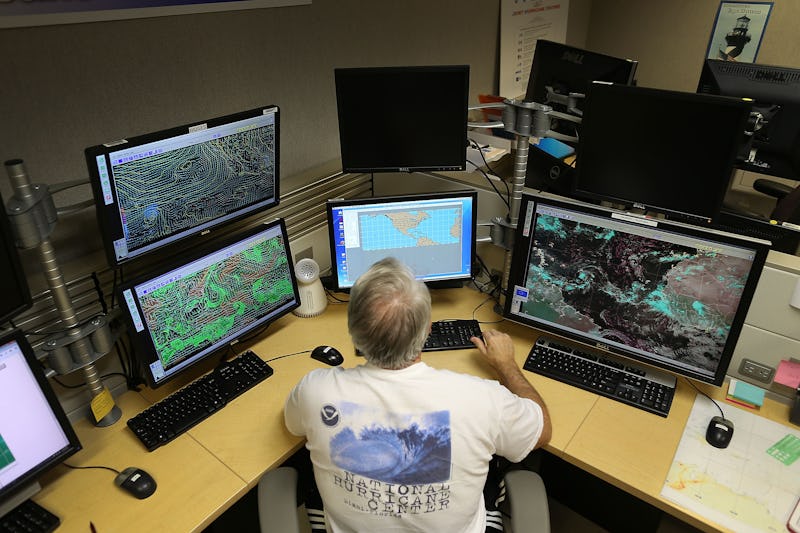 Joe Raedle/Getty Images News/Getty Images
This has been a particularly bad hurricane season, and from the looks of things it's not over just yet. Just weeks after Hurricane Harvey battered and flooded the greater Houston area, Hurricane Irma struck the state of Florida, and Hurricane Maria ravaged and devastated Puerto Rico, there's another tropical storm swirling in the Gulf of Mexico that forecasters are warning about. So, the big question: will Tropical Storm Nate hit Florida, or will the Sunshine State be spared another tangle with a major storm system this year?
The situation doesn't look great at present, although its important to note that storm tracking can be a difficult and unpredictable practice. As it stands, based on both the 1 to 3-day and 3 to 5-day projections from the National Hurricane Center, Nate is expected to move north through the Gulf of Mexico this weekend, and could potentially make landfall sometime Sunday morning.
The NHC's most recent forecast suggests that Nate will hit Alabama and the Florida panhandle over the weekend. And it could end up being more powerful than it currently is ― according to The Washington Post, the agency said on Wednesday that while it's too early to predict with certainty, it's quite possible Nate could strengthen into a hurricane.
The system is forecast to continue strengthening over the Gulf of Mexico and could affect portions of the northern Gulf Coast as a hurricane this weekend, with direct impacts from wind, storm surge, and heavy rainfall. However, it is too early to specify the timing or magnitude of these impacts.
At present, Nate has not achieved hurricane status. For a storm to officially become a hurricane, its wind speeds must exceed at least 73 miles per hour, according to the Saffir-Simpson scale.
If Nate indeed becomes a hurricane and moves up through the gulf, it could be the second hurricane this year to strike Florida, following up on Irma's landfall last month. This time, however, the forecasts suggest it would be the western coast of Florida that bears the brunt of the impact ― the city of Tampa, in particular, could be in for a storm-filled weekend.
Grant Gilmore, meteorologist for local CBS affiliate WTSP, told the Tampa Bay Times he's hopeful that the storm won't hit Tampa, but again, it's too early to predict with iron-clad certainty.
The models are in decent agreement in taking the storm toward the Louisiana/Mississippi coast as a strong tropical storm or weak hurricane by Sunday. I don't think it is going to head toward us, but we are continuing to monitor it.
While Tampa escaped the most serious effects of Irma, it did sustain some very stormy conditions.
Furthermore, should it make landfall in Florida at hurricane-strength, Nate could also potentially be the fourth hurricane to strike the United States this year (and the third just on the mainland), following in the footsteps of Harvey, Irma, and Maria. The last storm on that list left the U.S. territory of Puerto Rico in dire straits, knocking out power to more than 90 percent of the island, and setting off a humanitarian crisis with lack of food and drinkable water. The U.S. Virgin Islands were similarly racked by the storm.
As well as Florida, Mississippi and Alabama are also in Nate's projected range, according to the aforementioned NHC forecast. But while it remains to be seen how the next few days will play out, this much is clear: as the weekend grows nearer, it's going to be far more apparent and obvious what to expect.
Based on that knowledge, it'll be up to state governments to determine whether residents in the storm's path should be advised to evacuate, or to take other safety measures.