Tropical Storm Nate Could Hit These Parts Of The U.S.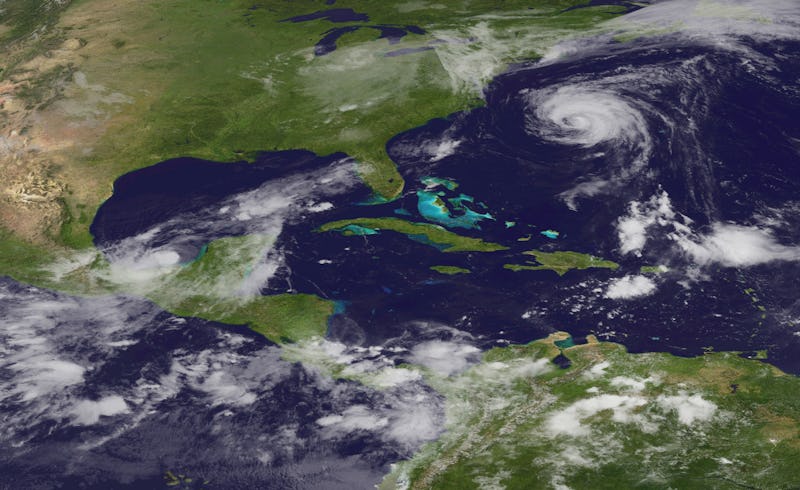 Handout/Getty Images News/Getty Images
The 16th tropical depression of the Atlantic Ocean's hurricane season has officially developed into a tropical storm, as of Thursday morning. According to The Weather Channel, Tropical Storm Nate may strike the U.S. Gulf Coast between Louisiana and Florida on Sunday after passing along the coasts of Nicaragua and Honduras and making its way to Cancun and Cozumel. More specifically, Nate is expected to make landfall somewhere between Florida's Big Bend and coastal Mississippi and Louisiana.
"The system is forecast to continue strengthening over the Gulf of Mexico and could affect portions of the northern Gulf Coast as a hurricane this weekend, with direct impacts from wind, storm surge, and heavy rainfall," the National Hurricane Center announced Wednesday. "However, it is too early to specify the timing or magnitude of these impacts."
The Washington Post reported that Nate could directly impact New Orleans and Tampa, as well as other cities in Florida and Alabama. Nate is currently brushing by the coasts of Nicaragua and Honduras — both of which are now receiving heavy rainfall — as it moves northwest toward Mexico's Yucatan Peninsula, notably Cancun. All three regions are facing flood warnings, while the Yucatan Peninsula — from Punta Herrero to Rio Lagartos — has also been placed under a hurricane watch.
According to the National Hurricane Center, Nate is moving northwest at 8 mph with maximum sustained winds at 40 mph. However, the tropical storm is expected to speed up and move in a more north to northwestward direction, and could obtain sustained wind speeds of up to 75 mph. Hurricanes Irma and Maria, by contrast, had sustained wind speeds of up to 150 and 110 mph respectively.
Nevertheless, the heavy rainfall caused by Nate could in turn generate dangerous flash floods and mudslides. Indeed, Nicaragua is potentially facing between 15 to 20 inches of rainfall. At the same time, due to the Central American gyre — a large, broad area of low pressure in the region, as described by The Weather Channel — other parts of Central America are now confronting clusters of thunderstorms. This includes not only Mexico, Honduras, and Nicaragua, but also Guatemala, El Salvador, Costa Rica, and potentially certain regions of Panama.
Although the NHC made it clear that the storm's exact trajectory could not confirmed, it did recommend that residents of the Gulf Coast be cautious and well-prepared.
Residents along the Gulf Coast from Louisiana through the Florida Panhandle should monitor the progress of this system and heed any advice given by local officials.
Meteorologists have predicted that Nate will continue to strengthen on Thursday night and Friday as it moves along the northwestern Caribbean Sea. When Nate ultimately does make landfall on the Gulf Coast, AccuWeather meteorologist Carl Erickson predicts that it will do so as a Category 1 hurricane, with maximum sustained winds between 74 and 95 miles per hour.
"That's probably the most likely right now," Erickson told the Sun-Sentinel. "A lot will be determined over the next 24 to 36 hours."
In an advisory issued at 5 a.m. Thursday, the NHC explained that Nate is moving over warm waters — which, coupled with the light wind shear it has been encountering, could enable the storm to intensify more rapidly. Despite this, however, forecasters still suggest that the storm may weaken as it crosses Central America and the Yucatan Peninsula.
That being said, the Gulf Coast should still expect heavy rain and flooding, after which Nate will move inward over the east coast of the U.S. CNN's interactive storm tracker indicates that by Tuesday evening, Nate could potentially progress as far north as West Virginia.