Here's Who Trump Could Boot From His Administration Next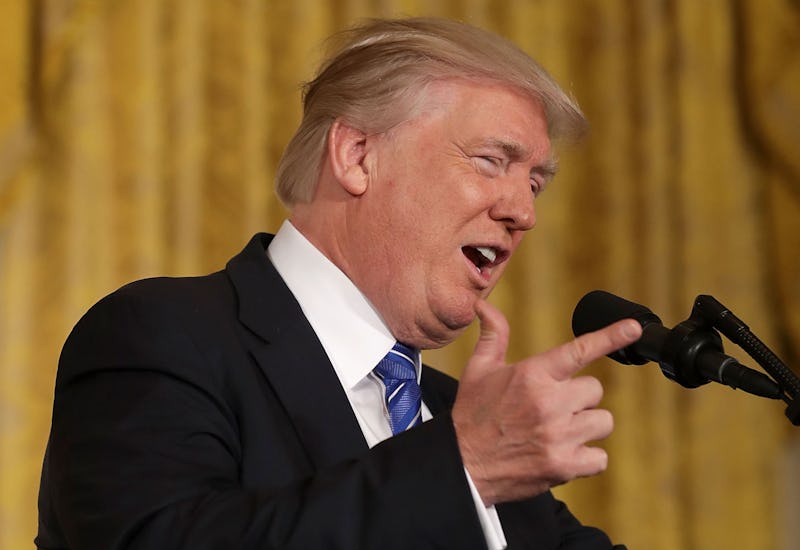 Chip Somodevilla/Getty Images News/Getty Images
Well before Donald Trump became president, he was a reality TV star who reveled in telling contestants, "You're fired!" These days, it seems Trump's White House is just another set piece for The Apprentice. The recent departure of two senior White House officials has spurred rumors that the Trump administration is headed toward a major staff upheaval, starting with his national security adviser. But will Trump fire H.R. McMaster? The lieutenant general isn't the only staffer reported to be on the outs this week.
The list of departed Trump administration staffers continued to grow this week when the president fired Secretary of State Rex Tillerson on Tuesday. News of Tillerson's ousting was immediately followed by reports his chief of staff and deputy chief of staff had resigned, while State Department Under Secretary Steve Goldstein had been fired. It was also announced Tuesday that Trump's personal aide John McEntee was fired amid an investigation into McEntee for financial crimes. Before that, it was economic adviser Gary Cohn, White House Communications Director Hope Hicks, and senior communications official Josh Raffel who made their way to the exit.
It seems the upheaval has gotten so bad that some White House staffers are placing bets as to who's on the chopping block. Even the president has reportedly dropped jokes about "who's next?" While the Trump hasn't thrown out any names in public, there's been a lot of speculation as to who he might choose to fire next.
One of the most talked-about names on the list of people Trump may be planning to oust from the White House is his national security adviser. McMaster's relationship with Trump has reportedly grown tense over the last few months. According to The Washington Post, Trump has complained "that McMaster is too rigid and that his briefings go on too long and seem irrelevant." CNN, ABC News, and The Wall Street Journal have all reported that McMaster appears to be headed toward, if not already on, Trump's chopping block. But the White House has refuted claims of tension between McMaster and the president, with Press Secretary Sarah Huckabee Sanders tweeting Thursday the two "have a good working relationship and there are no changes at the NSC."
Attorney General Jeff Sessions' name has also been brought up in light of reports Trump has repeatedly attacked him in both public and private. In February, the president tweeted Sessions was "DISGRACEFUL." In July, he called him "beleaguered." Sessions has publicly pushed back against some of the president's criticisms and, according to New York magazine, reportedly offered to resign on more than one occasion. But firing Sessions might prove tricky for Trump. Senior Republican members of Congress have expressed concerns doing so would be seen as Trump attempting to undermine the Russia investigation.
There have also been reports that White House Chief of Staff John Kelly may be in danger. According to The New York Times, Kelly "loudly criticized" Trump's decision to fire Tillerson and appears to have "angered the president" by saying "no" in private too often. Trump was also reportedly unhappy with how Kelly handled news of domestic abuse allegations against White House Staff Secretary Rob Porter, according to CNN.
At Thursday's press briefing, Sanders appeared to hint Trump might also be considering firing Secretary of Veterans Affairs David Shulkin following an inspector general report claiming he'd used taxpayer money to cover his wife's expenses during a Europe trip last year. Shulkin has also come under fire in a separate report regarding mismanagement of a Washington, D.C. veterans center.
"Every day we're looking at how we can better the system, whether it's through policy changes or personnel changes, not just at the top level, but across the board," Sanders said when asked if Trump was considering making changes to Veterans Affairs staff.
Other names being tossed around include Secretary of Housing and Urban Development Ben Carson, who has reportedly embarrassed the president with reports of an expensive office redecoration; Interior Secretary Ryan Zinke, whose alleged ethics violations have reportedly tarnished his reputation with the president; Environmental Protection Agency Administrator Scott Pruitt, whose extravagant travel requirements and office decor have caused some ethics concerns; and Education Secretary Betsy DeVos, who may have put herself in danger with her 60 Minutes interview.
Although Trump refuted reports of chaos in the White House via Twitter earlier this month, the president also claimed "people will always come [and] go." His tweet has led some to believe he might announce a series of staff firings sometime Friday or next week.
"I still have some people that I want to change (always seeking perfection)," Trump tweeted.