Rumors Are Swirling That John Kelly Wants Omarosa Out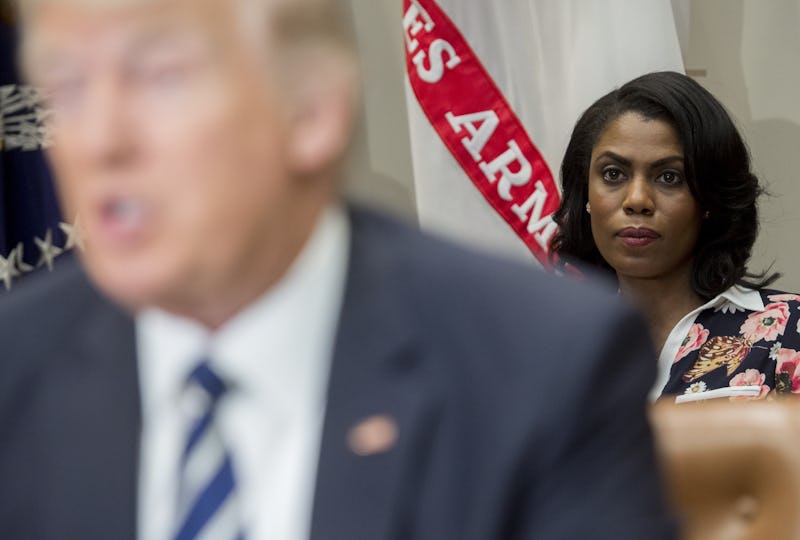 SAUL LOEB/AFP/Getty Images
As part of his ongoing efforts to reign in chaos at the White House, newly-appointed Chief of Staff John Kelly is reportedly seeking to curb Omarosa Manigault's influence over President Donald Trump, according to a report form the Daily Beast. To do so, Trump's new White House chief of staff has reportedly moved to restrict Manigault's access to the president due to her penchant for distracting him with "triggering" news items.
Although Trump "fired" Manigault from his reality TV show The Apprentice in 2004 (as well as from his spin off Celebrity Apprentice in 2008), she managed to land a gig at the White House following his 2016 presidential victory all the same. Currently she serves as the Trump administration's director of communications for the Office of Public Liaison. Yet according to a report from the Daily Beast, Manigault has seen her direct access to President Trump dwindle since Kelly was appointed White House chief of staff.
"When Gen. Kelly is talking about clamping down on access to the Oval [Office], she's patient zero," an unnamed source reported as being close to the Trump administration told the Daily Beast.
Kelly is reportedly particularly keen on keeping Manigault – and other senior staffers – from sneaking "unvetted news articles" onto the president's desk as they tend to "trigger" Trump and distract him. According to the Daily Beast's source, placing news stories in front the president can be an effective method of attempting to influence or direct Trump's train of thought for the day.
An unnamed West Wing official claimed Kelly "is not thrilled by any means by [Manigault]," the Daily Beast reported. The source went on to say Kelly was in fact "thrilled" he'd managed to stop staffers like Manigault "from bolting into the Oval Office and triggering the president with White House intrigue stories,"
Manigault is rumored to have been responsible for turning Trump's attention to criticism from MSNBC hosts Joe Scarborough and Mika Brzezinski, which resulted in Trump repeatedly attacking the duo on Twitter in June. When all was said and done, Trump had called Brzezinski "crazy and very dumb," "dumb as a rock," "off the wall, a neurotic and not very bright mess!" He'd also accused her of having a "mental breakdown" on the air and "bleeding badly from a face-lift" while visiting him at Mar-a-Lago.
Previously Politico had reported that some within the White House – including former White House Chief of Staff Reince Priebus – had found it difficult to "challenge" Manigault due to the preexisting relationship she had with Trump because of her involvement with The Apprentice. But will Kelly be the one to tell Manigault, "you're fired?"