Trump Hints War With North Korea Is The "Only" Thing That Will Work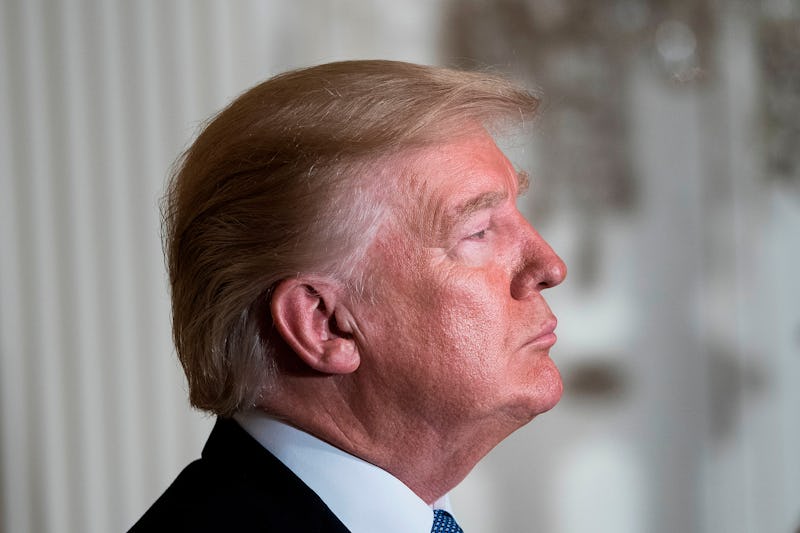 BRENDAN SMIALOWSKI/AFP/Getty Images
On Saturday afternoon, President Donald Trump made a thinly veiled threat of military action. Namely, Trump essentially threatened war with North Korea on Twitter, insisting that efforts to engage the isolated nation diplomatically were doomed to failure and adding ominously, "only one thing will work."
It's basically the same sort of threat he's made several times before, but this one is drawing additional attention and concern, thanks to Trump's cryptic, unexplained remarks about being in the "calm before the storm" earlier this week.
"You know what this represents?" Trump asked the assembled press, flanked by several of his top military leaders and advisers at the White House's State Dining Room on Wednesday night. "Maybe it's the calm before the storm."
Trump declined to state what he meant when he made that remark, but in light of his renewed social media saber-rattling towards North Korea, people are growing understandably concerned that some form of military action, if not an outright war, might be in the works. It's also notable that Trump chose to make such an aggressively anti-diplomatic statement just days after Secretary of State Rex Tillerson publicly insisted he'd never considered resigning. Tillerson and Trump's relationship is reportedly on the rocks, thanks to a recent NBC News report that the 65-year-old former ExxonMobil CEO has privately called the president a "moron."
Tensions between the U.S. and North Korea have been sharply on the rise in recent months, thanks both to the pace of improvements to North Korea's nuclear and missile technologies ― including tests of intercontinental ballistic missiles ― as well as the eager willingness of both leaders to ratchet up the violent, incendiary rhetoric.
In August, in a reportedly unscripted and improvised remark to the press, Trump said that North Korea would be met with "fire and fury," as well as "power the likes of which this world has never seen before." Then in September, Trump made some more threats while speaking to the United Nations General Assembly, threatening to "totally destroy" North Korea if it continues threatening the U.S. and its allies with its nuclear arsenal.
These staunch threats have been returned in kind by North Korean dictator Kim Jong-un, who has threatened to bring a "sea of fire" to the U.S. and its regional allies, as well as calling Trump a "mentally deranged U.S. dotard," and promising to "tame" him "with fire."
As demonstrated above, the progressive veterans group VoteVets was none too pleased with Trump's Saturday afternoon social media threats, calling him "unworthy of being our commander-in-chief."
It's always worth noting that it's nothing new or unexpected for North Korea or its leader to direct this kind of inflammatory, apocalyptic rhetoric towards America and its regional allies like South Korea and Japan. To the contrary, these kinds of threats have been flowing out of North Korea for decades, dating back to when Kim's father, Kim Jong-il, was still ruling the country.
What's undeniably new, however, is the presence of an American president who's totally willing to reflect-back and escalate that kind of language, even as the two countries increasingly appear headed for some manner of armed conflict. Kim himself mentioned this in the midst of his highly publicized "dotard" remark, in fact, noting that Trump's predecessors were not so eager to escalate hostilities.
Far from making remarks of any persuasive power that can be viewed to be helpful to defusing tension, he made unprecedented rude nonsense one has never heard from any of his predecessors. A frightened dog barks louder.
There's been no indication so far whether Trump is actually planning to make good on his threats and launch some sort of military strike. But this much is clear: with these vague, veiled threats, and cryptic remarks of coming storms, he's holding the entire world in a state of panicked suspense.