Here's The One Way Democrats Could Make Trump Release His 2017 Tax Returns
by Priscilla Totiyapungprasert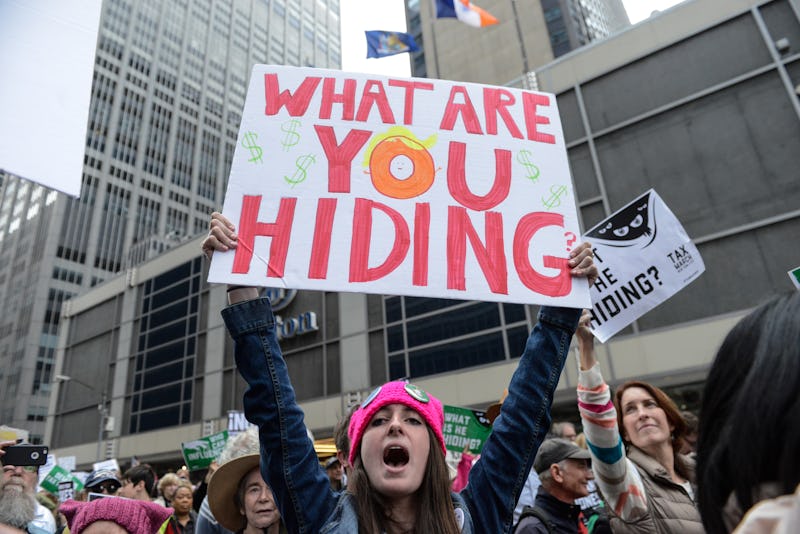 Stephanie Keith/Getty Images News/Getty Images
The deadline for filing your 2017 tax returns is just around the corner and you might be wondering if this could finally be the year that President Trump releases his tax returns. As it stands, he has refused to release his tax returns despite public demand over the last two years. Since 1980, all the presidential nominees from major parties have released at least one year of tax returns — all except Trump.
But as Newsweek reporter Greg Price noted, there is one possible and totally legal way Democrats could get Trump's tax returns. According to one disclosure of information law, 26 U.S. Code § 6103, the House Ways and Means Committee or Senate Finance Committee can request the president's returns. But, assuming the GOP-controlled House and Senate won't make that request, Democrats would have to back control of either chamber to make use of the law.
Republicans outnumber Democrats 237 to 192 in the House, and a much slimmer 51 to 47 in the Senate (plus two independents). But even if Democrats did obtain Trump's tax returns, they're required to get Trump's consent if they want to release it the public. It's hard to say how willing Trump would be to release his 2017 tax returns on his own at that point. But since the start of his political career, he's been in no hurry to reveal them.
At his first presidential debate, Trump promised, "I'm under a routine audit and it'll be released, and as soon as the audit is finished it will be released." But no Trump tax returns came forth. Later on ABC's Good Morning America, he tried to downplay the importance of this information and said only the media is concerned about Trump's taxes:
As far as my taxes are concerned, the only one that cares is the press, I will tell you. And even the press, I tell you, it's not a big deal.
Polls and events suggest it's more than just reporters who care, though. The refusal, which has been perceived as a lack of transparency, sparked the inaugural Tax March on April 15, 2017 where protestors gathered nationwide to demand that Trump release his tax returns. (Protestors plan to rally once more at the 2018 Tax March, but this year's events have a new focus: the Trump tax cuts.)
During the presidential campaign period, polls from the Pew Research Center, Fox News, NBC/Wall Street Journal, and two universities consistently showed that the majority of Americans were either concerned about Trump releasing his tax returns or thought it was important for a president to do so.
Since secrecy suggests you have something to hide, that could be the main reason why people are incensed with Trump's lack of cooperation. Presidents customarily release their tax returns because Americans can use them to judge whether the president is proposing policies that benefit their bank account the most.
As Sen. Ron Wyden (D-OR) wrote for the New York Times:
Without transparency about the extent and nature of his business dealings, it will not be possible for the American public to track whether Mr. Trump is abusing his power, other than through leaks and unverified reports that will simply tear this government down cut by cut. The Republican-controlled Congress has not only failed to hold Mr. Trump accountable, but it has even taken steps to roll back existing ethics rules.
Trump's tax returns are in such high demand that they need extra security. Newsweek reported in November 2017 the IRS was building a safe to hold them.
In his defense, Trump claims that there's no shady business with his taxes. He told George Stephanopoulos, host of Good Morning America, that his tax rate is "none of your business" and that he fights "very hard to pay as little tax as possible." Trump also said the following:
I do not have Swiss bank accounts. I don't have offshore — I really have a very, very clean company. And believe me, if i didn't, it would have been reported by 200 groups because there's nobody that has more reporting or more scrutiny than I have.
Until he releases his tax returns, Americans will just have to take his word for it.