Trump Won't Sign Obama's Iran Deal & Now Congress Has A Nuclear Problem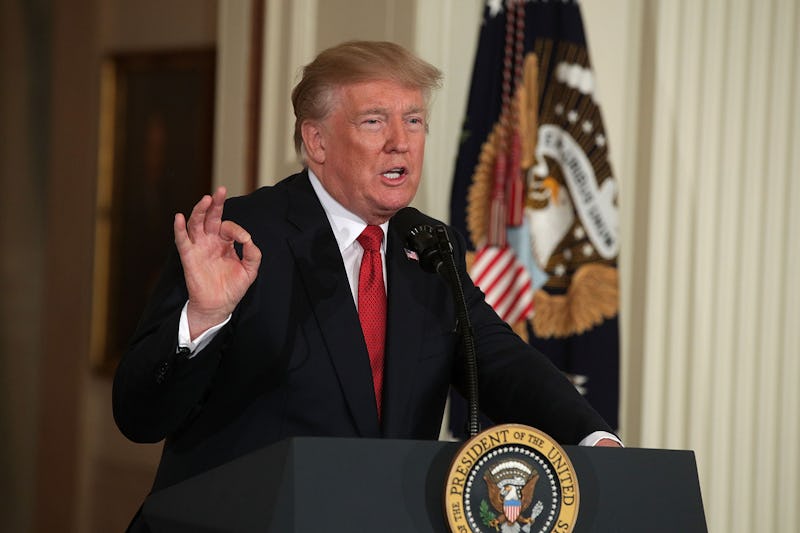 Alex Wong/Getty Images News/Getty Images
Having dubbed it "the worst deal ever" in the past, on Friday, President Trump announced he won't re-certify the Iran nuclear deal, but will stop short of unraveling or rewriting it entirely. By not re-certifying the Iran deal, which was negotiated by his predecessor, President Obama, it means that it's up to Congress on whether or not U.S. sanctions on Iran should be re-imposed, according to CNN.
The Iran deal, officially called the Joint Comprehensive Plan of Action, was negotiated in 2015 by Obama in order to prevent Iran from developing a nuclear weapon. Signed under the agreement with six nations — the U.S., Germany, France, China, Russia, and the U.K. — the historic accord took effect in January 2016 and lightened economic sanctions imposed on Iran in exchange for Iran agreeing to restrict its nuclear program for at least 10 years.
"We will not continue down a path whose predictable conclusion is more violence, more terror, and the very real terror of Iran's nuclear breakout," Trump said in his Friday speech.
Trump also announced that his administration is working with Congress and other allies to address the Iran deal, and is attempting to draft legislation that would amend the Iran Nuclear Agreement Review Act of 2015, which allows Congress the right to review any agreement reached in the UN Security Council talks with Iran to prevent Iran from creating nuclear weapons. Trump said this measure is to place restrictions on Iran's nuclear activity under U.S. law and if the measure doesn't pass in Congress, Trump will terminate the Iran Nuclear Agreement Review Act.
Congress requires the president to re-approve or re-certify the deal every 90 days, and the next deadline is Oct. 15. Since Trump refuses to re-certify the deal ahead of the Sunday deadline, Congress will have 60 days to either re-certify the accord or impose new economic sanctions on Iran, leading the deal to fall apart. Per The Washington Post, imposing new sanctions seems unlikely. Although Congress only needs 51 votes to do so, Senate Majority Leader Mitch McConnell says he doesn't want to add a divisive issue to the legislative calendar ahead of midterm elections.
Trump also announced a new approach to Iran testing ballistic missiles and the country's support for terrorist networks. Trump is advising the Treasury department to impose sanctions on Iranian Revolutionary Guard Corps, which supports militant groups, including Hezbollah and Hamas, and to apply additional economic sanctions on officials, agents, and affiliates associated with terror.
Since its inception, the Iran deal has led to Iran shipping tens of thousands of pounds of uranium out of the country. As part of the deal, Iran has also provided access to its nuclear facilities, though entry to its military sites for nuclear inspections have remained a contentious point. The accord also allows the U.S. to monitor and place sanctions on Iran for human rights abuses, censorship, and anyone who is a suspect of terror.
Scrapping the Iran deal could return the country to a cycle of proxy wars and confrontation, according to Ernest Moniz, Obama's former energy secretary, who helped negotiate the agreement. "If the President chooses to not certify, that already will be a negative step. For one thing it will start a process of isolating us from our allies," Moniz told CNN.
Iranian President Hassan Rouhani responded to Trump's reported plans to de-certify the deal previously, saying that if the U.S. abandons the deal, its credibility will suffer worldwide, according to CBS. The Islamic Revolutionary Guard Chief Commander Mohammad Ali Jafari said that if there are new sanctions the U.S. better move military bases a thousand miles back from Iran's borders and out of missile range.
Trump has called the Iranian nuclear an "embarrassment" during his address to the United Nations General Assembly. Secretary of State Rex Tillerson has stated that Iran has not contributed to regional and international peace, keeping up with the "spirit" of the accord. Trump and his administration have also noted that Iran still backs militias in Syria and Yemen and has not stopped backing militant groups, as well as continuing to test ballistic missiles.
"We cannot let a murderous regime continue these destabilizing activities while building dangerous missiles, and we cannot abide by an agreement if it provides cover for the eventual construction of a nuclear program," Trump said. "The Iran deal was one of the worst and most one-sided transactions the United States has ever entered into. Frankly, that deal is an embarrassment to the United States and I don't think you have heard the last of it, believe me."