Trump Says He's Willing To Testify Under Oath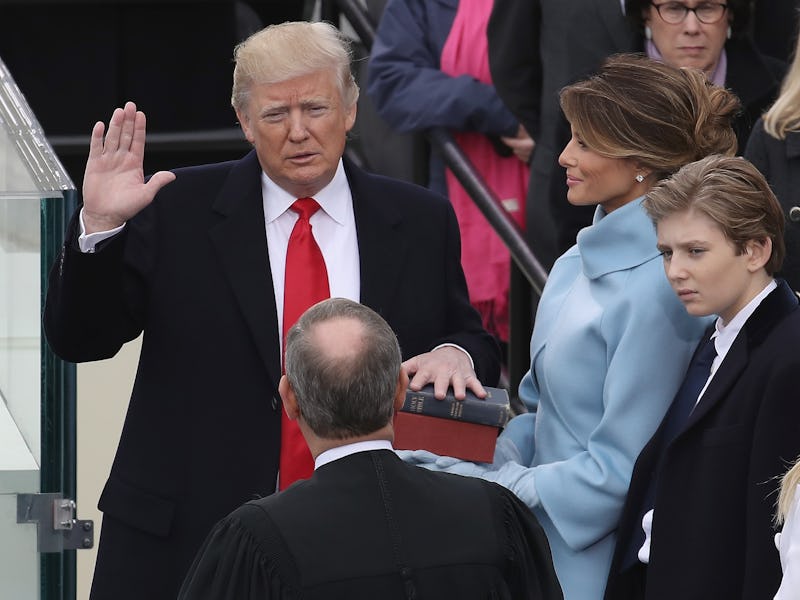 Drew Angerer/Getty Images News/Getty Images
Hours after accusing former FBI Director James Comey of committing perjury, a defiant President Donald Trump said he was willing to testify under oath about their conversations. In his first press conference since Comey testified before the Senate Intelligence Committee on Thursday, Trump told reporters he was "100 percent" willing to give a sworn testimony to the special counsel currently overseeing the FBI's investigation into Russia's meddling in the 2016 election.
"I would be glad to tell [Robert Mueller] exactly what I told you," the president told reporters Friday during a joint press conference in the White House Rose Garden with Romanian President Klaus Iohannis.
Trump also denied having asked Comey to pledge loyalty to him or drop the investigation into his former national security adviser Michael Flynn. "I hardly know the man, I'm not going to say, 'I want you to pledge allegiance,'" Trump said. "Who would do that? I hardly know the man. It doesn't make sense." While Trump maintained he did not ask Comey to let the FBI's investigation into Flynn go, he told reporters "there'd be nothing wrong if I did say it."
The president fielded multiple questions Friday regarding Comey's testimony and his claim the former FBI director had told Congress "so many false statements and lies" while under oath. "No collusion, no obstruction, he's a leaker," CNN reported Trump said at one point in an assessment of the key takeaways from Comey's testimony. "But we were very, very happy and, frankly, James Comey confirmed a lot of what I said, and some of the things that he said just weren't true," Trump said.
When asked if he really did have tapes of his conversations with Comey as he'd alluded to in a tweet published last month, President Trump declined to confirm or deny their existence. "I'll tell you about it over a very short period of time," the president said. "You're going to be very disappointed when you hear the answer."
Since Comey's testimon,y a handful of Democratic lawmakers have called for the president to be asked to provide sworn testimony as part of the investigation into his ties with Russia. "I would expect at some point, not right away, but at some point, that Mr. Mueller would feel he has to depose the president," Sen. Jack Reed reportedly told CNN's Wolf Blitzer Friday.
In a statement released shortly after Comey's testimony, Sen. Chris Murphy urged investigators in the Senate to call upon Trump. "What's most important is that investigators in the Senate and at the Department of Justice get all the facts and find the truth," Murphy said. "If the White House's account differs from what we heard today, the American people deserve to hear the president's side of the story in a similar forum — under oath and open to the press."
Although Trump has not been deposed by special counsel Mueller, his most recent remarks may open that up as a possibility as the investigation moves forward.