'Truth & Iliza' Is An Important Addition To Late Night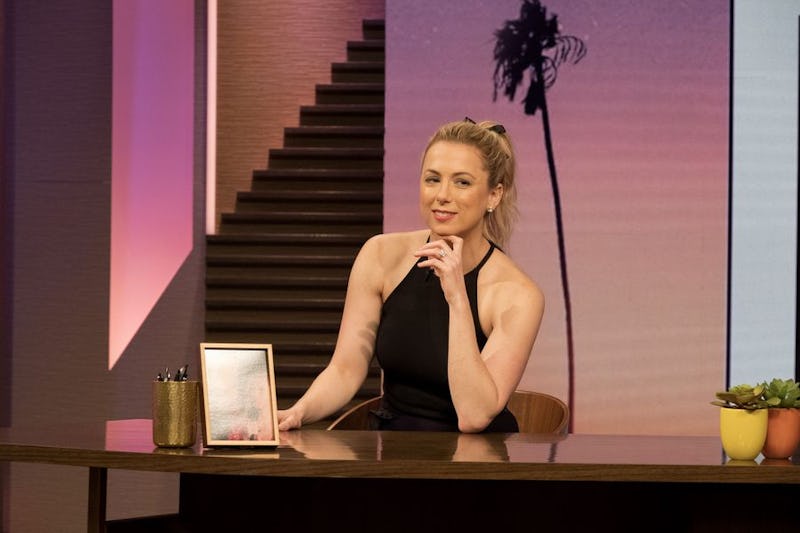 Nicole Wilder/Freeform
After changing its name to Freeform, the cable network has decided to try a few more new things, like entering into the late night game with a six-episode series Truth & Iliza. But after its June 6 finale, will Truth & Iliza return? The network hasn't made an announcement either way yet, but this experiment from Freeform is certainly laudable, taking a chance on standup comedian, Iliza Shlesinger, who's probably best known for her specials available on Netflix and for winning Last Comic Standing in 2008. Given that hosts like Trevor Noah have been plucked from similar backgrounds and given even bigger platform, Truth & Iliza a very fitting move to even the gender gap between male and female hosts in late night.
And, even though Truth & Iliza's ratings weren't great — according to Showbuzz TV, only 92,000 people tuned in to the series premiere — it's the kind of experiment more networks should be taking. In fact, I think if you look closely, it is the kind of experiment a lot of networks are taking, changing up the late night TV format in a variety of ways. Be it by hiring an unconventional host, changing the format, or airing only online, the late night field is finally changing up slightly, making more room for more people than just white guys named James to make an impression. And while waiting to find out about more Truth & Iliza, here's a few other unconventional late night shows changing the landscape.
Full Frontal With Samantha Bee
After leaving Comedy Central, former Daily Show correspondent Samantha Bee decided to host her own politically themed show on TBS. And it's taken the current news cycle and turned it into a primal scream of rage that will also, somehow, make you laugh.
Desus & Mero
They're not always politically correct, or empirically correct, but even though they make the odd problematic comment, no one in late night has better chemistry and can spin the same old news stories into incredibly funny observations. And if Viceland isn't a part of your cable package, check out the free episodes available on their website.
Chelsea
When she left her E! series, host Chelsea Handler took her series to Netflix, making her the first streaming service late night show. With new episodes dropping daily, the series is attempting to discover if it's possible to marathon something that's inherently meant to be consumed daily... and while the results of the experiment are mixed so far, it's a worthy one.
The Eric Andre Show
This Adult Swim series is barely an entrant into the late night genre, but given that the host technically sits behind a desk (sometimes before or after destroying it) and has a sidekick, conducts interviews, and does man on the street bits, it does technically fit. Of course, it bizarrely deconstructs those typical late night conventions, often with the help of incredibly gross gags.
The President Show
This series is a 30-minute subtweet to the President of the United States (impersonated by comedian Anthony Atamanuik), pointing out his various flubs and fails of the week. But it's structured like a late night show — The Colbert Report, specifically — and the final interview segments, where progressive guests get the chance to look in the face of the man they're generally trying to defeat, are strange in a good way.
Watch What Happens Live
The heyday of the Real Housewives may have passed, but after all of those reunions, Andy Cohen actually has some pretty good hosting skills. Of course, most nights are booked with at least one "Bravolebrity" across from him, so unless you're interested in the stars of Vanderpump Rules or Southern Charm, you might be a little lost. But stay for the moments when Meryl Streep or Kim Kardashian plays Cohen's version of two truths and a lie, "Plead the Fifth."
If Truth & Iliza is cancelled after one season, be it due to ratings or something else, it will still be important. Not just because it was able to put together some good interviews, good sketches, and was told from the perspective of a millennial woman (rather than a male Gen X'er), but because it's part of a slow but steady change happening in late night.