Here's Why Infamous Polygamist Leader Warren Jeffs Won't Get Out Of Prison Any Time Soon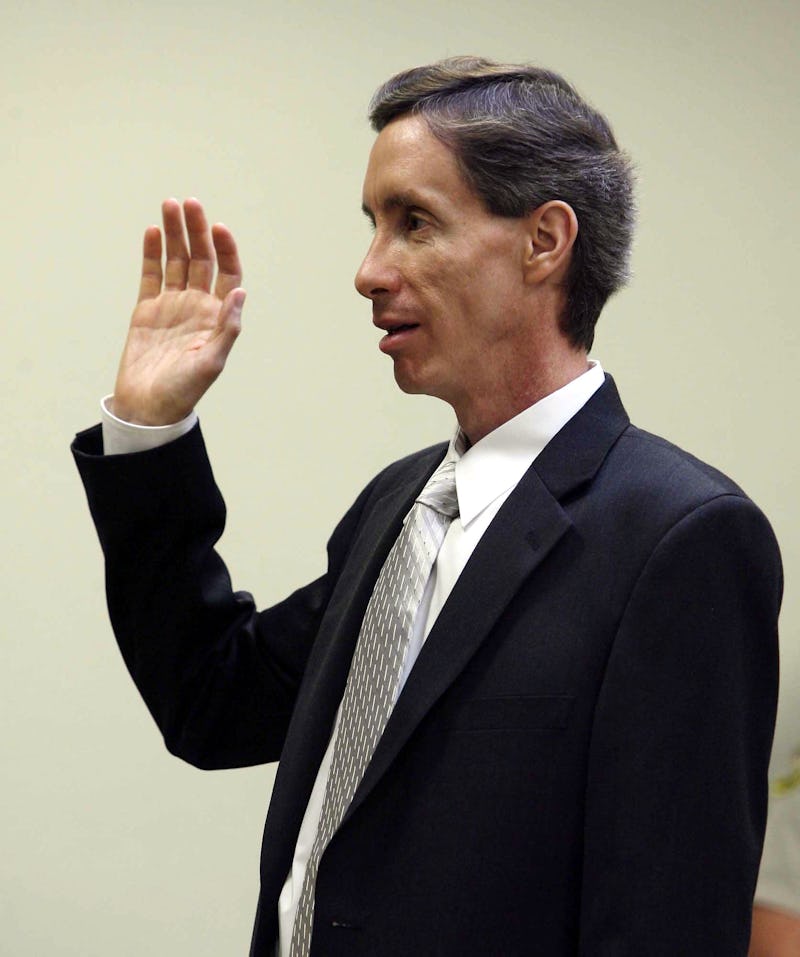 Pool/Getty Images News/Getty Images
Warren Jeffs, the leader of the Fundamentalist Church of Jesus Christ of Latter-Day Saints, was convicted in 2011 of sexually assaulting two "child brides," according to CNN. Though the head of the FLDS (which is not affiliated with the Mormon church) currently sits in prison, the premiere of A&E's docuseries Warren Jeffs: Prophet of Evil may leave some viewers wondering — will Warren Jeffs ever be released from prison?
It doesn't look as though that's a realistic possibility. According to CNN, Jeffs was sentenced to life in prison plus 20 years, and he will have to have spent 45 years in prison before he's eligible for release, according to Jerry Strickland of the Texas Attorney General's office. The specifics of the sentence might seem a little convoluted to those not extremely familiar with legal terms, but CNN reports that the sentence was broken down by life in prison for the assault of a 12-year-old girl, and 20 years more for the assault of a 15-year old girl. The judge ordered that the sentences be served consecutively, and Strickland also said that Jeffs must serve at least 35 years of the life sentence and half of the other sentence, the article states.
So, while Jeffs could technically serve less than his full sentence, it seems very unlikely that he'll ever be out walking the streets. He was 55 when the sentence was handed down, according to the same CNN report, meaning that by the time he would hit the 45-year minimum time served, he would be a whopping 100 years old. Prosecutor Eric Nichols said that Jeffs abused his position as head of the church to "satisfy his own personal appetites and desires," CNN states.
It's impossible to tell just how many people Jeffs has affected, even though these two abuse cases were the ones that eventually landed him in prison. The Washington Post reported in 2011 that he had 78 wives in addition to the woman to whom he was legally married, and that 24 of those wives were under the age of 17. Three of his children who have since left the church, Rachel, Becky, and Roy Jeffs, have also all come forward alleging that Jeffs sexually abused them in the past as well.
Despite the fact that Jeffs won't be heading to the FLDS facilities in person any time soon, he has managed so still maintain leadership of the group even from behind bars. According to the Associated Press, as of 2016, he still had wives attempting to smuggle recording devices into the prison when they came to visit him, and he also was temporarily banned from using prison phones after it was determined that the person on the other end of the line was broadcasting the call for others on speaker phone. The article also stated that some mail he was receiving was discarded after it was determined that there were coded messages within it. Another CNN article also reported that in 2016, Jeffs was orchestrating reorganizations and position changes within the church from prison.
Though he is in prison, the remaining members of FLDS — of which there are estimated to be approximately 10,000, according to CNN — still appear to be following the lead of Jeffs and the people who he appoints. Despite this fact, it will hopefully come as some comfort to those who he was convicted of abusing, as well as everyone else who felt his influence in their lives, that he most likely won't be able to walk away from prison as a free man ever again.
If you or someone you know has been sexually assaulted, call the National Sexual Assault Telephone Hotline at 800-656-HOPE (4673) or visit online.rainn.org.