Bravo's Reality Mini-Series Feels Like A 'Real World'-'Simple Life' Crossover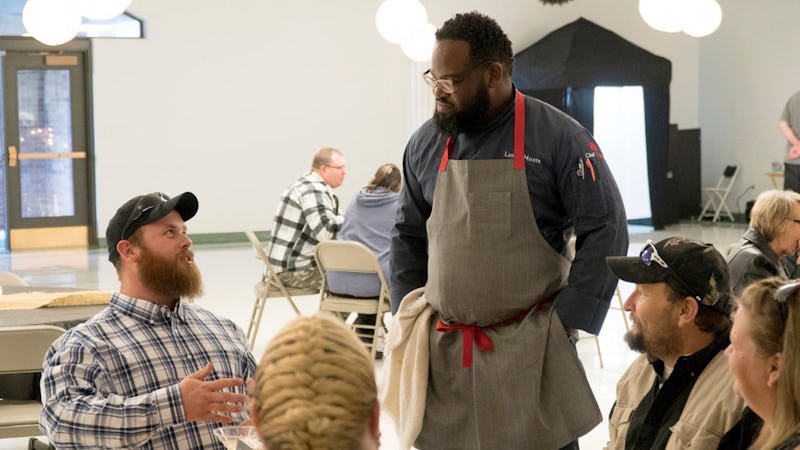 Bravo
This week, Bravo brought America a dose of reality TV that is lightyears apart from its Real Housewives content. A four episode docuseries, Welcome to Waverly, premiered on Monday and ends Thursday, and although that doesn't seem like enough time to capture something substantial, trust that the nature of the show is perfectly suited for that running. In the new series, seven people from urban areas of the U.S. infiltrate the small town of Waverly, Kansas to experience a day in the life of midwestern folks. And after watching in full, the first question that comes to mind is will Welcome to Waverly return for a Season 2 to give the small town folk a shot at city living?
The series has a Real World vibe to it, but with a much more serious tone. Although the incomers live together in a stocked farmhouse, they're not necessarily taking over dance clubs or bringing people home to the mansion. Instead, the city-dwelling incomers are looking to learn the ins and outs of small town living. And to do just that, each of the seven are paired with a Waverly townsperson who shares their line of work. Those townspeople include a realtor, a bakery owner, a salon owner, the city mayor, and a BBQ food truck owner.
The series was shot over six weeks in the fall of 2017, according to The Kansas City Star, which makes some people wonder why it sat around for so long before airing, and why, if shot over six weeks, it only occupied four hours of TV time. But, Ryan Flynn, vice president of current production told The Star that the timing was nothing but intentional.
"Four episodes feels bingeable," Flynn said. "It's not a coincidence we're putting this on close to the mid-term elections. It's an interesting time to talk about divides and red and blue and coastal vs. middle of the country. We hope the conversations sparked will spark more conversations and really engage people in a way it maybe wouldn't another time of the year."
Bravo has yet to officially renew the series for a second season, and if it was intentionally pegged to this election season, that makes it more likely to be a one-time thing. That's not to say there aren't plenty of places across the country in which people would jump on board to have a similar Freaky Friday moment. After all, the show had a working title of Welcome to America before Bravo chose the town of Waverly to represent the heart of the country.
It has been interesting to watch people with such divergent backgrounds come together and celebrate what they have in common, while also reconciling and appreciating their differences. And that can be as simple as a Chicago southern-style chef joining a small town food truck owner in running his BBQ stand, which is one of the relationships that was developed within those four episodes.
"I enjoyed every one of them," food truck owner Doug Henry told The Star. "They were unique people but I don't think they was that much different from us." If the first season was that much of a success, it might be time to send the Kansas-residents to a big, coastal city next season. There's just as much to learn.