Winter Storm Stella Could Be Bad For Air Travelers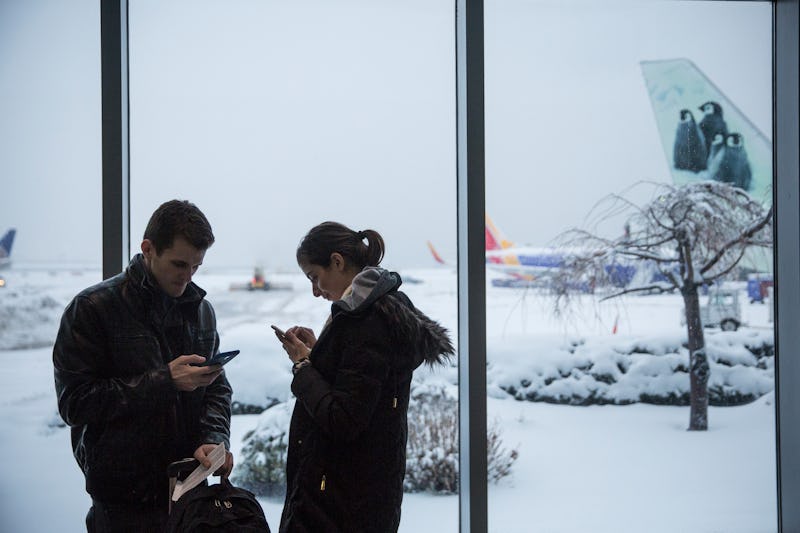 Andrew Burton/Getty Images News/Getty Images
Spring is just around the corner, but it seems winter won't leave without a last-minute punch to the gut for much of the country. While winter weather advisories reached from the Midwest to the mid-Atlantic coast over the weekend, the northeast prepared for a winter storm of its own. With blizzard warnings in effect, Winter Storm Stella could affect flights at airports such as New York's LaGuardia and JFK, and Logan International in Boston.
According to The Weather Channel, the impacts of Stella were likely to be felt from Bismarck, North Dakota, to Portland, Maine. That area spans major metro areas such as Chicago, Philadelphia, Washington, D.C., New York, and Boston. By Sunday afternoon, the National Weather Service had issued winter storm watches for the northeast section of the country, stretching from Cleveland, Ohio, down to D.C. and up to central Maine.
The worst of the storm could hit coastal New York and New England, with blizzard watches in effect for the region stretching from New York City to Boston. The snow began in some places over the weekend and is likely to continue falling through Wednesday in some places. In total, The Weather Channel expects some locations to get more than a foot of snow.
Several days of significant snow could spell mayhem for many of the country's major airports. In fact, The Weather Channel predicted "poor travel conditions" for the northeast throughout the storm. On Sunday, air travel woes seemed to have already set in.
According to Weather.com, flights out of Chicago, New York City, and Newark, New Jersey, were impacted as early as Sunday. Three flights out of Chicago's Midway and O'Hare airports were reportedly canceled, and another 16 were delayed. Meanwhile, the three main airports serving the NYC area — LaGuardia, John F. Kennedy, and Newark Liberty International — had experienced at least one cancellation and more than 30 delays. Delays were also reported at Washington, D.C. airports and Boston's Logan International.
Noting the weather forecast, major airlines began to offer different travel options to ticket holders over the weekend. American Airlines issued travel alerts for passengers going through nearly 40 airports during the winter storm, including New Haven, Connecticut; Roanoke, Virginia; and Syracuse, New York. Meanwhile, Frontier Airlines planned to make alternative arrangements for travelers going to or from New York's LaGuardia; Philadelphia; Trenton, New Jersey; or Washington D.C.'s Dulles and Ronald Reagan airports.
Unless you're flying from Los Angeles to Hawaii this week, it's probably a good idea to check with your airport and airline before lugging your suitcase to the terminal.