Here's What You Need To Know About Winter Storm Toby If You Have Travel Plans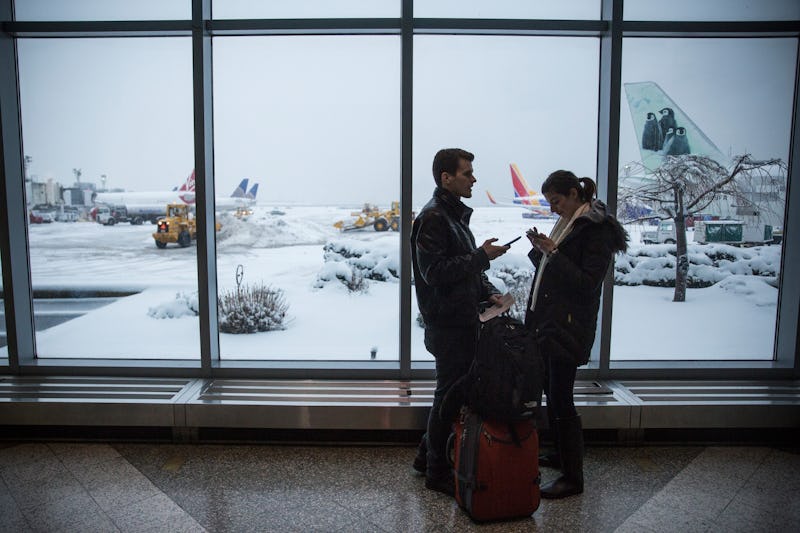 Andrew Burton/Getty Images News/Getty Images
Meteorologists predict that a nasty Winter Storm Toby is set to hit the East Coast region on Wednesday. With the storm impending, there are reports of airlines canceling flights for Winter Storm Toby and, as TIME magazine reported, some companies are even offering to forgo flight changing fees.
According to FlightAware, a website that compiles and shows updated information on flights throughout the United States, Winter Storm Toby seems to have caused upheaval for various airlines in the country. So far, airline companies like Delta, Southwest, Alaska, Spirit, Frontier, and United Airlines have declared flight changes ahead of the fourth nor'easter of March and offered waivers for change fees. It's the fourth major storm to take place this month; prior to to Toby, winter storms Riley, Quinn, and Skylar have hit the East Coast region.
Meteorologists say that Winter Storm Toby is headed toward the larger East Coast region, from Massachusetts, Tennessee, North Carolina to Providence, New York City, Philadelphia, and more. A bit of the storm could even pass through Kentucky and western Pennsylvania as well. For airlines, a potentially heavy storm like Toby could cause chaos for incoming and departing flights.
Weather forecasters say that some areas, such as New York City and Philadelphia, may experience at least nine inches of snow. For other places, like Maryland and West Virginia, snowfall could reach 14 inches. To avoid any kind of safety hazards, airports like Philadelphia International Airport and Baltimore International Airport have temporarily shut down 13 and 10 percent of their flights respectively, according to FlightAware.
According to FlightAware, most of the change fee waivers are being offered at airports like Washington International Airport, New Jersey's Newark Liberty International Airport, New York City's (crowded) John F. Kennedy International Airport, Virginia's Dulles International Airport, and Boston's Logan International Airport. So, if you're a stranded traveler at any one of those airports, it won't hurt to find out more about saving up by applying for a waiver.
In addition to that, it's worth checking out the trajectory of your incoming or departing flight by going to the relevant airlines' website. With Winter Storm Toby, you can expect your flight to be stalled (potentially for hours) or cancelled entirely. It could save you a ton of hassle by just keeping an eye on your flight's advisory.
Plus, it's not just aerial travel either. People on the East Coast who plan on taking the train to other places may want to check with Amtrak before boarding their ride.
As inconvenient and annoying as delayed or cancelled flights can be, there is a reason as to why airline companies will cease operations until a storm is definitely over. Much of it has to do with the basic safety of travelers.
With Winter Storm Toby, the East Coast is expected to be hit by heavy snowfall and even possible coastal flooding in certain areas. In addition to that, strong winds will pummel New York City, Boston, New Jersey, Philadelphia, New England, and beyond. In such intense conditions, it's only safe to pause any plans for flying and prioritize the well-being of people traveling. Heavy snowfall and turbulent winds can create treacherous weather conditions for flights, and those conditions can jeopardize the safety of not only the aircraft but the people within it or boarding it.
The most practical advice seems go like this: be cautious but don't worry yourself beyond reason. Pilots are trained to endure tricky weather. As commercial pilot Patrick Smith told the website, The Points Guy, "Taking off or landing in a snowstorm can be challenging, but it's well within the boundaries of what we're trained for."