Can You Believe? These Two Favorite 'Queer Eye' Heroes Are Going On A Double Date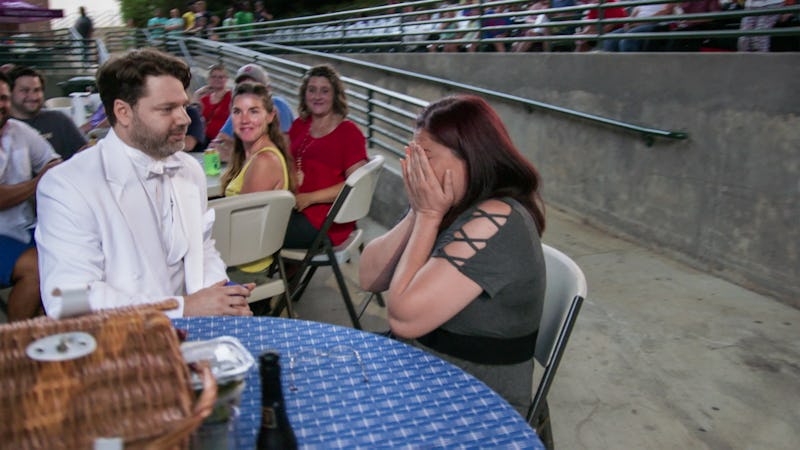 Netflix
Out of all of Netflix's episodes of Queer Eye, the ones which end with the show's subjects making a romantic gesture for their significant other are among the most heart-melting. That happened during Season 2's "A Decent Proposal," when William proposed to Shannan, and Season 1's "You Can't Fix Ugly," when Tom asked Abby out on a date. Since appearing on the show, both couples have gotten married, and now William, Shannan, Tom, and Abby are going on a Queer Eye double date, and it sounds like the most gorgeous baby date ever, as Jonathan Van Ness would say.
William Mahnken, of Season 2 fame, announced the exciting Queer Eye crossover on his Twitter Monday evening. He wrote, "Coming this Saturday. Double date with Tom and Abby." With the tweet, William posted a picture of himself with Shannan Eller and Tom Jackson with Abby. Just seeing a photo collage of the two couples is enough to make anyone who has seen Queer Eye want to squeal with glee, so imagine how cute the actual date will be.
"I thought it would be a good opportunity to talk with someone about the show, the Fab 5, production, life after the show, etc. Both Tom and Abby seem excited about it," William tells Bustle via Twitter of the upcoming double date. "It is not being filmed, [but I] would not decline it though if it were offered."
Queer Eye just started filming Season 3 in another state, so it doesn't seem likely that cameras will be following Tom and William's get together. And since Netflix doesn't have a cameraperson flying out to Georgia to catch the sweet dinner date, hopefully William will take it upon himself to share some snaps of his Queer Eye meeting on social media. The people deserve to see it and it sounds like William agrees!
Even if fans don't get to see the glorious double date after it happens, it's clear that Queer Eye fans love seeing updates from the show's "heroes," especially because the couples have had such tumultuous journeys to get here. After Tom's episode aired in February, he announced on Twitter that he and Abby had broken up. "She will always be the love <3 of my life. I will always love <3 her more than anything!!!!!!!" Tom tweeted on Feb 27.
After breaking the Internet's collective heart, he tweeted on Mar. 6, "Abby and I are reunited <3 we've loved each other for many years and want to spend the rest of our lives together!!!!!!!!" Tom and Abby didn't wait long after that to take their on-again-off-again relationship — remember how they were married before Queer Eye took place? — to the next step. On Mar. 12, Tom announced that he and Abby were engaged, and he even proposed that the Fab Five (Bobby Berk, Karamo Brown, Tan France, Antoni Porowski, and Jonathan Van Ness) help plan the ceremony.
The Queer Eye team didn't end up planning Tom and Abby's wedding, and the couple eloped to Gatlinburg, Tennessee, to have their second round of nuptials, per U.S. Magazine. The Fab 5 responded to the news on social media and, as you can imagine, they were absolutely gushing.
Although William and Shannan also got married after William's appearance on Queer Eye. On his episode, the Fab 5 had to give William a nudge to make the next move with his long-time girlfriend. One of the sweetest moments of any Queer Eye episodes — and that show produces a lot of sweet moments — had to have been when William made a short film to propose to Shannan. And since William and Shannan recently got married, it's only right that the two couples who got "Queer Eye'd" would meet up to celebrate their love and, of course, the Fab 5.