This "Wine Tasting 101" Kit Will Help You Figure Out Which Wines You ACTUALLY Like Best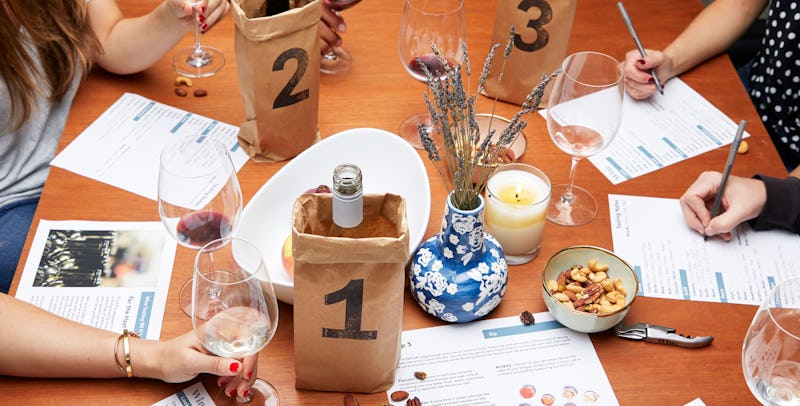 Winc
Wine tasting can be intimidating to anyone whose knowledge of wine is limited to "ah yes, this is indeed a red." Thankfully, Winc has a new "Wine Tasting 101 kit" to make wine education fun, accessible, and perfect for your next night in. The kit pairs well with friends who are equally interested in and un-snobbish about their wine.
If you're looking to expand your wine palate and aren't familiar with Winc, it's a subscription service that makes discovering new wines easier and more approachable. Anyone who's able to answer questions like "how do you take your coffee" and "do you like the taste of citrus" will be able to find a wine that suits their particular taste. When you sign up for the club, you'll receive a curated box of four different wines right to your doorstep. It's like having your own personal sommelier but with none of the pretentiousness and you still get to drink a bunch of wine.
Winc's new Wine Tasting 101 kit follows that same level of accessibility, bringing all the fun of a wine tasting to your kitchen table. Or living room sofa. Or bed while you're in your pajamas. (You are free to wine taste however you choose.) "The kit is designed to breakdown wine barriers and introduce you to different flavors, facts and winemaking regions," a description for the new kit states, "so that you and your guests can better understand your own taste preferences (and not be so intimidated by wine options)." Sounds like my kind of wine tasting.
The kit comes complete with six different bottles of wine, six numbered bags to make it a blind tasting experience, and eleven informational cards about the wine. You and your wine tasting guests will get to score each glass of wine based on characteristics like look, scent, and taste. The score cards also make identifying those characteristics easier. Rather than just asking "what do you smell" the cards have you specify what fruit flavors you pick up and if the scent has any earthiness or woodiness. You'll also get a card with tasting note examples, so you won't need to panic about pulling random fruits from thin air. (Multiple choice tends to be easier than "fill in the blank.") The kit is a $130 value but currently priced at just $99.
Whether you're looking for an idea for your next dinner party or you and your friends are looking for a fancy excuse to booze out, Winc's new kit is an ideal way to taste something new while getting a little toasty in the process.
Scientifically speaking, there's no wrong way to wine taste. As Professor Gordon Shepherd of the Yale School of Medicine told America's National Public Radio, "The taste is not in the wine; the taste is created by the brain of the wine taster." When you detecting cherry or oak or notes of pine in your wine, that typically isn't because any of those flavors have been incorporated in the wine making process. "The molecules in wine don't have taste or flavour, but when they stimulate our brains, the brain creates flavour the same way it creates colour." Basically, our brain brings out those "notes of chocolate" or "woodiness" of wine.
If you're looking for another scientific excuse to taste some wine, one recent study suggests a little wine could be good for your brain. The study, published in February of this year, found that low doses of alcohol could help reduce inflammation and clear toxins in the brain, specifically associated with Alzheimer's disease. "In this study we have shown for the first time that low doses of alcohol are potentially beneficial to brain health, namely it improves the brain's ability to remove waste," said lead researcher Dr. Maiken Nedergaard in a press release for the new study.
Of course, overindulging in wine can lead to adverse effects on your brain and body. It's all about moderation. So long as you sip responsibly, as some studies recommend, you could be helping your brain in more ways than simply expanding your understanding of wine.