Winter Running Gear Recommended By Experts For Those Cold Weather Jogs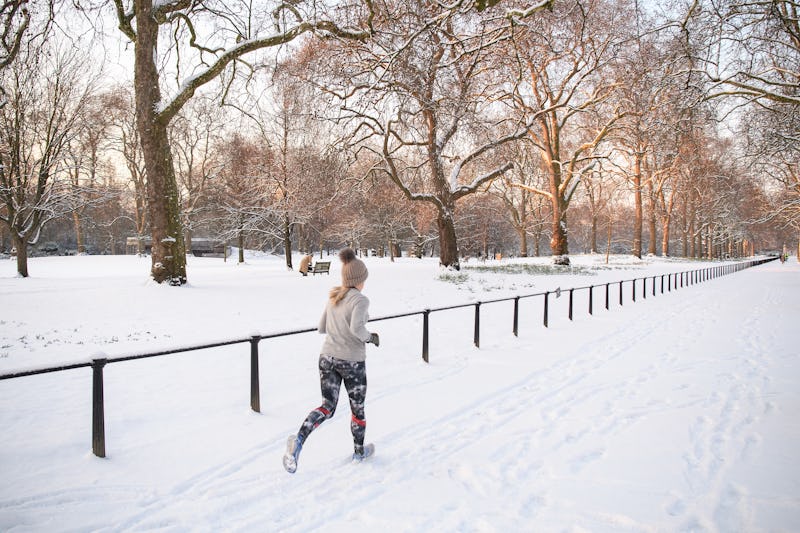 Leon Neal/Getty Images News/Getty Images
I'm visiting family in New York this week, and today it took all of my strength to walk .2 miles to Starbucks because it was 34 degrees outside. I felt pretty bold, braving the cold like that... until I saw someone run past me, taking a jog like it's no big deal, and I was in awe. Are there products for running in cold weather that make it easier when winter is upon us? There must be things that keep you extra warm and protect you from the wind, because I would not be able to do it (though, to be fair, I live in Florida most of the time).
I decided to talk to Jonathan Cane, the founder of City Coach Multisport, about items that would help keep you warmer and safer while running in the winter. He has been coaching endurance athletes for over 25 years and his clients range from beginners to world champions and world record holders. Plus, he can backup his experience running in blizzards with some pretty cool photos on Instagram.
What I learned from him: there are indeed plenty of products on the market that facilitate running when the temperature drops, from total face coverings to a crazy garment called a "Werewolf" jacket. If you're an avid runner or hope to become one, you'll want to check out this.
I asked Cane what you should do before running outside and he said, "There's a reason why we do a warm up before *any* run, but even more so in the cold. Among other things, the warm up literally warms your body temperature, lubricates your joints, and brings blood flow to working muscles. Heading straight out in the cold without a warm up makes you susceptible to injury; even more so than running without a warm up in more moderate temps. Doing a light warmup indoors can help."