These Winter Storm Quinn Radar Images Pinpoint Exactly How Brutal It Could Be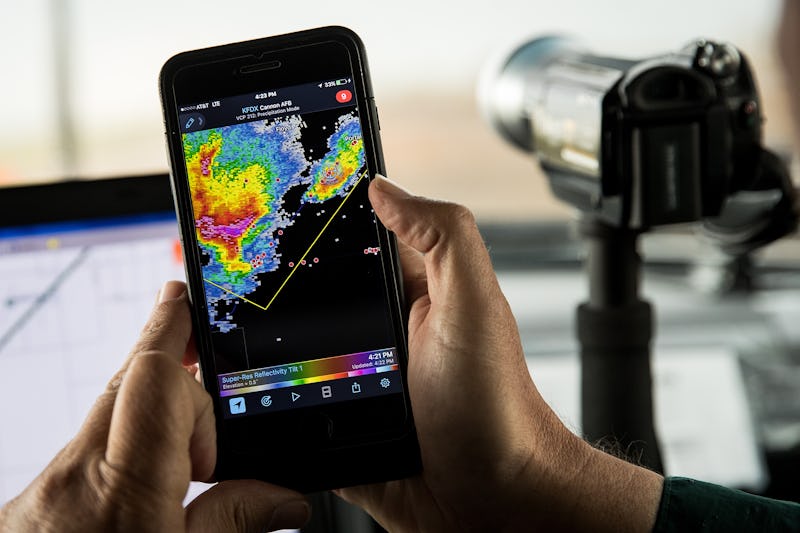 Drew Angerer/Getty Images News/Getty Images
The Northeast is bracing for a major winter storm that will bring heavy snow and serious winds. Winter Storm Quinn is expected to impact everything from commuter travel to power lines, especially in coastal cities like New York and Boston, and the images of Winter Storm Quinn radar show exactly where the storm is expected to hit hardest.
Large swaths of New England have already received winter storm warnings from the National Weather Service, but Quinn is actually not expected to be as powerful as last week's nor'easter, Winter Storm Riley.
However, as radar images show, Quinn will still bring a whole lot of winter weather challenges to the Northeast. Throughout Wednesday, snowfall is expected to make travel conditions more precarious as the day goes on. The entire I-95 corridor — the area around Interstate 95, which runs parallel to the Atlantic Ocean — is forecast to see at least six inches of snow by the time Quinn tapers off on Thursday.
Quinn may also cause further power outages, unwelcome news for the two million people who had their power cut last week by Riley. And though Quinn is not forecast to be as destructive, the storm could temporarily put a stop on power outage repairs.
As these images show, the western and northern parts of New England will see the heaviest snowfall from Quinn.
The "Greatest Uncertainty"
While western and northern parts of New England are forecast to experience heavy snowfall (up to 18 inches near Albany, and up to 24 inches in areas of northern Maine), it remains unclear just how much snowfall major coastal cities like Philadelphia, New York, and Boston will see.
Wind Speeds
Quinn's wind speeds won't rival what Riley brought. Wind speeds of up to 90 m.p.h. were recorded in four different Massachusetts locations with Riley. Thankfully, wind speeds for Quinn are forecast top out around 30 m.p.h., though gusts could get as high as 50 m.p.h. Even so, Quinn's winds could bring further tree damage and put a potential stop on power line repairs.
Potential For Snow
Due to Quinn's predicted snowfall, some residents who only just got their power back might find themselves without electricity yet again. AccuWeather's senior meteorologist, Alex Sosnowski, warned the "big problem is that the storm this week is coming so soon after the destructive storm from last Friday."
Several feet of snow are forecast to fall in parts of western and northern New England, as well as in the Poconos and Catskills.
Quinn Hit Western States First
Though Quinn will hit the East Coast on Wednesday, the storm actually began on the opposite side of the country. Dropping down from the Gulf of Alaska, Quinn has swept over much of the northern United States, leaving snow in her wake from Washington to Maine. The storm has been responsible for blizzard conditions in northern California and winds powerful enough to blow over multiple semi-trucks in Wyoming.
Power Outages Expected
According to Dr. Rick Knabb, a hurricane expert at the Weather Channel, almost all New England states will be potentially hit with power outages from Quinn. For much of New Hampshire and Maine, power outages are likely. Western Massachusetts and parts of eastern New York are also given the "likely" rating for power outages.
On Twitter, Knabb warns residents impacted by power outages to make sure generators are never brought inside their homes, or even put in windows. He also cautions against going near downed power lines or trees, and to stay away from any water touching them.
Preparation is key to minimizing the damage from any winter storm. And as these radar images show, most of the Northeast will feel at least some impact from Quinn.