A Court In Wisconsin Just Ruled Against A Transgender Bathroom Bill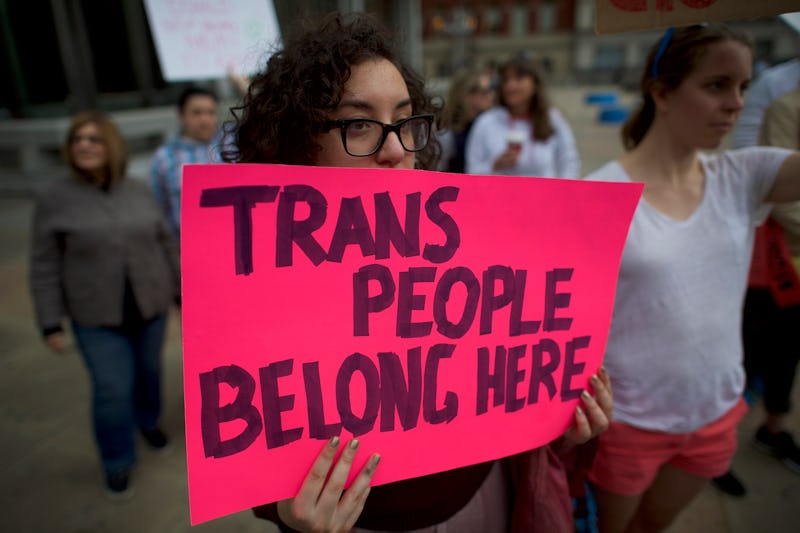 Mark Makela/Getty Images News/Getty Images
The debate over whether or not transgender teens should be allowed to use the bathroom of their choice in public schools doesn't seem to be disappearing anytime soon, but on Tuesday, a transgender boy in Wisconsin won a major court case that could prove to be a huge victory in the fight for transgender rights.
The U.S. Court of Appeals for the 7th Circuit in Wisconsin unanimously ruled that the Kenosha Unified School District No. 1's decision to ban Ashton Whitaker from using the boy's restroom is unconstitutional. While Whitaker — a 17-year-old high school senior who was assigned female at birth — will be graduating on Saturday and won't be able to take much advantage of the ruling's effects, the court's decision could potentially pave the way for other courts to rule that school districts have a constitutional obligation not to discriminate against transgender students on the basis of their sexual identity.
"A policy that requires an individual to use a bathroom that does not conform with his or her gender identity punishes that individual for his or her gender non‐conformance, which in turn violates Title IX," Seventh Circuit Judge Ann Claire Williams wrote in her ruling.
The court ruled that the school's insistence that Whitaker use either the girl's bathroom or a gender-neutral bathroom violated the 14th Amendment of the U.S. Constitution and Title IX laws, which prohibit sex-based discrimination in public schools that receive federal funding.
Whitaker sued the school district last summer, arguing that school officials were violating his civil rights and causing him severe emotional distress. While the school district claimed that Whitaker's use of the male bathroom would violate the privacy rights of other male students, the court issued an injunction in September to prohibit the school's restrictions while the court made its decision.
That injunction was upheld on Tuesday, and in a news release, Whitaker expressed the impact that this could have on his well-being, and the well-being of transgender students across the country.
I am thrilled that the Seventh Circuit recognized my right to be treated as the boy that I am at school. After facing daily humiliation at school last year from being threatened with discipline and being constantly monitored by school staff just to use the bathroom, the district court's injunction in September allowed me to be a typical senior in high school and to focus on my classes, after-school activities, applying to college and building lasting friendships.
As I look forward to college next year, I hope my case will help other transgender students in Kenosha and elsewhere to just be treated the same as everyone else without facing discrimination and harassment from school administrators.
The decision comes amid a hostile and uncertain political climate surrounding transgender bathroom rights. Following his inauguration in January, President Trump immediately reversed Obama-era protections for transgender students, and Texas representatives are currently attempting to pass a controversial "bathroom bill" of their own.
The U.S. Supreme Court's decision not to hear a transgender bathroom case in March leaves no federal precedent for how courts will and should handle these cases, but the Wisconsin Appeals Court's ruling could be a crucial step in determining how they will be handled in the future.