Women In The Migrant Caravan Are On A Hunger Strike To Send A Message To Trump & Mexico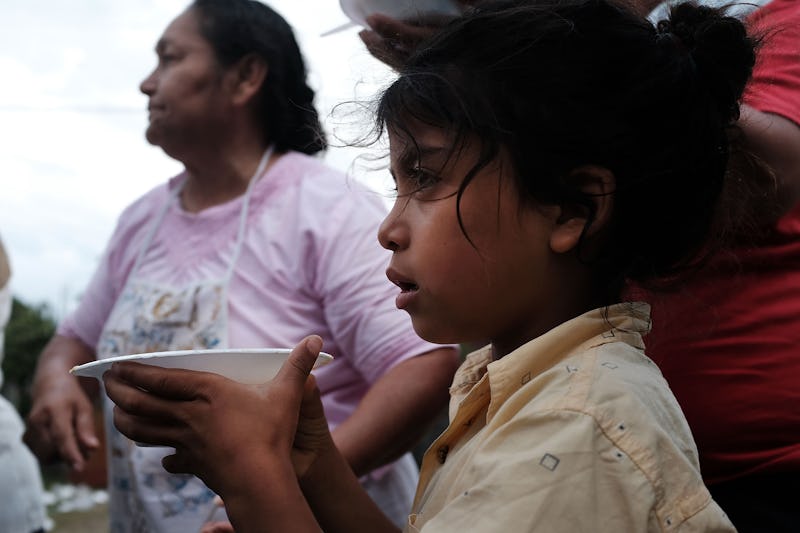 Spencer Platt/Getty Images News/Getty Images
In recent weeks, thousands of Central American migrants have arrived at the U.S.-Mexico border in large groups, or caravans. In Tijuana, Mexico, many migrants are waiting in a makeshift shelter to seek asylum in the United States, but have grown frustrated with delays from both the American and Mexican governments. In response, a group of migrant women are launching a hunger strike to demand an end to deportations and an expedited asylum process, Politico reported.
Fifteen women are expected to start striking — with no fixed end date — and more are likely to join them, according to Politico. The hunger strike comes just days after a peaceful march in Tijuana ended in U.S. officials firing tear gas at migrants who attempted to cross the border.
The United States and Mexico have not yet been able to agree on how to process migrants' asylum applications, but for months, Tijuana has been an unofficial "waiting room" for migrants, Vox reported. As part of its immigration crackdown, the Trump administration has severely limited the number of asylum-seekers that can enter the United States each day — and as a result, migrants end up waiting for weeks or even months. American officials have attributed the lengthy processing time to limited resources and capacity, per CNN.
On Saturday, President Donald Trump appeared to double down on this practice by pursing a deal with Mexico's new incoming government. This deal, The Washington Post reported, would require migrants to remain on the Mexican side of the border even after filing their asylum applications to the United States.
In a press conference live-streamed by immigrant rights group Pueblo Sin Fronteras on Thursday, the migrant women organizing the hunger strike said that they planned to send a delegate to discuss their demands with Mexican immigration authorities.
"There is nothing worse than to live on the run, withstanding hunger," one of the women said during the press conference. "We are not afraid."
According to Politico, U.S. Secretary of Homeland Security Kirstjen Nielsen and Secretary of State Mike Pompeo are expected to meet with incoming Mexican President Andrés Manuel López Obrador and members of his administration over the weekend in order to finalize a deal on the migrants' asylum applications. The hunger strike is slated to put pressure on both the American and Mexican governments as strikers demand that the United States increase the number of migrants it allows to cross the border.
Ahead of the American midterm elections earlier this month, Trump used the caravan to stir up anti-immigrant rhetoric, and went as far as to threaten to cut off aid to Central American countries. He argued that the caravan would be an "invasion of our country," per The Washington Post and told what he called "the criminals, the smugglers, the trespassers marching toward our border" to "turn back."
But the caravan did not turn back, and in Tijuana, roughly 5,000 migrants are waiting in a sports complex — which is serving as a temporary shelter — in order to apply for asylum to the United States. Tijuana authorities have also announced plans to open another shelter that will host at least 3,000 migrants as they continue to wait.