One State Will Have The Country's First Ever Female-Majority Legislature In 2019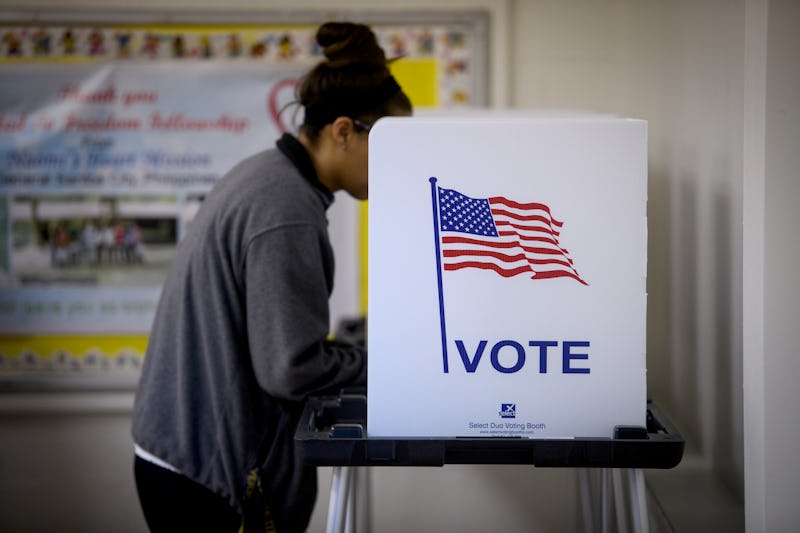 Justin Merriman/Getty Images News/Getty Images
Gender parity in government remains a big problem in the United States — except now in this state. Nevada's legislature will be majority women in 2019 following the election in November and some appointments made by Las Vegas county officials on Tuesday, as reported by The Nevada Independent. Between the state's two chambers, almost 51 percent of assembly members and senators will be women.
County commissioners chose Democratic women to fill two spots in the Nevada Assembly, the state's lower house. According to the Center for American Women and Politics at Rutgers University, this is the first time a state has seen such representation. Nationwide, just about 25 percent of state legislators are women in 2018; next year the number will rise to almost 29 percent.
The state senate remains majority male, but that's balanced out by the state assembly. Nine of the 21 senate seats will be held by women, as will 23 of 42 seats in the assembly. That makes the lower house majority women — something that has happened before in just three states — with 55 percent of the assembly members.
"The Assembly Democratic Caucus is proud to welcome Rochelle Nguyen and Beatrice Duran to the State Assembly and our Caucus," Speaker Jason Frierson said in a statement. "In addition to a diversity of backgrounds and life experiences, both Rochelle and Beatrice bring passion, energy, and knowledge to the State Legislature that will better serve our state and our constituents."
Nguyen is an attorney in Las Vegas and will also be the first Democratic female Asian American Pacific Islander to join the legislature. Duran works as a grievance specialist with the Culinary Workers Union Local 226.
"It's a great victory," Duran told the Associated Press. "Women are proving to have more knowledge and aren't afraid to show that power that they have."
Nguyen agreed. "When women do better, I think families are stronger," she told the AP.
Nevada's lower chamber will not be alone in 2019. The state of Colorado's lower house will also be majority women in the new session. The only other time this has happened in history in any state chamber was in New Hampshire from 2009 to 2010, when the state's senate was filled by a majority of women, according to the Center for American Women and Politics.
The possibility of a majority women legislature came up during the 2018 campaign in the state. Clark County Commissioner Chris Giunchigliani told a group of women voters and candidates during the campaign that the state had a real shot at making history, NBC News reported in August.
"It's about making it a kinder, more respectful process. And you know. right now at the national level, we don't have that. There's meanness out there and we don't need them to bring it into our house," Giunchigliani told those gathered. "We want a kinder, gentler nation where we respect each other's difference in the right way, and I think women can bring that element and that conversation."
Given that women will now form a majority in Nevada's legislature, that hypothesis can soon be be tested.