Women In The Senate Have #MeToo Stories, But There's A Way To End Harassment In Politics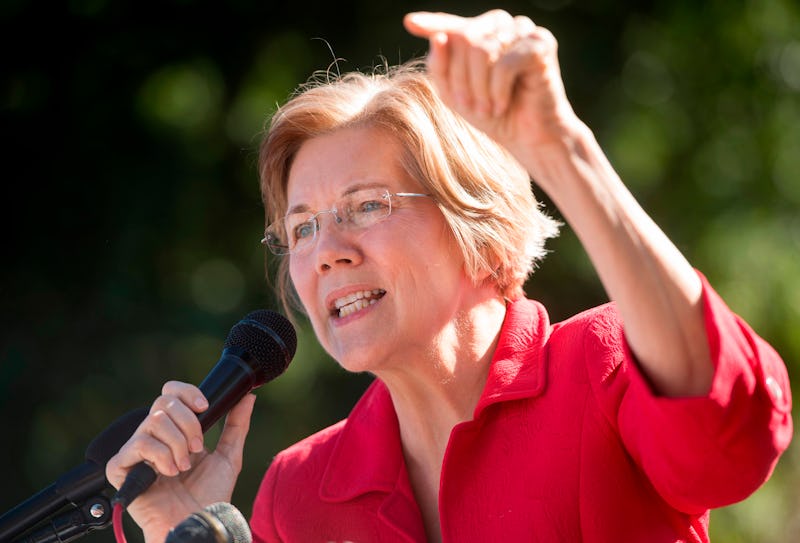 SAUL LOEB/AFP/Getty Images
In the last few weeks, two words have quickly become an eye-opening rallying cry against sexual harassment and assault. Under the hashtag #MeToo, a multitude of women have come forward to share their own experiences with sexual harassment and assault in an effort to shed some light on how prevalent and pervasive the issue is. Inspired by the viral campaign, NBC's Meet the Press asked all 21 women currently serving in the Senate if they had personal stories they'd be willing to share about sexual harassment. And in the end, four Democratic senators came forward to say, "#MeToo."
Shortly after allegations of sexual harassment against film producer Harvey Weinstein catapulted the topic of sexual harassment back into national discourse, exclamations of "#MeToo" came from women spanning numerous industries and backgrounds. "I don't think there's any industry where [sexual harassment] isn't happening," Erin Vilardi, founder and director of VoteRunLead, a organization geared toward helping diverse women enter politics through campaign and leadership education, tells Bustle. "It's everywhere. It's outrageous."
Now, Sen. Heidi Heitkamp of North Dakota, Sen. Mazie Hirono of Hawaii, Sen. Claire McCaskill of Missouri, and Sen. Elizabeth Warren of Massachusetts are all going public with their own sexual harassment stories.
"He slammed the door and lunged for me," Warren told Meet the Press, referencing an encounter she had with a senior faculty member after securing her first "real" teaching job as a law professor. "It was like a bad cartoon. He's chasing me around the desk trying to get his hands on me."
As she worked to dodge her senior co-worker's grabby hands, Warren said there was one thought moving through her mind. "What was flickering through my brain is, if he gets hold of me I'm going to punch him right in the face."
McCaskill's #MeToo story dates back to when she was a 20-something state legislator working to get her first bill out of committee. When she approached the speaker of the Missouri House of Representatives looking for advice on how to ensure the bill made it out of committee, she claimed his answer included a sexually-charged suggestion. "He looked at me and he paused and he said, 'Well did you bring your knee pads?'" McCaskill said. "I do think he was joking, but it was shocking that he would make that joke to a colleague, even a very young colleague."
But these aren't the only women in politics who've spoken out against its culture of sexual harassment. Earlier this month, more than 140 women working in California's State Capitol signed their names to a letter condemning the "pervasive" sexual harassment happening in their workplace. It was an eye-opening look into how even women working in states thought to be progressive leaders in equality are routinely subjected to sexual harassment.
"Men have groped and touched us without our consent, made inappropriate comments about our bodies and our abilities. Insults and sexual innuendo, frequently disguised as jokes, have undermined our professional positions and capabilities," the wrote in the letter, which was published by the Los Angeles Times. "Men have made promises, or threats, about our jobs in exchange for our compliance, or our silence. They have leveraged their power and positions to treat us however they would like."
And still there are more. A few years ago, Sen. Kirsten Gillibrand of New York wrote in her book Off The Sidelines about how a male Senate colleague had pinched her waist while telling her, "I like my girls chubby!" In June, Rep. Ann McLane Kuster of New Hampshire delivered a speech on the House floor in which she revealed a "distinguished guest of the United States Congress" had assaulted her when she was a 23-year-old legislative assistant.
"The antidote to this [problem] is women in political power."
While sexual harassment and assault is without question an issue that affects men and women from every walk of life, in every field of work, it seems to be a particularly persistent problem for women in politics. But as horrifying as some female leaders' stories may be, Vilardi told Bustle the #MeToo movement is essentially a solid argument for why more women need to get into public office.
"I feel like the #MeToo movement is cultural change," Vilardi says, adding that women should "continue to speak in a powerful, collective voice." But she says to help drive that cultural change, there needs to be more than just conversation.
"The other side of the cultural change is the systemic side, is the leadership side, is the policy side," Vilardi says. "It's putting women in power so it doesn't take 30 years for this stuff to happen. So that action is timely. So that the law is clear and so that women feel like when they come forward the justice system works in their favor."
To put it frankly, Vilardi claims we need more women working as attorney generals, district attorneys, in law enforcement and other positions of political leadership. "The antidote to this [problem] is women in political power," Vilardi told Bustle.
In the past few weeks #MeToo has become a rallying cry against sexual harassment. Yet in raising much needed awareness about the prevalence of sexual harassment and assault, the #MeToo campaign may also become the catalyst to a cultural movement that will, ideally, stomp out sexual harassment for good.
If you or someone you know has been sexually assaulted, call the National Sexual Assault Telephone Hotline at 800-656-HOPE (4673) or visit online.rainn.org.