Chemo May Not Be Necessary To Treat This Kind Of Breast Cancer, A New Study Says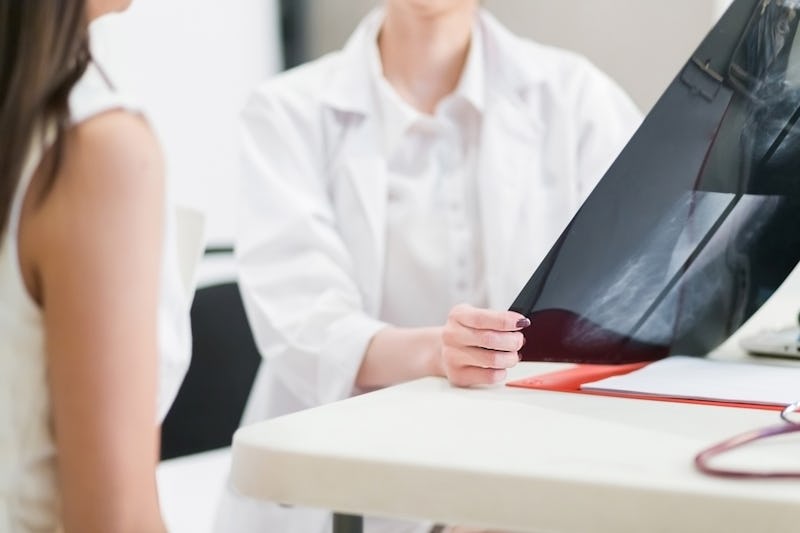 chompoo/Fotolia
When a woman is diagnosed with a disease, there's a fair chance it's breast cancer — more than 260,000 women in the U.S. are diagnosed with it every year, which means that about one in every eight women have experienced breast cancer in their lifetimes. It's also a leading killer — it's the second-most deadly cancer for women. When caught early, it's treatable and has a survival rate near 100 percent, but even the early stages of breast cancer often involve invasive treatments. A new study suggests that women with breast cancer may be able to avoid chemotherapy, which is a huge advancement for cancer treatment and could change the quality of life for patients.
The study, which is sponsored by the National Cancer Institute, National Institutes of Health and ECOG-ACRIN Cancer Research Group, is published in The New England Study Of Medicine. Research started in 2006 and involves 10,273 breast cancer patients. Researchers examined whether endocrine therapy, which lowers estrogen levels, could be as effective as chemotherapy in treating breast cancer. Although hormone therapy has some potential side effects, it isn't nearly as invasive as chemotherapy drugs, which often have unpleasant side effects. The study found that 70 percent of women with breast cancer don't benefit from chemotherapy, and the National Cancer Institute says the findings "will help inform treatment decisions for many women with early-stage breast cancer."
Per the study's findings, the five-year survival rates between women who had chemotherapy and women who just had hormone therapy were both around 98 percent. While chemotherapy has been proven to be effective, it may not be the best option for every breast cancer patient. The Susan G. Komen Foundation says chemotherapy treatment is almost always administered intravenously or through a port to get the drugs into your bloodstream, and it takes several hours and may need to take place multiple times a week. Hormone therapy is either injected into the buttocks or taken orally, and it can be spread out and taken every two weeks. Researchers were able to determine which kind of breast cancer tumors would respond to hormone therapy through a test that analyzes 21 genes in breast cancer tissue. If the test is performed on early-stage breast cancer patients, doctors have a better idea of how to treat patients. "The new results from TAILORx give clinicians high-quality data to inform personalized treatment recommendations for women," said lead author Joseph A. Sparano, M.D., associate director for clinical research at the Albert Einstein Cancer Center and Montefiore Health System in New York City and vice chair of the ECOG-ACRIN Cancer Research Group.
Sparano also says in the press release that "using a 21-gene expression test to assess the risk of cancer recurrence can spare women unnecessary treatment if the test indicates that chemotherapy is not likely to provide benefit." Aside from chemotherapy's physical health effects, it can also have a profound effect on mental health. Patients who undergo chemotherapy treatment often report memory problems, confusion and trouble multitasking. Hormone therapy isn't free from side effects — it can increase your risk of blood clots and stroke, per MedicineNet — but it is a less aggressive form of treatment.
Researchers did find that women under 50 years old may still benefit from chemotherapy, although they aren't sure why. Patients will still have the agency to make decisions about which treatment plan is best for them, but they will be presented with more options if the recommendations from this study are implemented widely. Cancer is a devastating diagnosis, but treatment doesn't have to be debilitating. Scientists are making strides in figuring out how to best treat cancer, which is encouraging news — the more we know about the disease, the better.