Why The Big Wins For Women In Pennsylvania Matter So, So Much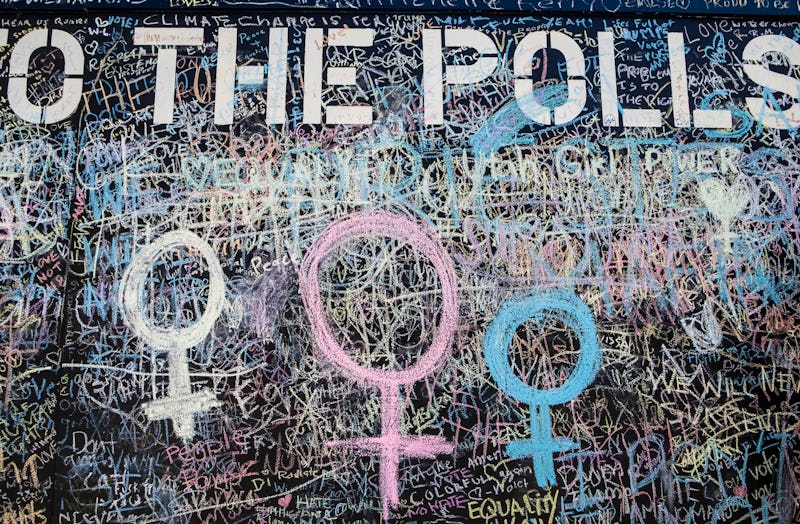 Sarah Morris/Getty Images Entertainment/Getty Images
The 20 members of Congress who currently represent Pennsylvania in D.C. are all men — but that seems likely to change this November. On Tuesday, eight women won primaries in Pennsylvania's elections. Three of them are now considered to be among Democrats' best hopes for winning races that will let them take back control of the House of Representatives.
The state held 35 primaries in total, meaning that women were victorious in nearly 23 percent of the races. It was mostly a gain for Democratic women: Mary Gay Scanlon, Madeleine Dean, Chrissy Houlahan, Susan Wild, Jess King, Bibiana Boerio, and Susan Boser all triumphed. But one Republican woman won, too: Pearl Kim, who ran uncontested and will oppose Scanlon in November.
With Kim and Scanlon facing off, a woman will definitely represent the state's fifth district in 2019. After the election results rolled in, CNN declared "Pennsylvania's all-male House delegation will be no more next year."
Pennsylvania's districting map was thrown out by its Supreme Court in February because it was considered to be unfairly gerrymandered in favor of Republicans. Now numerous districts that Donald Trump won in 2016 have been restructured into areas that narrowly voted in favor of Hillary Clinton. Many are favored to be Democratic victories in the midterm elections this November.
According to The New York Times, three of the battles for those districts will now be fought by Democratic women, Dean, Scanlon, and Houlahan. Vox counted slightly differently: It also found that three female candidates are running for these key districts, but didn't consider Dean to be one of them and has instead been highlighting Wild's race. Vox reported that there are six competitive House races in total, which would mean that half of the essential battlegrounds for Democrats are in the hands of women.
All of these women are worthy of keeping your eye on, but Wild is particularly one you should watch. She's a lawyer who managed to eke out a win despite participating in a very crowded primary (there were six Democratic candidates — all but Wild were male). In March, she was endorsed by Emily's List, an organization that promotes pro-choice female candidates. Stephanie Schriock, the president of Emily's List, said at the time:
Susan has dedicated her life to serving her community and during her legal career she has focused on fighting for justice and fairness. As solicitor for the city of Allentown, she was a champion for transparency and accountability — never forgetting that she was there to serve the public.
Emily's List also endorsed Rachel Reddick, a woman running to represent Pennsylvania's first district, but she lost to Scott Wallace by 21 percentage points.
If Wild wins in November, it will be her first time holding office. According to Huff Post, she would also be the first woman to ever represent Lehigh Valley in Congress. Vox reported that Hillary Clinton won this district by just a single percentage point, so it is likely to be a competitive race.
It seems that the other female candidates may have an easier time of it. Dean's potential new district would have voted for Hillary Clinton by 20 points in 2016, according to Philly.com. Clinton would have won Scanlon's area by 28 points and Houlahan's by 10 points, according to Vox. CNN reported that Scanlon's district will be "likely Democratic" and that Dean's is a "safe Democratic seat."
It's too soon to say whether these female candidates will win big in November. But one thing is certain: Democrats are now relying on Pennsylvania women to take back the House.