These 3 States Set The Bar For Supporting Women In 2018 — Here's What To Do In Yours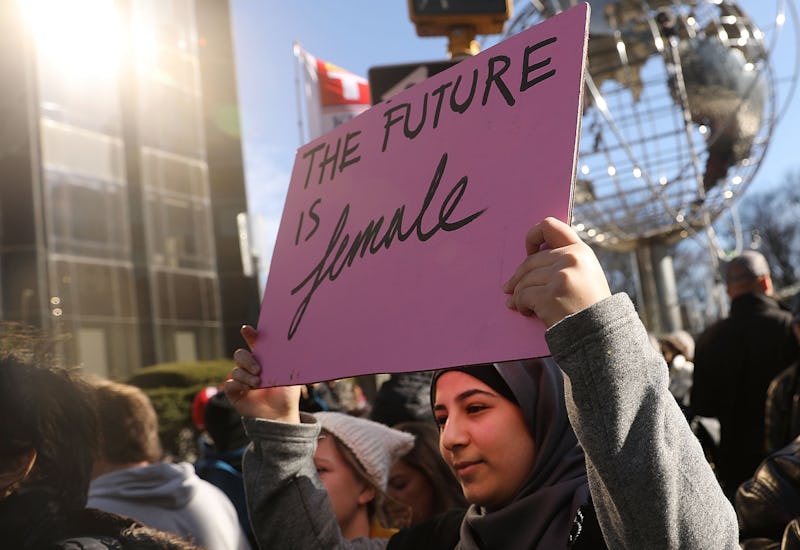 Spencer Platt/Getty Images News/Getty Images
In light of Justice Anthony Kennedy's retirement, Democrats are concerned that his potential replacement — his former clerk, Brett Kavanaugh — could endanger Roe v. Wade and other policies concerning reproductive freedom. But even as the Trump administration attempts to restrict reproductive health care access in the U.S. and abroad, individual states are advocating for women's rights, largely thanks to a highly energized progressive voter base that is attempting to shift power away from conservatives.
In its newly released mid-year report, the National Institute for Reproductive Health remarked that despite the Trump administration's various attempts to limit reproductive freedom, states are displaying positive momentum when it comes to reproductive health care access. According to the report, 404 bills were introduced across 44 states and DC in the first half of 2018 to "protect and advance reproductive health, rights, and justice," and 63 of those bills have already been passed and put into action.
The NIRH report also specifically argued that elections matter, pointing to states like New Jersey, Virginia, and Washington as examples of power shifts on the state level leading to progressive change. Andrea Miller, the president of the NIRH and its action fund, tells Bustle that elections are "often the final piece to the puzzle to make sure that elected officials are in place and in power to be able to pass affirmative laws that will enhance access to reproductive health care."
According to the NIRH report, these three states exemplify how the landscape of reproductive justice is changing on the state level — largely as a result of elections — and can give voters an idea of how to work toward similar power shifts in their own states.
New Jersey
In November, New Jersey voters elected Democrat Phil Murphy to replace Republican Chris Christie as their governor. At the same time, Democrats were also able to expand their control of the state's house and senate. As a result, the New Jersey legislature — led by its Democratic majority — was able to "immediately restore long-withheld and much-needed family planning funding," according to the NIRH report.
Back in February, more specifically, the New Jersey Assembly Budget Committee voted 8 to 3 to reinstate $7.45 million in grants for family planning and women's health clinics, as well as to expand Medicaid to include family planning services. This was a critical move for women in New Jersey, who will now have increased reproductive health care access.
"This bill is much more than about abortion," Democratic Assemblywoman Carol A. Murphy told reporters following the committee vote. "This is about women's health. This has been a long time coming. It has been vetoed for the last eight years."
Miller pointed to New Jersey as an example of elections being "the final ingredient" in the transformation of the state's reproductive health care policies. Advocates spent years putting forward a positive agenda, Miller tells Bustle, in order to lay the groundwork for elected officials who would eventually enact progressive change.
"All of the years Gov. Christie was in office, he would veto funding for family planning every single year," Miller says. "The legislature was ready, the people of New Jersey wanted it, but the governor refused to let it happen. So they were poised when they got a new governor in to be able to have family planning funding restored."
This victory for New Jersey Democrats is also significant because the state is a key battleground for national Democrats in their efforts to retake the House of Representatives. This year, according to The New York Times, congressional seats that have long been held by Republicans are on the Democrats' radar, and mobilizing on a state level has lent the Democrats strength on a national level.
Virginia
For years, Democrats and Republicans in Virginia engaged in an intense debate over whether or not to accept Affordable Care Act funding in order to expand Medicaid on the state level. In 2018, after what the NIRH report described as "six years of debate and stalling," Democrats finally managed to get Medicaid expansion passed in Virginia's GOP-controlled General Assembly with the help of a minority of Republican lawmakers — and elections played a big role in this effort.
According to The New York Times, Republican lawmakers in Virginia blocked Medicaid expansion for four years straight. However, the GOP nearly lost the state's House of Delegates back in the fall, and though they ultimately managed to retain it, voters described health care as one of their top priorities. Following this push from their constituents — and the election of a Democratic governor — many Republicans stopped opposing Medicaid expansion. As a result, Virginia became the 33rd state to pass this legislation.
One of the state senators who felt this pressure from voters was Republican Ben Chafin. He voted in favor of Medicaid expansion in Virginia because "no just wasn't the answer any longer" for his economically struggling district. "Doing nothing about the medical conditions, the state of health care in my district, just wasn't the answer any longer," Chafin said on the Virginia Senate floor.
Medicaid expansion in Virginia is slated to open up Medicaid coverage to an additional 400,000 lower-income Virginians in 2019. This is a significant development, including for lower-income women who will now be able to access various forms of health care.
According to Miller, the decision to expand health care access also reveals a major shift in a state that once became infamous for requiring ultrasounds prior to abortions. Miller attributed Medicaid expansion to state legislative wins in fall 2017, and suggested that Virginia had undergone a "tremendous transformation" in the past six to eight years due to recent election victories.
Washington
In a move applauded by both Planned Parenthood and NARAL Pro-Choice America, Washington enacted the Reproductive Parity Act this year, which requires any insurance plans covering maternity care to also cover abortion services. According to The Spokesman Review, Democrats in Washington tried for several years to bring this legislation to the floor when they were in the minority, but it was only when they had achieved a majority that they obtained the necessary votes.
Per the NIRH's report, the RPA's passage "greatly expands the number of Washington residents that will have a guarantee of insurance coverage for abortion care" — and, the report argues, this act could not have passed without voter mobilization. As a result of the "new entirely pro-choice state government," people in Washington — especially those belonging to marginalized communities — will now be able to access abortion services more easily if they are on eligible insurance plans.
The RPA was reportedly met with considerable pushback from Republicans, several of whom proposed amendments to allow exemptions for employers on the basis of religious beliefs, for example, or to ban abortions on the basis of sex selection. However, State Sen. Annette Cleveland countered all these amendments, criticizing men "who feel they know better than we women."
The RPA was a focal point of progressive mobilization for years in Washington, and contributed to the state government becoming increasingly pro-choice. Miller explains to Bustle that it wasn't just a shift in power that led to the RPA's passage; it was also voter advocacy for the RPA that led to a shift in power.
"In Washington state, it was six years that the RPA was introduced in the legislature, was pushed forward past one house, but couldn't get through the Senate." Miller says. "So over time it became a real rallying cry to make sure that the Senate would shift, that a seat or two would change in the Senate, and then you would have the opportunity to have both chambers pass it and the governor sign it."
What Voters Can Do To Create Similar Shifts In Power In Their States
As Miller pointed out, it's often women "leading the charge" in movements for reproductive justice and reproductive freedom. But these movements can take many different forms, Miller explains, and there are many different things voters can do to defend women's rights in the face of an antagonistic government.
For Miller, voting in elections on every level of the ballot — from the federal government down to city council — is the single most important thing Americans can do to shift policy in a progressive direction. This was one of the main points emphasized in the NIRH report, to support the assertion that elections matter in framing policies concerning reproductive health.
"The best defense right now and any time when we have the prospect of a hostile presidency, a hostile Congress, a hostile Supreme Court is a strong state offense," Miller argues.
The state offense Miller cites has been increasingly highlighted in progressive spaces, with advocates for legislation like the Equal Rights Amendment seeking to mobilize states in order to enshrine gender equality in the Constitution. However, Miller also has other recommendations for voters looking to do more.
"It's much more difficult to be polar opposites or have hatred against something or someone if it's someone you know and love."
She encourages voters across the country to contact their elected officials at every level of government, as well as the candidates running to represent them. She also urges progressive voters to educate their friends and families about existing laws violating reproductive freedoms, in order to determine what needed to be changed.
Moreover, Miller suggests that Americans engage and volunteer with grassroots organizations fighting for reproductive justice in each state, and that they find safe spaces on social media to have conversations about these issues. Finally, she tells Bustle that the most powerful change can sometimes come from making a connection with just other person.
"Nearly one in four women are going to have an abortion in their lifetime," Miller says. "What that means is that everyone not only knows someone who has had an abortion but probably loves someone who has had an abortion. It's much more difficult to be polar opposites or have hatred against something or someone if it's someone you know and love."
All of these recommendations, Miller says, can help lay the groundwork in states that may seem like they can't pass affirmative laws now, but could in the future if the right elected officials are in a position to act. Elections matter, Miller reiterates, because they are a reflection of what voters care about. If voters care about reproductive justice, they can shift the power balances in their states as the NIRH report indicates to elect officials who will sign off on laws that reflect their concerns.