These "Won't Be Erased" Tweets Push Back On Trump's Supposed Plan To Redefine Gender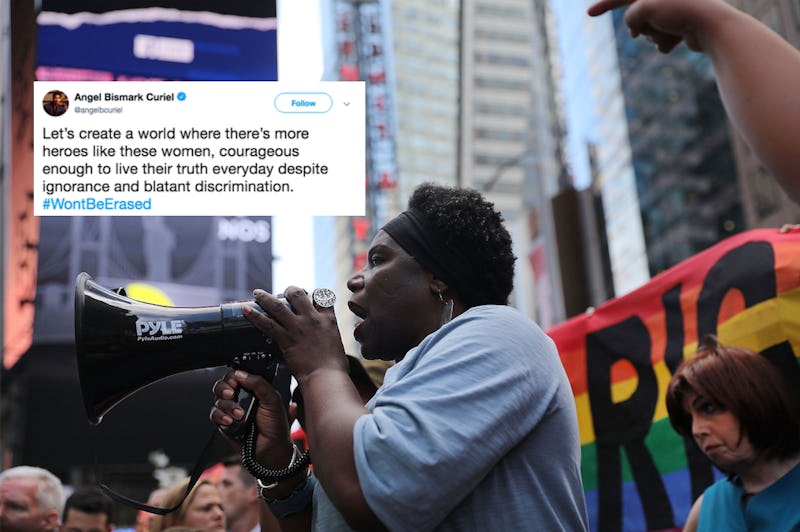 Spencer Platt/Getty Images News/Getty Images
When President Obama was in office, his administration eased the legal language on the definition of gender for federal programs. This language recognized gender mostly as a person's choice rather than the sex assigned at birth. But Trump could change all that; according to the New York Times, the president is considering tightening the definition of gender. In response on Twitter, "Won't Be Erased" tweets are standing up for transgender and non-binary Americans.
The reported plan would essentially take away federal recognition of trans and non-binary identities, New York Magazine's The Cut reported, with the Department of Health and Human Services only acknowledging the male and female sex for Title IX definitions of gender. The Trump administration would also narrow the definition of gender as a biological, immutable condition determined by genitalia at birth, The New York Times noted.
The potential change in the government's definition of gender could be catastrophic for more than 1 million people nationwide, who could have access to housing, health care, and other public services taken away, according to The Cut. Over the past several years, the issue of gender has led to legislative and policy battles, like transgender bathroom use and dormitory assignments.
As news of Trump's apparent plan to redefine gender spreads, trans and non-binary people, along with their allies, have begun to fight back with the hashtag #WontBeErased to advocate for their rights and access to public services.