Woody Harrelson Confirms His 'Star Wars' Character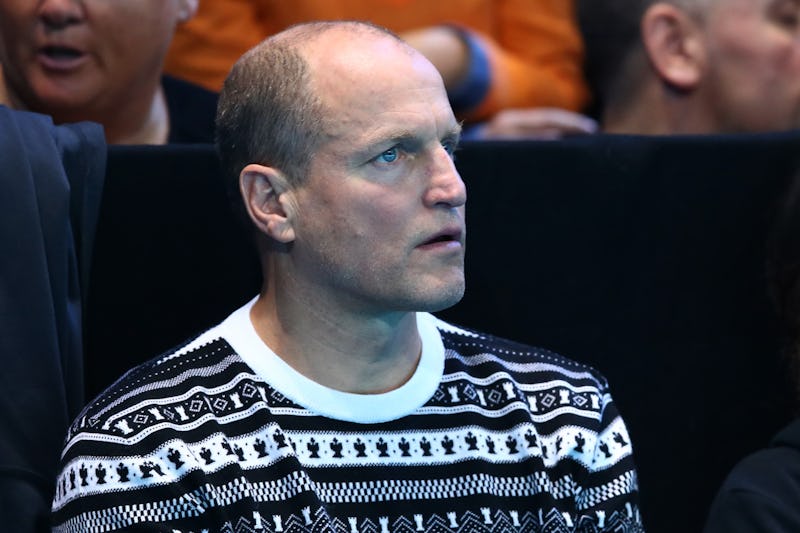 Clive Brunskill/Getty Images Sport/Getty Images
As famously tight-lipped as Disney is about the franchise, rare is the day that fans can find anything out about upcoming Star Wars projects in advance. But after one actor's uncharacteristic admission, rumors are swirling about the character he might be playing, and now is our opportunity to get ahead of them. So here's everything we know so far about Woody Harrelson's potential Star Wars character. Up until now, all we knew was that Harrelson would be playing a mentor to young Han Solo, but, in a taped interview with Variety, he seems to confirm the specific identity of the role.
When asked point-blank if he'd be playing Garris Shrike, Vulture reports that Harrelson hesitated, and then responded simply, "Yeah, I am." It's hardly an official statement from Disney, and, in fact, Lucasfilm's Pablo Hidalgo threw Harrelson's admission into question with a tweet reading, "I'll let others sort it out, but ask yourself - what question was he answering? #cryptic tweets." But just in case there's any truth to this story, who exactly is Garris Shrike?
If his name doesn't sound familiar, don't worry. Garris has never appeared in a movie. Instead, he cropped up in The Paradise Snare, one of the books in the Han Solo trilogy that was considered canon prior to Disney's acquisition of the Star Wars franchise. Now, however, it's been relegated to the category of "Legends." Any plot points that fall under the "Legends" umbrella may not be canon now, but that doesn't mean they never will be. These are stories that Star Wars universe characters themselves might have heard, not just real-life fans of the franchise, and that may turn out to be true in time.
According to the legend spun out in The Paradise Snare, Garris Shrike is a man who began his career as a bounty hunter, who then left the field after his fiery temper got in the way of him bringing in live bounties. He transitioned to a life of crime, recruiting young orphans from the streets and transforming them into a network of trained thieves and con artists. Han Solo was one of those orphans, and his relationship with Garris was complicated, with Garris alternately providing mentorship and beatings.
After a time, Han planned his escape from Garris' ship, the Trader's Luck, and, when Garris discovered the plot, a conflict ensued that injured Garris' brother Larrad and killed Han's surrogate mother, a Wookiee named Dewlannamapia, cementing a conflict between the two men. Later, when Han's career as a smuggler caused him to accumulate a bounty on his own head, Garris took the bait, hunting down his former mentee to try to collect the bounty. As the story goes, he tracked Han as far as Coruscant, where he captured Han before being killed by a competing bounty hunter.
That's what we know of Garris' story according to The Paradise Snare, and it's certainly a compelling one. But it's also important to remember that, first of all, this story hasn't been confirmed by anyone at Disney or Lucasfilms, and that, second of all, seeing as it isn't canon, there's a huge amount of flexibility when it comes to tweaking or full-on adapting the story. If Harrelson is indeed set to play Garris Shrike, he could take on the character in name only and use his story merely as inspiration. No matter what, it's exciting to be able to start envisioning Woody Harrelson in the role.