Yara Shahidi Joins GAP's Inspiring Campaign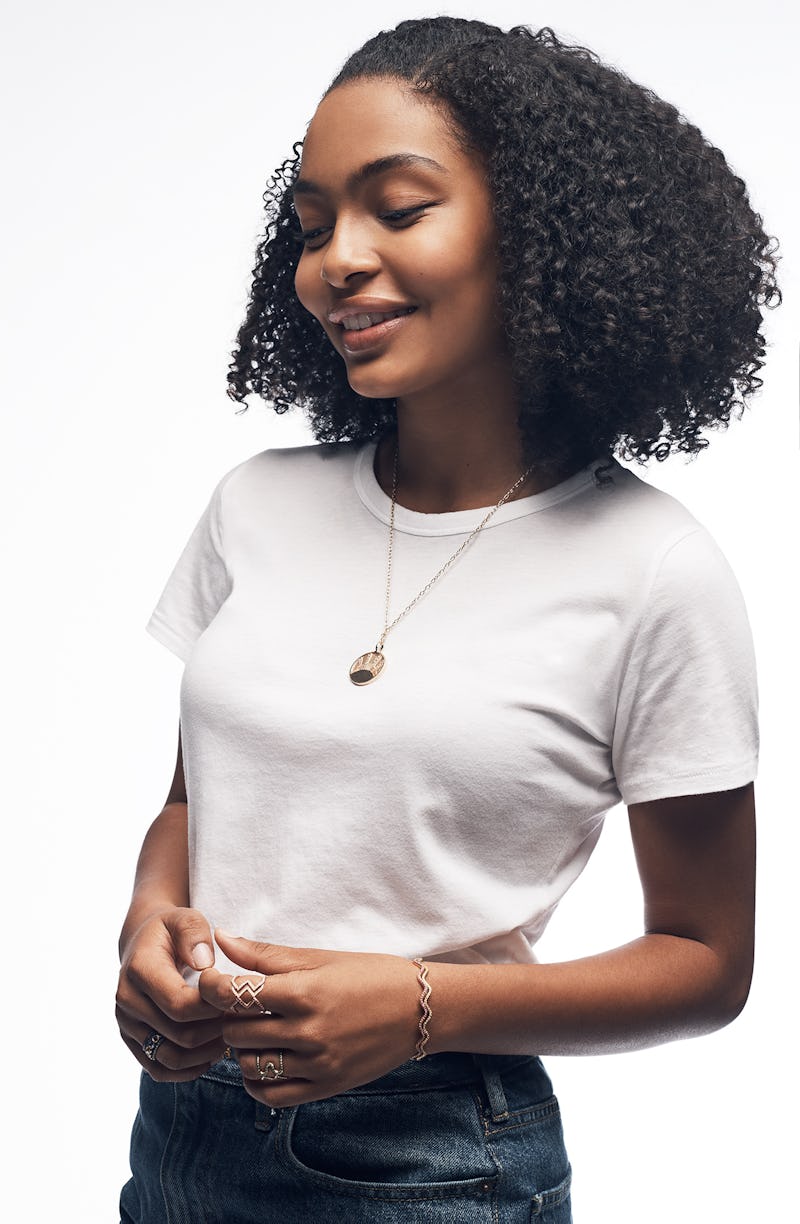 GAP
If you're not already familiar with Yara Shahidi, you definitely should be, and you soon will be, thanks to GAP. The Black-ish actress is part of a new, powerful campaign that brings much needed optimism into the world. The Yara Shahidi and Edward Enninful GAP campaign is a brilliant, positive campaign featuring entertainers and models of diverse ethnicities, genders, sexualities, and backgrounds in classic white GAP tees that, for Enninful, symbolize a blank canvas from which to start a conversation about diversity in America.
Shahidi is one of the many recognizable faces in the Bridging the Gap film for the brand, and it was Enninful's incredible vision for the campaign that drew her to be a part of the project.
In an interview over the phone, Shahidi tells me:
From the get go, it was a natural fit. I think the one thing I really gravitated toward was the fact that Edward Enninful, with his platform and with just how major he is in the fashion world, being able to really utilize and optimize that platform to spread a message of diversity, love, and unity and the importance of having conversations about diversity and not shying away from doing something like that. Because of that, it was a pretty organic fit.
Another reason she was personally drawn to the campaign? Its positive, uplifting message about unity and diversity. Shahidi is all about positive energy — even telling Bustle that she wears her chakra necklace taped to her neck underneath her clothing while filming — and Enninful's work with GAP showcases an optimistic outlook on diversity in a political climate that seems to treat diversity as if it were a curse. Shahidi explains, "Positive energy is important in this current political climate, it's so nice to have an upbeat message that is still conveying the importance of diversity, that is still conveying the importance of unity, still talking about how diversity really ranges from not only ethnicity but to sexuality and gender and really talking about the diversity of diversity."
The campaign combines a celebration of diversity and unity with authenticity. Placing the participants in white tee shirts acts a blank canvas from which to express life authentically and embrace your individual self while celebrating the backgrounds of those around us. About living authentically, Shadidi tells me, "Being your authentic self especially in this political and social climate is a revolution in and of itself...Being your authentic self frees up room for others to be them as well, to lead by example is so important."
Shahidi, however, does recognize that authenticity and leading life openly is not a cure all and that many do not have the freedom and safety to do so. It's for this reason, though, that Shahidi loves Enninful's GAP campaign. She explains that Enninful assembled a group of passionate people who care strongly about breaking down barriers that prevent people from living their lives not just authentically but safely.
Shahidi's team up with Edward Enninful's Bridging the Gap GAP campaign shows her commitment to creating safe, loving environments from which to engage others about diversity. With positivity and vibrancy, Shahidi and her fellow members of the Bridging the Gap campaign are starting uplifting, necessary conversations that we all should be proud to take part in.
To purchase a GAP white tee and learn more about the campaign, click here.