If Politics Intimidates You, Yara Shahidi Has Your Back With This Initiative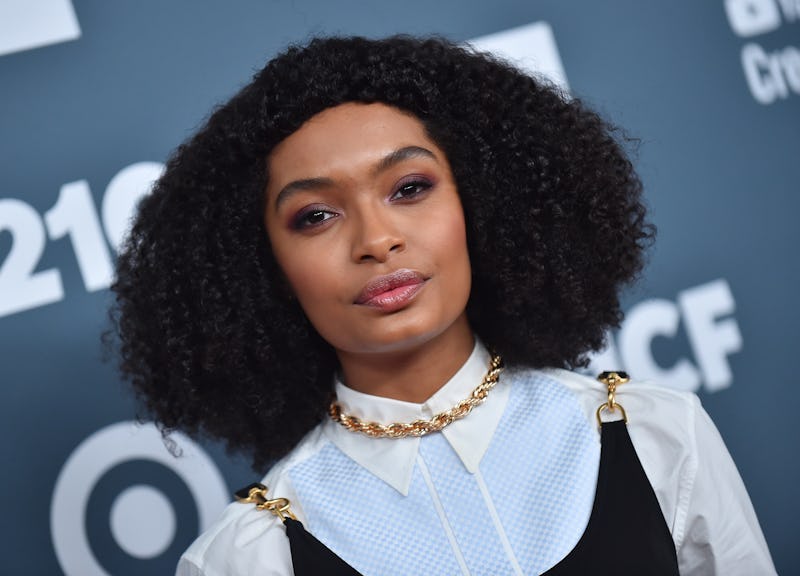 AFF-USA/Shutterstock
Like many 18-year-olds, Yara Shahidi will vote in a major election for the first time on Nov. 6. Unlike most 18-year-olds, though, the grown-ish star has been spending the months leading up to the midterm elections informing and engaging young people like herself in politics through Eighteen x 18, Shadidi's voting initiative. So far, that work has focused on getting out the youth vote in the midterm elections — but after the dust settles next week, Shahidi tells Bustle she wants to do even more.
"Our civic duty doesn't end with voting," she says, adding that there are so many more issues to focus on. "At the core of it there's a long conversation about safety in public spaces, which have everything to do with trans rights, with rights of immigrants, of people of color, of females."
Eighteen x 18 was launched in January, just one month before Shahidi's 18th birthday. She describes it as a nonpartisan platform to help young people understand just what exactly is going on in politics and to inform them about their power at the polls. As the midterms loomed, the initiative set its sights on registering first-time voters and educating them on issues like reproductive rights, gun control, climate change, and LGBTQ rights.
"It is about getting rid of that barrier to entry," Shahidi says, and the "intimidation that people go through about not being smart enough — or whatever it may be — to be involved in politics."
The high point of Eighteen x 18 so far, according to Shahidi, was summit that took place in Los Angeles at the end of September. The audience who came out for #WeVoteNext Summit's guest speakers, workshops, and panels hailed from every state in the country, including Puerto Rico and Washington, D.C.
"It connected many people with a community and reinvigorated people in knowing that they're not alone in this," Shahidi tells Bustle, adding that it was a moment for the politically engaged people in her generation "to be able to be together in the same space."
After Nov. 6, Shahidi wants to broaden the initiative beyond elections, in addition to hosting more summits and live events. She points out that even someone as politically engaged as herself — she threw a voter registration party for her 18th birthday — can have "trouble deciphering what's happening, when it's happening, what the issues are at hand." She describes "an expectation of insane political knowledge if you want to be involved" as a barrier to entry into politics for many others her age.
"As politically involved as I am, and as aware as I consider myself to be, the fact that I didn't know know much about the midterms — and this is somebody who has time to have three different news apps and [is] constantly listening to political podcasts," she tells Bustle. "And so I was thinking about the fact that if I was confused, I can only imagine that my peers are as well."
Eighteen x 18 is far from the only voting initiative targeted toward young people. There's Rock The Vote and MTV's +1thevote (which Shahidi has been involved with as well), in addition to broader political movements like March For Our Lives.
But the youngest voting bloc has historically had the lowest voter turnout of any age group. A June poll from the Public Religion Research Institute and The Atlantic found that only 28 percent of voters ages 18-29 said that they're "absolutely certain" they'll vote in the midterms. Obviously, a single poll isn't representative of how an entire generation will vote on Nov. 6; but the statistics consistently show that the youngest age group tends to have the lowest turnout in elections.
Shahidi argues that this historically low turnout isn't the result of young people not being interested, but about larger structural barriers to voting.
"We've been systematically left out of the conversation ... about how decisions are made," she says. "You know, we are a generation who's known so much about voter suppression and gerrymandering, and known so much about how people actively don't want us to vote."
As far as the midterms go, Shahidi is confident that people in her age group will show up to vote, no matter what the polls or past elections may show. She points to the number of people who have voted early: about 20 million as of Wednesday morning. And she predicts that young people especially will respond to the diversity of candidates in this year's midterms.
"There are more people to rally behind and more young, new, unique voices, which is very special," she says. "Very rarely do we have the kind of opportunity to support people who are younger, who are people of color, who are more reflective of what we look like. I think it's a literal version of the importance of representation, and I believe it will be effective."