Yeezy Season 7 Is Bringing Back The Slouchy Boots You Wore In The Early '00s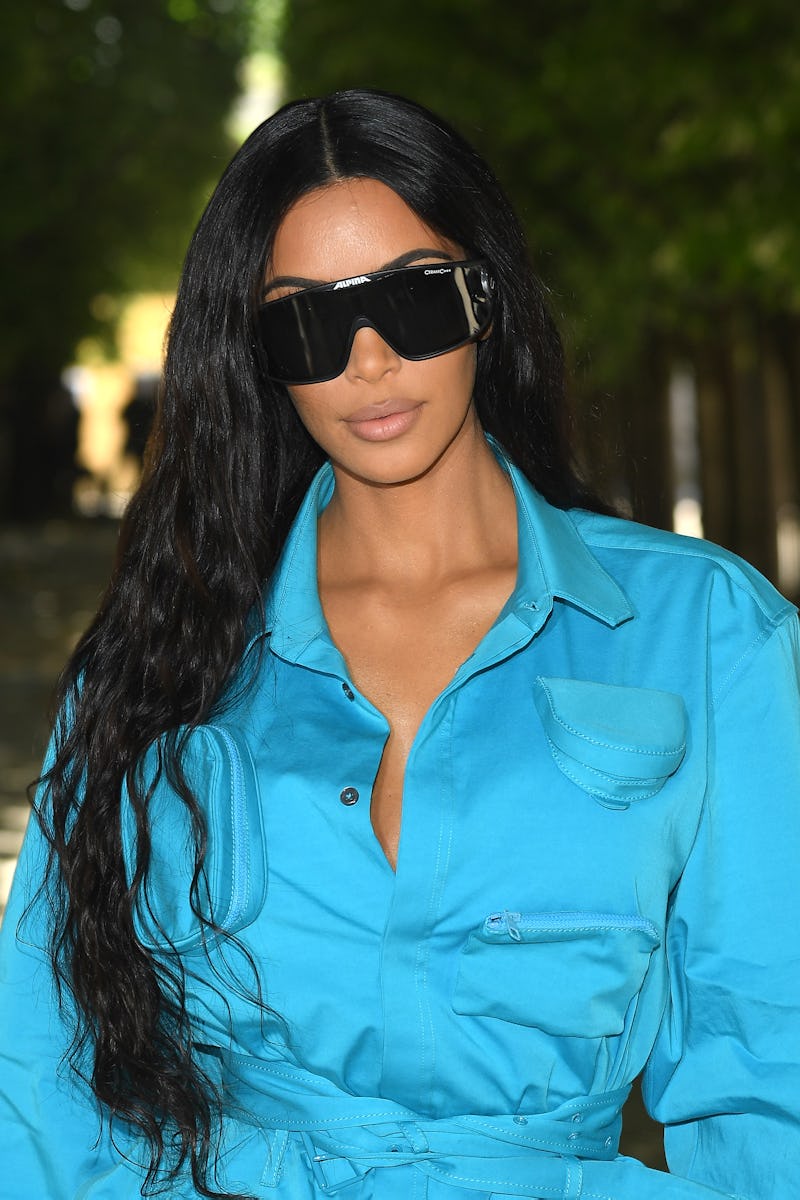 Pascal Le Segretain/Getty Images Entertainment/Getty Images
Kim Kardashian has been walking around Los Angeles in a brand new Yeezy collection, and the new silhouette Kanye West is tinkering with is going to make you so nostalgic for the Noughties. For the past month, Kardashian has been wearing Yeezy Season 7, and while it's still minimalist with a heavy dose of athleisure, West is beginning to move away from clunky dad sneakers and into new territory. Specifically, he has brought back the slouchy boot trend that was a staple in every college girl's wardrobe in 2008, just instead of pairing the boots with pirate-like belts and layered tank tops, he has Kardashian wearing them with bike shorts and zip-neck tops.
Kardashian and her sister, Kylie Jenner, have been sporting the new line since June, walking around Calabasas clad in spandex and shiny leggings, revealing the upcoming collection to paparazzi as the hiding photographers snapped photos of them in between errands. The guerrilla campaign is similar to what West did for Season 6, where he enlisted Kardashian clones to walk around L.A. in waist-long silver hair wearing his pieces, using pop culture icons like Paris Hilton, adult movie actress Lela Star, and the Clermont twin designers.
This collection varies slightly from the last one in that it features things like reflective fanny packs, shiny bodysuits, sci-fi shades, bike shorts worn over reflective leggings, and — the most important part — bike shorts paired with slouchy, thigh-high boots.
But if you went to college in the early Noughties, you'll recognize these boots from the "party" section in your wardrobe. You know the one, where you hung all of your Forever 21 bubble skirts and metallic woven belts. All Kardashian would need here is a slouchy bohemian belt with a buckle the size of an appetizer plate, and we'd be thrown back into 2009, where LMFAO would start playing in the near distance and someone would pass you a Goldschläger shot.
Though, admittedly, West is styling the slouchy boot in a whole new way this time around. Channeling a definitive alien-like theme for this new collection, he has chosen a lot of different reflective accents and materials and has opted for sportier silhouettes, where he has dressed Kardashian in hanging neck wallets, cross-body fanny packs, cropped puffer jackets, and metallic leggings that make her look like she's about to take a three mile jog.
According to Vogue, Kardashian has already showed us a sneak peek of this collection months before, when she went to Japan during the beginning of the year. While she walked the streets of Tokyo, she wore baggy cargo pants cinched by boxy fanny packs, and accented with sporty zip-up mock turtlenecks.
And packed among those athletic pieces were the tell-tale boots, this time coming in a chic but still so-slouchy python material. Here you can see her pairing the knee-high boots with robot-inspired riding shorts and an '80s-like windbreaker.
Then Khloe Kardashian wore something similair, pairing thigh-high baggy python boots with a spandex mini dress and reflective trench.
But you can't help but wonder if part of West's inspiration was his wife's throwback party-girl days, when she used to go out with Paris Hilton and wear sweater dresses and buckle belts. (Like we all did.)
All throughout 2006, Kardashian has worn knee-high and thigh-high boots, matching them with corset tops, dresses with leggings, and capri jeans.
All the greatest designers go back into archives to gather inspiration for their new collections, but instead of flipping through designer house archives, West went back through Kardashian's party photos. And honestly, if we're bringing the early Noughties back and our free-wheeling party days, then I'm all for it.
Bring on the slouchy boots, the Millennium is here.