Yes, You Should Be Traveling To Puerto Rico Now — Here's How To Do It Responsibly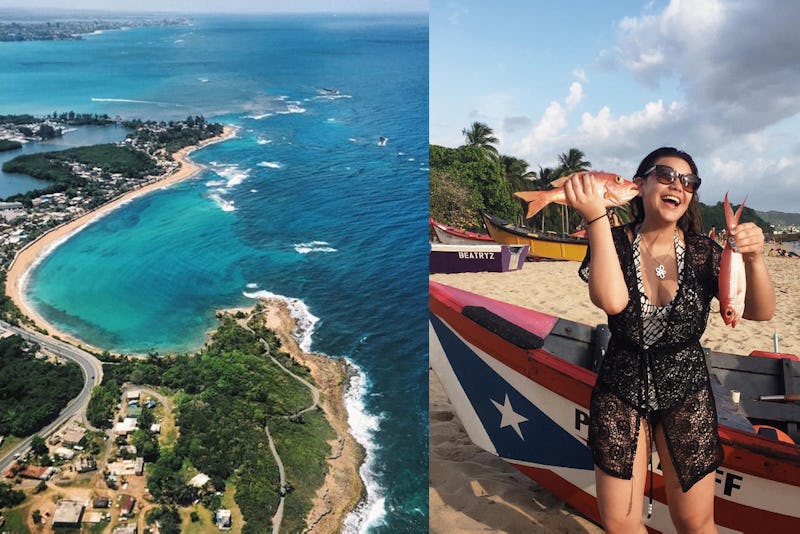 Courtesy of Victoria Leandra
When most people think of Puerto Rico, their minds wander to gorgeous beaches, year-round sunny weather, and incomparable nightlife. But to me, a Puerto Rico native from Toa Alta, that's not the only image I hold dear to my heart. Mofongo, Sunday chinchorreos, hanging out at la Placita de Santurce, and a resilient boricua community are what I think of. But media coverage of the island, a year after Hurricane Maria, continues to show old imagery of the destruction caused by the hurricane. These negative images give the impression that Puerto Rico is still devastated, keeping travelers from visiting. But while not every area of the island has completely recovered from the devastation Hurricane Maria imparted, the tourism industry is ready for travelers to experience firsthand the remarkable effort boricuas have put into rebuilding.
"We are seeing a movement in which travelers really want to get to understand Puerto Rico, its culture, and its people. I am happy that this is happening. If we can see something positive that Maria left, this is it," Carmen Portela, co-founder of Local Guest, an all-women company that provides unique experiential tourism adventures, tells Bustle.
Post-Maria, Puerto Rico began welcoming visitors in late December 2017. Luis Muñoz Marin International Airport (SJU) is fully operational, welcoming domestic and international visitors. (And when you land, expect a round of applause in the airplane.) It's easy to plan a trip to Puerto Rico — no passport is required for U.S. citizens or green card holders, U.S. currency is used, and English is widely spoken. But not everyone knows this.
Some still feel reluctant to visit the island, fearing a lack of electricity, running water, and overall readiness from the tourism and service industry. Others who visit the island opt to stay in a resort, making the mistake of thinking that's all there is to see.
"When tourists go back to their homes, they talk about the relationships and the people they met in the island," Mariangel Gonzales, editor-in-chief of LOCAL, a Puerto Rico guidebook curated by locals, tells Bustle. "It's a great idea to come to a country and explore it for its people, their businesses, their day to day grind, as opposed to coming to a resort for five days."
"It's a more responsible traveler, who seeks to connect with the culture and authenticity of a destination."
Tourism feeds the island's economy as a major profit driver for the island, accounting for 10 percent of its GDP, according to the Puerto Rico Tourism Company. Even though the hurricane was a setback for the tourism industry, Puerto Rico is starting to see pre-Maria levels of activity. "The more visitors we can welcome to the island, the more jobs that creates," Brad Dean, CEO of Discover Puerto Rico, tells Bustle.
And since the hurricane, there's been a shift in the kind of tourist who's coming to the island — one that is using their dollars with the specific intent of benefitting the island's economy. "It's a more responsible traveler, who seeks to connect with the culture and authenticity of a destination," Portela of Local Guest says.
Before the hurricane, tourism centered on the metropolitan area of San Juan. Now, visitors are exploring further reaches of the island, Diana Otero and Pablo Diaz, who run the travel blog Andandos, tell Bustle. The hurricane "put Puerto Rico in the mind of many who perhaps did not know where it was," Otero says. Take for example, "Santurce es Ley" or "Yaucomatric," art installations that are attracting thousands on a daily basis toward other barrios like San Juan's Santurce, or Yauco, a small town on the island's southwest side. "Individuals created an experience in a community not often visited by even locals," Diaz says.
This shift toward more conscious travel not only makes a traveler's experience better, but also creates a ripple effect throughout the island's economy. Getting outside the capital will aid communities even more in need. When travelers book Airbnbs hosted by boricuas, patronize local restaurants and bars, and shop in local stores, they're supporting locals who live by that income — whether they're an employee, small business owner, or someone who has a second income from rentals. According to a 2003 study that looked at the impact of shopping locally, for every dollar spent at a locally owned establishment, nearly 45 percent of that revenue stays in the local community, as opposed to dollars spent at a chain store, where only 14 percent of the revenue stays in the local community.
And this current emphasis on boricua-owned and run experiences is already making a difference. "We are seeing a rebirth in Puerto Rico's tourism industry," Xavier Toro, owner and executive chef of Rare125 in Miramar, tells Bustle. He notes that dining at locally owned restaurants, as opposed to chains, has "no comparison" for its fresh local ingredients and personable service. Dining at locally owned places is also a chance to see Puerto Ricans' incredible resilience, Toro says. When the hurricane struck, and the government wasn't able to help them rebuild, "Le metimos mano," he says. "We got to work and got it done."
Pamela Baez, co-owner of La Rosa de los Vientos, short-term rentals in La Calle Loiza, recommends using locally owned lodging to get the most out of your experience. "The attention to detail makes us special. You can see arts and crafts made by my dad all over the property," she says. Shopping from local designers and artisans is also ideal for experiencing the island sustainably. Paola Marrero, owner of Motif Concept Store, says that shopping local directly supports Puerto Rican women trying to progress after the hurricane. "By shopping with me you're also supporting a local Puerto Rican, a business that started from scratch, you're basically sustaining myself, my apartment, and my little car."
Whether you're touring El Yunque National Forest and seeing its remarkable waterfalls, visiting any of the three bioluminescent bays out of five worldwide, admiring San Juan's colonial architecture, or simply dancing the night away to salsa or reggaetón, Puerto Rico still has so much to offer after the hurricane. Because getting to know Puerto Rico is more important now than ever. Tourism can catapult Puerto Rico, its residents, and its businesses forward. While Hurricane Maria was a devastating event for the island, it's time to recognize the inspiring spirit of boricuas by supporting all that the island has to offer.