You Can Make Your Own Nail Polish In A Minute Now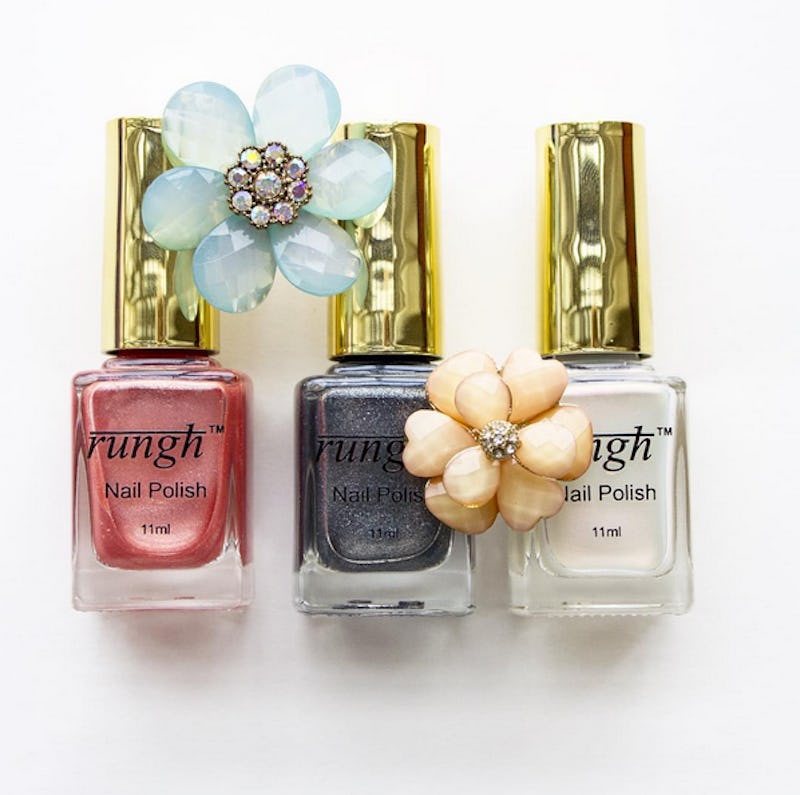 Courtesy of Rungh Cosmetics
An infinite amount of things can happen in the space of a minute but this is undoubtedly one of the coolest. You can now create custom nail polish in 60 seconds, crafting your very own color recipe, courtesy of startup brand Rungh Cosmetics. The Rungh polish sets remind me a grown up, beauty-obsessed version of those Easy-Baken Oven toys, where you could make sweet treats.
I love this concept, because pre-mixed nail polish from major brands might not always be the exact shade you desire. Unique shades might be more expensive or harder to find. Rungh lets you be the master of your own nail color destiny!
So, how do you make custom nail polish in a minute? OMG, you can totally throw nail polish-making parties with your BFFs or create your color in an hour before you go out. Obviously, you have to factor in drying time but you can make your own shade in the same amount of time it would take to go to the store and purchase one.
The Rungh Set features six bottles of polish base, which are free of toluene, formaldehyde, and dibutyl phthalate, a battery-operated mixer, disposable mixing tips, and 18 color capsules. You basically empty at least two capsules into a base, blend it for 20 seconds, and boom! You have a custom shade, one that isn't at CVS, Ulta, or Sephora.
These are the elements of the cruelty-free kit, which meets industry and federal standards, making it safe to use. It also costs $39.95 via the Rungh Cosmetics site. That purple thing is the mixer, to which you attach the disposable tips.
Ready to see the polish creation process?
First, crack a color capsule and empty it into the base.
Break open your second color capsule and pour it into the base.
Insert the mixing tip and blend your shade.
Add the cap and voila — you have your own DNA-distinct shade.
That's how it works! It's almost too easy, right?
The colors are super pretty and you can become a nail polish alchemist by mixing colors. Turn your bathroom into a beauty lab.
Seriously, though! How cool would it be to have someone say, "OMG! I love your nail polish. Where did you get it?" and you respond, "Oh, I made it myself!"
A big trend and hack in the beauty realm is mixing products or using unconventional things to come up with custom looks. But it's usually with facial makeup. I am glad it has extended to the nail category.