Major Key: You Can Shop DJ Khaled's Closet Now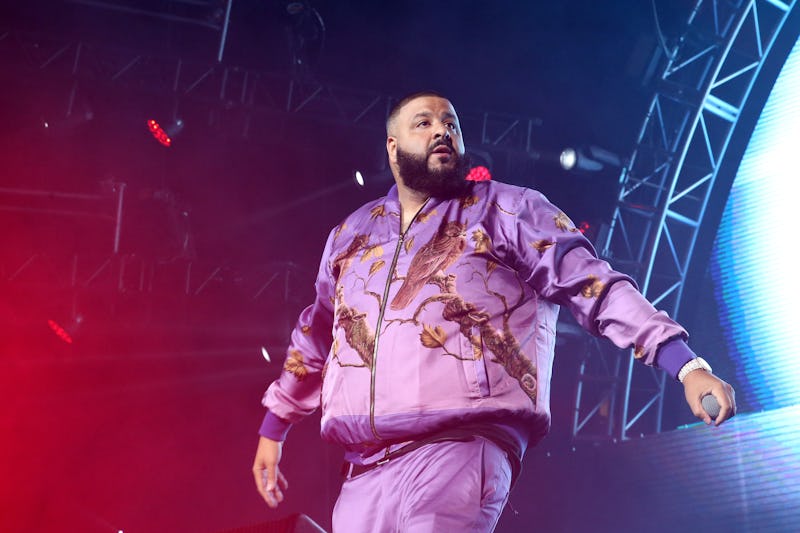 Bennett Raglin/Getty Images Entertainment/Getty Images
Everyone already knows DJ Khaled is the best, but now that he's giving fans a chance to own pieces of his wardrobe, there's really no denying it. DJ Khaled's teamed up with Poshmark to launch a Pop-Up Closet for fans to shop. According to a press release, this will give people access to some of his personal closet items, pieces he's worn in music videos and yes — the vest he was wearing when he got lost on a jet ski.
So, needless to say, there will be some pretty epic items up for grabs, and you won't want to miss the chance to make these DJ Khaled wares your own. And as if shopping from the coolest DJ's closet wasn't enough of an incentive to spend money, there's also the fact that proceeds go to a charity called Get Schooled to consider. Get Schooled helps give high schoolers the tools they need to succeed in college so that they can become their best selves and live up to DJ Khaled status. Because really, isn't that what we're all after? Say it with me — "We the best." Yeah, you get the idea.
There will be several clothing drops to look forward to throughout the month of August. The first drop took place on July 11, but several items were still available to shop at the time of publication. You'll be able to shop Khaled's closet through the Poshmark app, so make sure it's downloaded on your phone so you can get to shopping, ASAP.
The suits DJ Khaled and his son wore on the Grateful album cover will be among the many must-have items. But, make sure your wallet's prepared because as you might imagine, pieces like these don't come cheap (but are totally worth the investment!).
Some items are more affordable than others. The first drop offered prices from $20-$5,000. With drops coming throughout the month of August, there will definitely be a lot of exciting shopping opportunities. Everything from DJ Khaled-owned hats to some of his favorite pieces from his We The Best clothing line will be up for grabs.
DJ Khaled is the king of tracksuits, so of course, there's a few of those in the mix.
The opportunity to cop clothes that will give you swagger like DJ Khaled is crazy amazing, so you won't want to miss out. Because chances like these certainly don't come around often.
Clothing from his wardrobe could easily bring you the key to success, so yeah...best get to shopping!