You Can Trick-Or-Treat At Disney All Through October — Here's What You Need To Know
by Callie Tansill-Suddath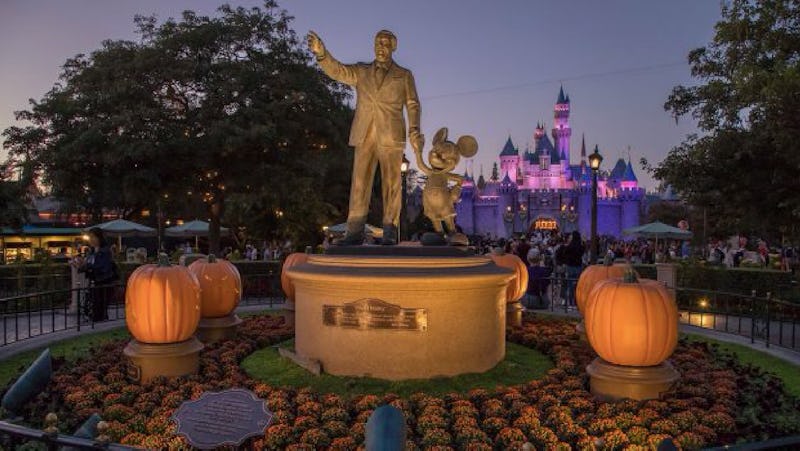 Disney Parks Blog
Nobody does a holiday like Disney. Months before the public is even thinking about Halloween, the happiest place on earth is already planning ways to celebrate the spookiest day of the year. Disney's resorts plan perfect ways to celebrate for everyone in the family — whether you prefer tricks or treats. But the most classic ways to celebrate October 31 is undoubtedly trick-or-treating. Kind look forward to the candy-filled night all year. So, naturally, Disney has been putting together an extra special take on the tradition by letting you trick-or-treat at Disney hotels.
Per the Disney Parks Blog, on select afternoons between October 2 and October 31, guests staying at three of the hotels at Disneyland Resort — Disney's Grand Californian Hotel & Spa, the Disneyland Hotel, and Disney's Paradise Pier Hotel — can participate in exclusive, complimentary trick-or-treat festivities. Here's how it works: hotels will provide treat maps of locations, so little ones (okay, big ones, too) can visit all three hotels to collect goodies. But, candy is only the most basic of Disney Land's trick-or-treat offerings. More nontraditional activities such as coloring pages, bat mask decorating, cookie decorating, and create-your-own pirate hats will also be offered to guests.
In true Disney fashion, the parks have also gone all out in terms of decorating. Keep an eye out for the edible display of Halloween pumpkins in the lobby of Disney's Grand Californian Hotel & Spa. The pumpkins take a ghoulish form with The Nightmare Before Christmas' menace, Oogie Boogie, and are built from cereal treats, icing, chocolate, and fondant. The brilliant pastry chefs at Disney reportedly utilized over 200 pounds of icing, 100 pounds of chocolate, and 300 pounds of fondant to craft the show-shopping pumpkin creations. If you have a observant eye, you may be able to spot all lucky 13 hidden Mickey mouses included.
Of course, eats and sweets are also a highlight of Disney's Halloween festivities. A holiday cart in the lobby of the Grand Californian Hotel & Spa will be serving up some Mickey-shaped cookies, Halloween whoopie pies, jumbo cake pops, pretzel rods, a cookie box with Witch Finger cookies, and pumpkin pound cake. A Red Poison Apple Glow Cube, which can be added to any beverage to give it an illuminating touch, can be purchased at all restaurant or quick service locations. More traditional fall flavors of are available as well: Pumpkin Spice Lattes at Surfside Lounge at Disney's Paradise Pier Hotel and Pumpkin Muffins are available at The Coffee House at the Disneyland Hotel.
Finally, you don't even have to leave your hotel room to take advantage of all Disney has to offer for Halloween; you can order a Halloween-themed pumpkin bucket to be delivered straight to your room. The Halloween Treats Pumpkin is a light-up plastic jack-o-lantern filled with spooky treats, and a one-of-a-kind Halloween-themed keepsake with a Mickey Mouse pumpkin light-up lanyard.
Unsure of your Halloween plans? There is still time to get in on all the action provided by the mouse, and book tickets on the Disney website. Happy spooking!