This Trans Bathroom Rights PSA Is A Must See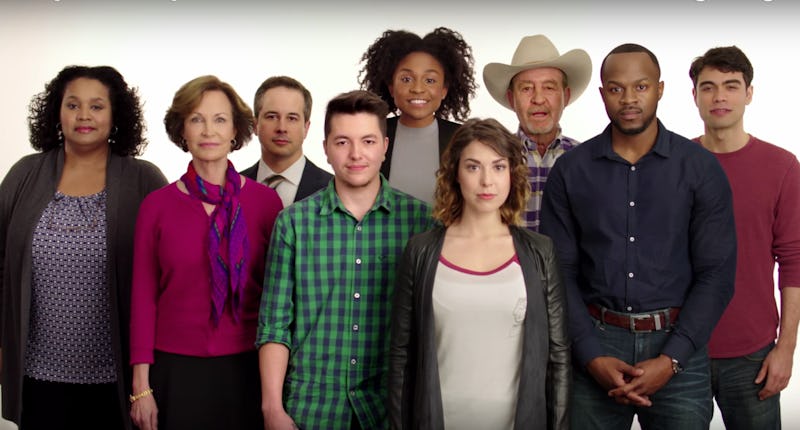 Following President Donald Trump's decision to roll back protections on transgender students' bathroom choices, Americans are fighting back. Since Trump's declaration gives the power to decide bathroom policy back to the states, the fight has gone down to the local level. Across the country, lawmakers are threatening to restrict bathroom access for trans students. Many are aware of North Carolina's bathroom bill, but there's also a bill proposed in Texas, for example, that would deny trans people the right to use the bathroom that corresponds to their gender identity. So, director Richard Linklater released a great PSA calling for residents to stand with trans people.
Texas Lt. Gov. Dan Patrick has championed the Texas Privacy Act as a way to protect women and children, but really bathroom regulation bills tend to hurt the trans community instead. While not quite as restricting as the North Carolina bill, Texas bill SB6 would certainly be a blow to transgender rights and anti-discrimination advocates. If passed, the bill would be effective in September, and would bar cities from passing their own local bathroom ordinances. This could affect cities like Austin, which mandates that all single-stall restrooms be gender neutral. Additionally, the bill would force schools and government buildings to adopt a "biological sex" bathroom rule.
Linklater's video for the ACLU of Texas and Legacy Community Health uses clever tag lines like "I Pee With LGBT," and "You gotta take a seat to make a stand," and "You gotta spray it to say it," to get the message of standing with trans people across. Potty humor aside, it's an important declaration. Linklater is known for movies like Dazed and Confused, Boyhood, and Everybody Wants Some! and is a native Texan, so it's nice to see him be involved in an important cause for his state.
But Linklater is not the first celebrity to step up to defend trans bathroom rights in Texas. More than 140 celebrities signed a letter protesting Texas' trans bathroom bill, as well as other anti-LGBTQ legislation. Many musicians, actors, and artists like Lady Gaga, Laverne Cox, Britney Spears, Ariana Grande, Amy Poehler, and Janelle Monae called upon Texas legislators to go against the bill and stand up for transgender people in the state.
Even the NFL has taken a stance on the controversial bill. According to Rolling Stone, the league is considering removing the state from potential future Super Bowl host states should the bill go through.
It's encouraging to see celebrities use their influence to champion transgender rights. As the current administration works to further restrict civil rights and undo the progress of modern times, America needs everyone who is able to fight back to do so. With so many people against the bathroom bills, hopefully legislators will be convinced that it is against their best interest, as well as their constituents' interests, in voting for it to pass.
Images: Taking a Seat, Making a Stand PSA