You Need To Know About The Group Of Women Who Helped Democrats Sweep Tuesday's Election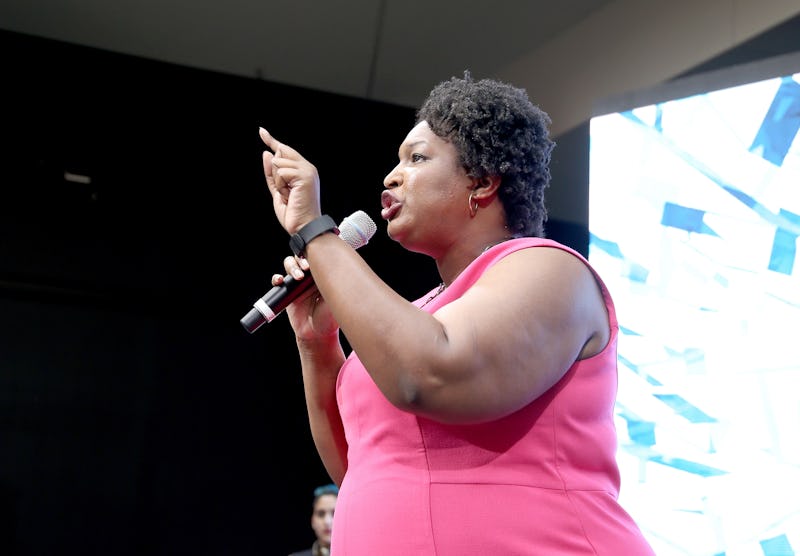 Paul Zimmerman/Getty Images Entertainment/Getty Images
In a sweeping indictment of Donald Trump and his Republican Party, the coalition Democrats have spent the past year building delivered historic wins Tuesday night up and down the ballot and across the country — and we did it with Democratic women leading the way.
From Virginia to New Jersey, from Charlotte to Seattle, Democratic candidates running on the issues that mattered to their constituents triumphed over Republican opponents running on racism, hatred, and fear. Democrats candidates, many of them women, won with a coalition that looks like America itself: strong, diverse and unified around a core set of values that we all share.
Women were an enormously powerful force, but everybody played a role: Facing a president and a Republican Party that wants to divide us, Democrats banded together to recruit, train, and support candidates across the country and up and down the ballot.
From long-standing Democratic campaign organizations like the DNC, DGA, DLCC, and, of course, EMILY's List, to long-time allies like our union brothers and sisters including NEA, AFT and SEIU, Planned Parenthood, Giffords, Everytown for Gun Safety, and LCV, to new groups that are already making a major impact like Run for Something, Latino Victory Project, Higher Heights, Emerge America, and Our Revolution, the Democratic village is huge and working together to win. This list is just a small sampling of the organizations we are proud to have fought alongside to create an incredible and history-making election night.
I'm especially proud of the work women did to create this week's victory. From the huge support of engaged women voters to the diverse slate of pro-choice Democratic women who ran and won across the country — including more than 30 victories from our endorsed candidates — we know women were a huge part of the victory on Election Day.
In Virginia — where a historic number of women ran on the ballot with Ralph Northam — we saw the power of this winning coalition in action. A diverse slate of women candidates won running on the issues voters in their communities actually care about — from local traffic issues, to expanding access to affordable housing, to raising the minimum wage, to health care.
And as Danica Roem — the woman who was just elected to be the first transgender elected official in Virginia history — put it, these women proved that "discrimination is a disqualifier."
Next year, Roem, who just defeated a Republican incumbent who authored a transgender bathroom bill and has proudly referred to himself as Virginia's "chief homophobe," will join Elizabeth Guzman in the Virginia House.
Guzman — a union member and one of the first two Latina representatives Virginia has ever elected — defeated a Republican incumbent in a key swing district, after facing some of the most racist, anti-immigrant attacks of the cycle.
In House District 51, Hala Ayala — a single mom and cyber security specialist and the second Latina candidate elected in Virginia last night — turned her suburban swing district blue, defeating a Republican incumbent who ran as a moderate.
Jennifer Carroll Foy — who won her primary by 12 votes and gave birth to twins during her campaign — also won in House District 2.
And in House District 42, Kathy Tran flipped a seat in a district Hillary Clinton won by a strong margin to become the first Asian American woman elected to the Virginia House of Delegates in history.
And these are just a few of the women Democrats elected to the legislature in Virginia, where voter turnout in majority African American, Latino, and Asian American precincts exceeded pre-election estimates.
History-making wins happened across the country this week. We saw the election of the first African American woman mayor in Charlotte, thanks to Vi Lyles; and Joyce Craig was elected the first woman mayor of Manchester, New Hampshire. Seattle elected its first lesbian mayor, and first woman mayor in nearly a century, in Jenny Durkan, and Laura Curran was the first woman executive elected in Nassau County, New York. And we flipped effective control of the Washington State Senate with Manka Dhingra's win.
All these women are running as part of the historic wave of women we've seen stepping up to run — including more than 20,000 women who have come to EMILY's List since Election Day 2016 to sign up to run for office in their communities in 2018 and beyond. This support and enthusiasm, coupled with all of the work from every part of the Democratic tent, prove just what we can do in the face of a divisive Administration and Congress and damaging Republican policies.
My team and I talked to voters who had been registered by NextGen and canvassed by NARAL Pro-Choice America staffers, volunteers who had worked in union phone banks, all fighting for candidates recruited and supported by one or many of our Democratic allies. Those candidates, like the organizations that supported them, represented all of us — including union members, moms, activists, and more.
The results of this election make one thing clear: Democrats have the coalition we need to win in blue and red states, from cities to rural small towns. I am proud of the work we all did — and even prouder that we did it together. Donald Trump should take note: Women are just getting started.
Stephanie Schriock is the president of EMILY's List.