'You' Season 2 Is Already In The Works & Joe Sounds As Creepy As Ever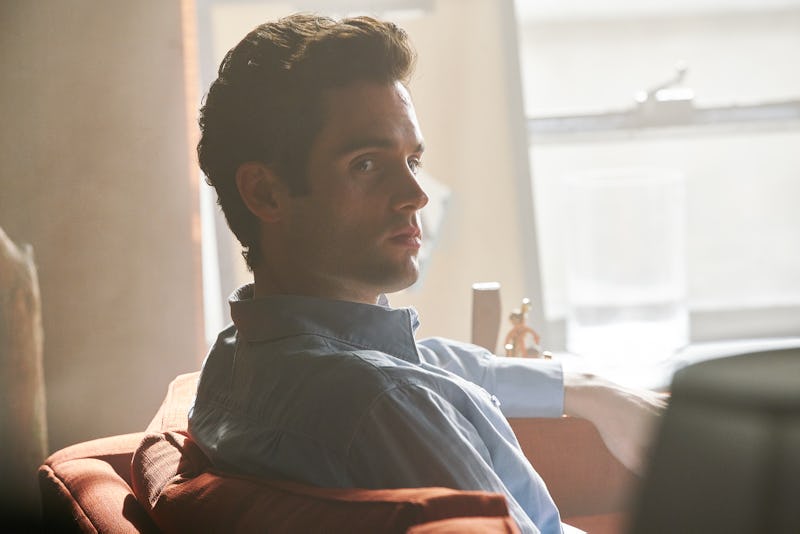 Lifetime
It's been a long time since Dan Humphrey moped around the Upper East Side, pining for Serena. These days, Penn Badgley is playing yet another insufferable bookworm with his sights set on a different pretty blonde, and this time in Brooklyn. In Lifetime's series You, which premiered on Sep. 9, Badgely plays Joe, a bookstore manager that falls for aspiring young writer, Guinevere Beck (Elizabeth Lail). But what at first seems like innocent desire morphs into terrifying danger as Joe quickly reveals himself to be a violent stalker. Now, You is getting ready to air the final episode of the first season on Nov. 11, and no matter what goes down in that episode, Joe's story is going to continue since You has already been renewed for Season 2, according to The Hollywood Reporter.
The news of the official You Season 2 renewal came in July 2018, ahead of the Season 1 premiere. According to another report from Deadline, the new season will follow Joe "his search for love takes him to Hollywood where dreams can be made or shattered." The series so far was based on the novel You, by Caroline Kepnes, and Season 2 will follow the sequel to that story, called Hidden Bodies. This sophomore effort from Kepnes, according to the review from The Guardian, finds Joe trying to put Beck behind him with new girlfriend Amy, but when Amy robs him and runs off to California, Joe is determined to track her down in Los Angeles. Ugh, this guy just won't quit.
Although You Season 2 was locked in before Season 1 began, it seems like the network knew what they were doing when they decided to plan ahead. According to the stats published on TVSeriesFinale.com, You's Nielsen ratings have managed to stay pretty constant throughout its current run. While the viewership numbers for smaller cable networks like Lifetime aren't usually as high as they are on major networks, You was still an instant hit.
Maybe it shouldn't come as a surprise that You has done so well, as it comes from a powerhouse team of creators. Greg Berlanti, also the creator of the Arrowverse, had previously partnered up with Sera Gamble on The Magicians in 2012. Now, the two are back in the writers' room together, and it sounds like things couldn't be going more smoothly. In an interview with Collider, Gamble explained that she's looking forward to working with the same crew in Season 2.
"I'm very excited [about Season 2]. I'm especially grateful because Greg Berlanti and [executive producer] Sarah Schechter really are as fantastic to work for and with as they seem," Gamble said. "They're so supportive of their showrunners and of their writing teams. I am grateful, every day, that I get to work with such incredible people. And that's with both shows. Maybe I did something good, in a past life."
With such a strong team at the helm and solid source material to build from, it's understandable that Gamble says she already has a pretty solid idea of what You Season 2 will look like. She continued to Collider, "Things always change when you get into the writers' room. But we have another book, and the writers' room is absolutely overflowing with ideas, now that we're moving to Los Angeles with the show. They've got a lot to say about L.A."
You may also be on the verge of gaining an international audience, as Netflix has already acquired the rights to distribute the show for the first time in countries outside of the United States (not including China), reports Deadline. American viewers will also be able to give the series a thorough second-watch once it finishes its run on Lifetime.