You're Totally Gonna Root For This 'Supergirl' Villain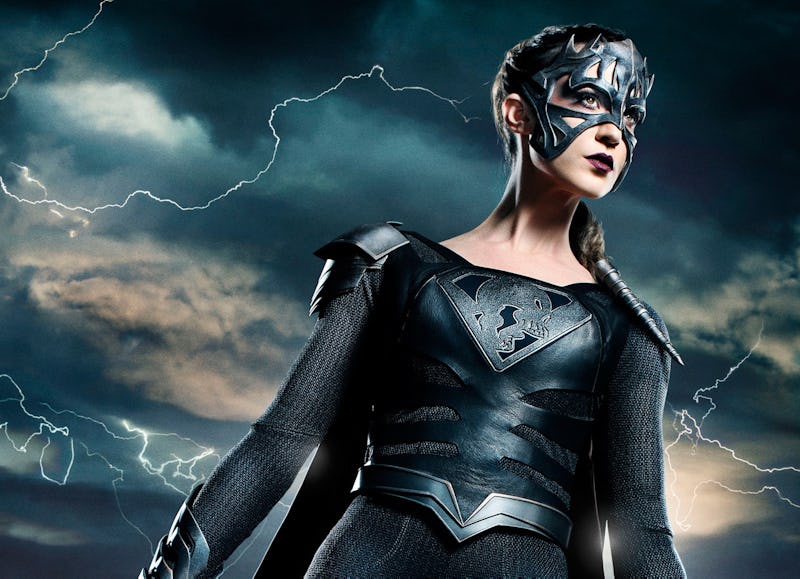 The CW
Rooting for the villain of the story instead of the hero is a pretty weird feeling to experience, not going to lie. And lately, it's been happening more and more as pop culture wises up with authentic depictions of female villains. Fresh off of Marvel's Thor: Ragnarok totally owning the definition of girl power, DC is getting in on that female empowerment villainy action on the small screen with Supergirl.
Before all the crossover craziness went down, hardworking single mom Sam Arias (Odette Annable) had just learned the truth about her Kryptonian origins; that she was created to be a Worldkiller, the antithesis to Supergirl (Melissa Benoist). Her complete and utter shock and denial of her evil purpose wasn't enough to stop her transformation though, and in the final moments of her solo journey to learn who she is in her Fortress of Sanctuary, Sam was essentially erased and she became the vessel for Reign.
This all-powerful, indestructible badass is literally here to destroy the world ... and yet fans may find themselves actually rooting for her to win. That doesn't mean viewers want Supergirl to lose or the apocalypse to be nigh or anything like that, not by any means. But watching a selfless, caring, tireless, working mother completely lose her agency as her personality literally gets wiped so she can be a vessel for her Kryptonian makers to achieve their destructive goal is downright heartbreaking. Fans won't be rooting for Reign to destroy the world; they'll be rooting for Sam to claw her way back and take control of her life and body again. We were made to care about this woman for a reason!
And yes, OK, it's fine to admit what we're all thinking deep down: fans may also find themselves rooting, against their own judgement and reasoning, for Reign to beat Supergirl as soon as they see her in action in fight scenes. Because she is the ruthless, strong and unflinching female comic book character women have been craving to see.
"I think Reign is going to surprise people," Benoist says, sitting on the Supergirl set in Vancouver. "She is pretty spectacular to behold and she definitely will give Supergirl the fight of her life."
That conflicting feeling of wanting to see the villain victorious was a calculated move on the part of the Supergirl showrunners, as they didn't just introduce some random big bad to fight Supergirl. Instead they debuted Sam as a random, seemingly "human" single mother, trying to raise a teenage daughter and provide for her family. She was kind, she was smart, she was capable, and she actually befriended Kara, Lena (Katie McGrath) and Alex (Chyler Leigh) ... before she became Reign against her will. Her emotional connections with all the heroes as Sam add another complicated layer to the already delicate dynamic in place.
"What sets her aside from the villains that we've seen, the big bads that we've seen up to this point on the show, she has a really surprising backstory that's quite grounded," Benoist adds. "That gets you really invested in who she really is fundamentally."
Reign will begin to unleash her unholy agenda on National City in the midseason finale (airing Monday at 8 p.m. on The CW), and no one is ready for the hell she's about to bring. Not the DEO, not even Supergirl herself.
"She's the big bad, so it's really everybody trying to figure out what they can do with their skillset or what they have to be able to take her down as quickly as possible," Leigh says on set. "And that is just not boding well for anybody, other than Reign, really, when it comes down to it."
David Harewood is incredibly amped for fans to get to see the action scenes coming up with Reign against Supergirl and the DEO, because J'onn J'onzz aka Martian Manhunter is going to have to throw his hat in the ring.
"Yes, you're going to get to see some real J'onn J'onzz magic coming up in one of the fights," Harewood says. "She's very strong. I was very surprised at how well she can look after herself. She's full of surprises and I think audiences are going to be ... I'll put it this way, I walked on set the other day and was shocked at what I saw. It's a pretty arresting site."
He pauses, then adds with an ominous chuckle, "Reign doesn't exactly treat people with kid gloves." And isn't that what we've all been waiting for from female comic book characters, villain or otherwise?