Here's Your Horoscope For Today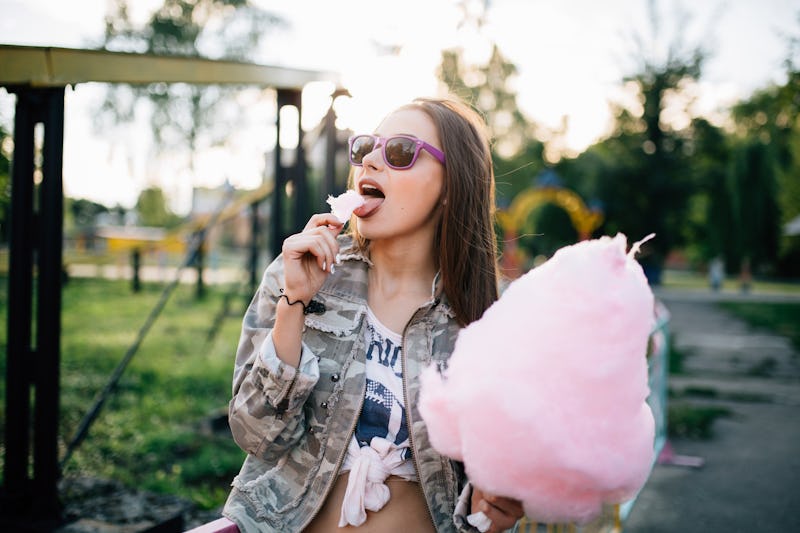 Maksym Azovtsev/Fotolia
We're constantly fascinated by what our zodiac sign says about our lives, whether it's which signs are most compatible or how each sign handles conflict in relationships. That's why Bustle has enlisted Mecca Woods, a New York City-based astrologer of MyLifeCreated.com, to tell us all about how astrology is affecting our lives each day. Today's topic: your daily horoscope for April 26, 2018.
The Moon finishes up its stay in Virgo today, making a good portion of the day perfect for tying up loose ends and handling unfinished business. There's a rare yet potent meeting between aggressive Mars and power-hungry Pluto in Capricorn this morning, setting the tone for the day, which can be helpful in giving us the motivation and determination to get things done. However, because Mars and Pluto are also known for encouraging bullying behavior and pushing limits way too far, today could also be ripe for nasty arguments and power struggles, which means we should pick and choose our battles wisely. Later tonight, the Moon shifts into partnership-oriented Libra, encouraging us to work together and to seek out beauty and balance.
Read below to see what the stars mean for your sign today, and check out your April 2018 monthly horoscope.
Aries (March 21 - April 19)
You can make some major moves today when it comes to your career. If there's a position you've been wanting to go after or something big that you've been wanting to do in your professional life, now's the time to start executing your plans. Be wary of a "my way or the highway" approach.
Taurus (April 20 - May 20)
There probably won't be anything that can change your mind today when it comes to your beliefs and convictions. While this isn't necessarily a bad thing, just make sure that the principles you're fighting for are yours and not someone else's. In other words, it's OK to challenge what you know.
Gemini (May 21 - June 20)
Things may be getting hot and steamy between you and a certain someone but before you go full throttle, it may be worth investigating if this person is worth the time and attention you're putting in. Know that you don't have to force what's not meant to be. There's plenty more for you out there.
Cancer (June 21 - July 22)
You might have to draw some hard and fast boundaries today with someone, especially if you feel like they may be trying to take advantage of you in some way. Overall, know that you can't control how others behave but you can control how you respond to the behavior. Focus on that.
Leo (July 23 - Aug. 22)
If you need help getting back on the wagon where your health is concerned, this could be an excellent day to start. You might also find that you have some extra energy to burn. Channel it into something productive like your to-do list.
Virgo (Aug. 23 - Sept. 22)
Your love life gets an extra dose of heat today, which means that you might end up meeting a very intriguing stranger in a way that feels fated. While this person may be setting your heart ablaze, don't trade substance for instant gratification, no matter how sexy. Creatively, you are a force.
Libra (Sept. 23 - Oct. 22)
A family- or home-related matter could rub you the wrong way today, especially if someone involved is being uncompromising. While you usually like to avoid conflict, you might have to dig in and hold your ground on this matter. At the same time, the situation can also provide a needed release.
Scorpio (Oct. 23 - Nov. 21)
Your mind is razor sharp today, which means that whatever you put your mind to, you can get accomplished. The same power goes for your words too. When you speak, everyone will not only be listening, they'll also be wowed by what you have to say. Make sure to use the moment wisely.
Sagittarius (Nov. 22 - Dec. 21)
Things may feel like feast or famine right now when it comes to your finances, but that's because there's a larger lesson at play. It's time to purge those bad money habits and start getting comfortable asking for the money that you deserve. Cash in on the clout that you've been building.
Capricorn (Dec. 22 - Jan. 19)
You might feel like you're unstoppable today, and you're on point. Very little stands a chance of getting in your way. But be mindful of how you wield your power. You don't always have to be right. Giving others space doesn't mean less space for you. Being fair is a true mark of a leader.
Aquarius (Jan. 20 - Feb. 18)
You might find yourself deep in your feelings today, thanks to some old stuff bubbling up. It's time to free yourself and release what you feel, even if it feels raw and angry. Stewing in it or trying to rationalize it, will only prolong the healing process. Taking a time out might be helpful.
Pisces (Feb. 19 - March 20)
You might get into a tug of war or a back and forth with someone you know today, which could call for you to exercise your boundaries. Meanwhile, if you need some help in achieving a goal, someone you know with influence and clout may step up to the bat. Make yourself seen and heard.