Here's Your Horoscope For Today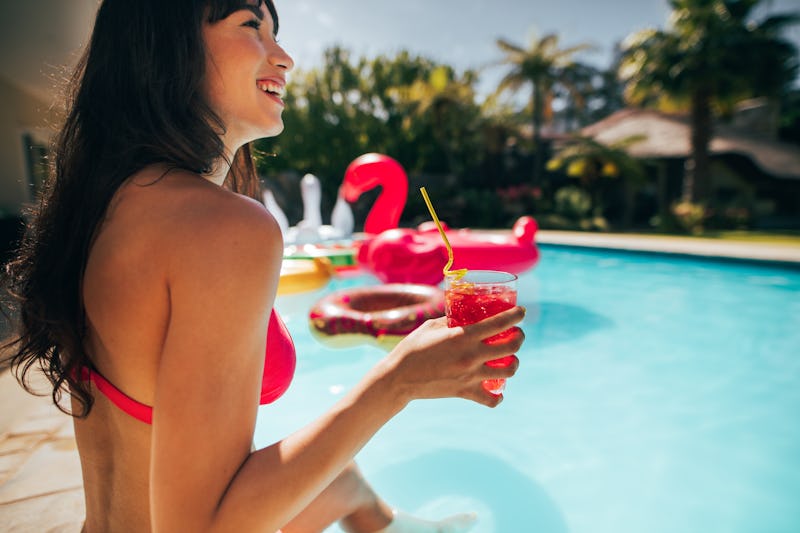 Jacob Lund/Fotolia
We're constantly fascinated by what our zodiac sign says about our lives, whether it's which signs are most compatible or how each sign handles conflict in relationships. That's why Bustle has enlisted Mecca Woods, a New York City-based astrologer of MyLifeCreated.com, to tell us all about how astrology is affecting our lives each day. Today's topic: your daily horoscope for August 2, 2018.
It's another high-energy day with the Moon in fiery and passionate Aries, especially as the day starts off with a meeting between the Aries Moon and the Sun in Leo. Under this Sun-Moon combination we should be feeling bold, brave, and ready to take on the world. Towards the evening, the Moon squares off with power-hungry Pluto in Capricorn, ramping up the intensity and drama around relationships and getting what we need. We might feel like taking an all-or-nothing approach is the best way to go but it could land us in hot water if we're not careful. Luckily, the evening ends on a high note with the Aries Moon syncing up with Mercury in Leo, which can help us to communicate what we feel and better connect with others.
Read below to see what the stars mean for your sign today, and check out your August 2018 monthly horoscope.
Aries (March 21 - April 19)
You may be feeling some pressure today from a supervisor or someone in a role of authority that could have you feeling like you're not doing enough or at the very least, very annoyed. The key to today is not only recognizing that you are enough, but also giving yourself space to do something fun.
Taurus (April 20 - May 20)
Today was meant for you to kick back and chill. So why are you busy trying to force something to happen that may not be ready to happen yet? Yes, you've got a lot of drive and determination, but sometimes you just have to let things unfold at an organic pace. Remember, "easy does it" is your mantra.
Gemini (May 21 - June 20)
Could a friend be asking more of you right now than you can afford to give? Instead of pretending that the issue will go away or getting into some weird power struggle with this person, it may be best for you to have a heart-to-heart and say what's exactly on your mind. You'll be heard.
Cancer (June 21 - July 22)
It may be time for you to renegotiate a professional relationship, especially if you feel like the person on the other side of the relationship is taking advantage of you in some way. If money is involved, get your due. In terms of a personal relationship, hold yourself accountable to what you value.
Leo (July 23 - Aug. 22)
You may be in the mood to escape today but before you go dashing off on your next adventure, you may need to check in with your body to make sure that everything is in tip-top shape. Plus, if you're going to conquer the world the way you want to, you have to make sure you're in good health.
Virgo (Aug. 23 - Sept. 22)
You could meet an intriguing stranger today and this person seems to know how to press all of your buttons in a way that makes you hot and heavy. But before you get carried away, make sure you check in with your intuition to make sure you're not getting involved with someone you shouldn't.
Libra (Sept. 23 - Oct. 22)
You and your partner, a family member, or someone you live with may get under each other's skin today. Though before someone takes things too personally, it may be best to pull back and give the situation some space for the time being. You can come back and address the issue later.
Scorpio (Oct. 23 - Nov. 21)
You may be feeling like you're doing the most today, but the hard work that you're putting in will pay off soon enough. At the same time, know that you don't have to be a hero. It's OK to be picky about what you choose to take on. That way, you won't burn yourself out. Prioritize what's important.
Sagittarius (Nov. 22 - Dec. 21)
You're in the mood to play today, which is a good thing. But you may need to watch out on overspending or overindulging today. Meanwhile, something or someone could trigger your insecurities today. If this happens, remember that you're the only one that dictates your worth.
Capricorn (Dec. 22 - Jan. 19)
A family member or someone you live with could stir up some deep feelings within you today, that could throw you off balance. Know that you have a choice as to whether you allow them to push your buttons. Don't give your power away. Financially, you could get a boost today.
Aquarius (Jan. 20 - Feb. 18)
You might be worried about something today, but it may be something that's beyond your control. Instead of driving yourself crazy and obsessing over this, it might help to talk to your partner or someone close to you to get a different perspective or some sound advice. Lean on others.
Pisces (Feb. 19 - March 20)
You might be ready to go all out when it comes to getting something you've been wanting, especially if it requires a certain amount of cash. However, your best bet is to exercise a little patience and self-discipline right now, so you don't go blowing money on something you can't really afford.