Here's Your Valentine's Day Horoscope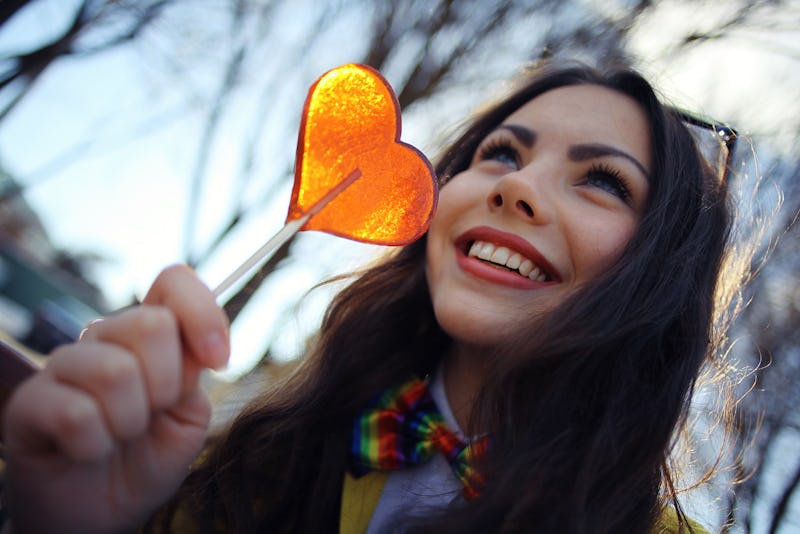 kichigin19/Fotolia
We're constantly fascinated by what our zodiac sign says about our lives, whether it's which signs are most compatible or how each sign handles conflict in relationships. That's why Bustle has enlisted Mecca Woods, a New York City-based astrologer of MyLifeCreated.com, to tell us all about how astrology is affecting our lives each day. Today's topic: your daily horoscope for Feb. 14, 2018.
This Valentine's Day, love favors the quirky, the non-traditional, and the bold as the Moon remains in unconventional and independent Aquarius. With a morning meeting between the Aquarius Moon and Mars in freedom loving Sagittarius, a solo date or an evening out with a group of friends might be a better option than going for the usual cookie-cutter romantic fare. For those of us with significant others, the Moon in Aquarius encourages us to keep things interesting with gifts and date night ideas that are innovative, original, and engaging. If that feels like a lot of pressure, don't fret. The Aquarius Moon invites us to keep the vibe light and carefree. Outside of romantic festivities, this could also be a good day for volunteering or giving back to others in need as a way to invoke the spirit of Aquarius season. Love has many forms. Meanwhile, as the Solar Eclipse in Aquarius (Feb. 15) approaches, we should also look to ways that we can liberate ourselves from fear and complacency.
Read below to see what the stars mean for your sign today and check out your February 2018 monthly horoscope.
Aries (March 21 - April 19)
Inspiration should be coursing through your veins today, as a series of a-ha moments could help to pave the way for you to follow a dream. You're hungry for new experiences and a change of pace now, so allow yourself the freedom. Meanwhile, put your ideals to work for a good cause.
Taurus (April 20 - May 20)
You might be wasting your time today expecting praise or recognition from folks that may never come your way. It's not that there's anything particularly wrong with what you're doing, it's just sometimes you just need to be your own biggest fan. Keep that in mind as you go along.
Gemini (May 21 - June 20)
You might be craving an escape of sorts today, whether it's through travel, a book, or a learning experience. The good news is that you might get running buddy to go along with you for the ride. As such, look towards connecting with those that fuel you and push you to explore.
Cancer (June 21 - July 22)
It may be time for you to be proactive about resolving a financial matter instead of pretending it will resolve itself. Though try not to worry. Things will work out for the best in the end. In matters of the heart, someone may be proving hard to resist, but make sure your head and heart align.
Leo (July 23 - Aug. 22)
Romance is in the air, Leo, which means something/someone worth investigating could be brewing for you. However, there's no need to force anything to happen. Let them flock to you. Get out with a close friend and have fun. Coupled up Leos should have no trouble rekindling the spark.
Virgo (Aug. 23 - Sept. 22)
You might have a lot of activity going on at home today, which means it's a perfect time to work on clearing out closets, rearranging furniture, and looking to other ways that you can freshen the energy in your living space. On another note, it may be time to talk to someone about how you feel.
Libra (Sept. 23 - Oct. 22)
Your passions are stirred up today, which can be a good thing as it seems it's been a while since you've been excited about something. Though what are you going to do with all of this extra energy? That's the question of the day. You could be sitting on your next masterpiece. Strap in and focus.
Scorpio (Oct. 23 - Nov. 21)
Could a move or relocation be in the works? It's quite possible, especially if you start your hunt now. On another note, when's the last time you did something nice for yourself? If it's been awhile, today could be a good opportunity to do so. Overall, tend to your emotional needs.
Sagittarius (Nov. 22 - Dec. 21)
You might be feeling fired up today, though whatever you do choose to say in public, make sure it's something you believe in 100 percent. The world is full of enough empty words and promises. Use your mouthpiece to make a positive impact around you. Your powers of persuasion are unmatched.
Capricorn (Dec. 22 - Jan. 19)
You may need to put your foot down in more ways than one today and stick to your guns, especially when it comes to your values and ethics. Even if you need to go against the grain to do so, your moral compass is what you should follow. Feeling stuck? Let your intuition be your guide.
Aquarius (Jan. 20 - Feb. 18)
You get by with help from friends today, especially if you find yourself feeling a bit off-kilter or emotional. The people that love you will rally around you as needed. Meanwhile, buzz is traveling about you. An opportunity may be on the horizon. Get ready to step up and lead.
Pisces (Feb. 19 - March 20)
It's all about trusting your instincts now, because when it comes to grabbing the brass ring you're after, they will see you through. Envision what you'd like the end goal to be and start making plans. Just remember that things won't move the way you want unless you dig in and work.