Here's Your Daily Horoscope For February 23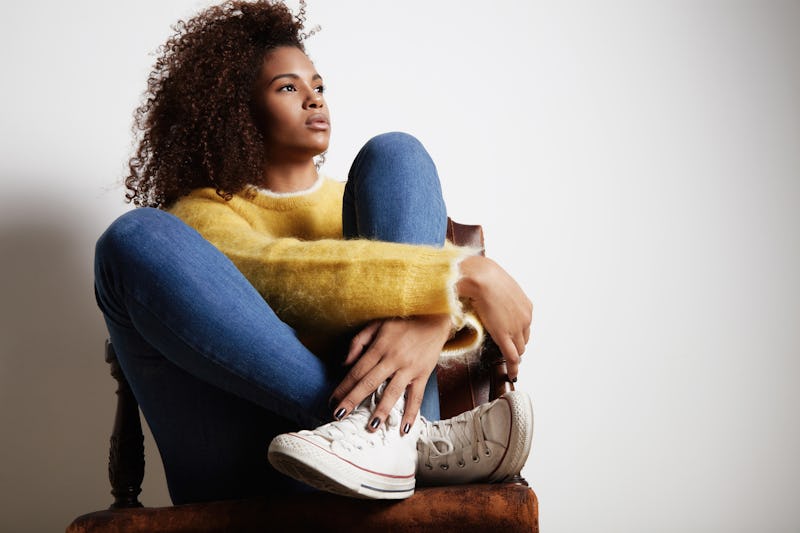 Anastasiia Kazakova/Fotolia
We're constantly fascinated by what our zodiac sign says about our lives, whether it's which signs are most compatible or how each sign handles conflict in relationships. That's why Bustle has enlisted Mecca Woods, a New York City-based Astrologer of MyLifeCreated.com, to tell us all about how astrology is affecting our lives each day. Today's topic: your daily horoscope for Feb. 23, 2017.
The energy remains high today, though it's not as intense as yesterday's vibe. After being in serious Capricorn for the last 2.5 days, the Moon shifts into free-spirited Aquarius just at midday. While Aquarius energy can be a bit chaotic, under this Moon we should find it easier to connect with others and open ourselves up to new experiences, though we'll need to be wary of extremist attitudes or a need to rebel at any cost. However, by the late afternoon when communicative Mercury in Aquarius meets up with stabilizing Saturn in Sagittarius, a stroke of genius coupled with a solid plan could lead to worthwhile changes.
Read below to see what today's stars mean for your sign.
And remember to tune into Bustle's weekly horoscopes video live on Facebook every other Monday at 5 p.m. EST for a rundown of your weekly horoscope.
Aries (March 21 - April 19)
When it comes to what you want for now and the future it may be time to take things a little more seriously. One major way you can do this is by being more strategic or deliberate about what you're creating. Channel your ideas and energy in one direction and stick to it.
Taurus (April 20 - May 20)
You could receive the opportunity to take a step up in your career that can help you to not only gain some deserved recognition but could send some love to your back account too. Overall, today's a good day for focusing on your long -term strategy. Though take a different approach.
Gemini (May 21 - June 20)
A partnership or collaboration could take you far now as you're called to pay more attention to your dreams and wishes. Could you find yourself overseas or working with a mentor or coach to help you achieve what you desire. In context of your life, it's time for some fresh air.
Cancer (June 21 - July 22)
It's time to focus on breaking some unhealthy habits, especially when it comes to your finances and your emotional health. Look to ways you can address old beliefs and perceptions around lack and their correlation to your self-care routine. It's time to be more proactive with your happiness.
Leo (July 23 - Aug. 22)
If you're single and looking, you could meet someone today that not only offers you the kind of fun that you're looking for but the stability too. As such it's important to know that you don't have to trade one for the other. Already have a bae? Looks like there's an important convo to be had.
Virgo (Aug. 23 - Sept. 22)
Today is perfect for getting your affairs in order which may include organizing your home or work space and clearing out stuff you no longer need. Another way to use this time to check in and check up on your health. On another note, if you feel overwhelmed get grounded.
Libra (Sept. 23 - Oct. 22)
Now's the time to work on capitalizing on an idea or creative inspiration. Simply put: how can you take a talent or hobby of yours and make it work for you in way that brings in cash? The first step is recognizing what you have is valuable. The second step? Treating it as such.
Scorpio (Oct. 23 - Nov. 21)
Your focus is on your money and stability now which means you could get the cosmic help you need now to secure yourself new employment (self-employment included) or a new home. Use this period of transition to help you lay down a new set of roots. Focus on renewal.
Sagittarius (Nov. 22 - Dec. 21)
When it comes to the direction you're headed in, you may find yourself with a renewed sense of purpose and inspiration. This is a good thing as the goal right now is not to take yourself so seriously, you lose your sense of fun and creativity. The ideas you plant now could take off.
Capricorn (Dec. 22 - Jan. 19)
The time has come for you to stop overthinking and over-analyzing a situation, especially where it pertains to your income as well as the other things you want. Start using some of those ideas you've been sitting on to propel yourself forward. Don't be scared.
Aquarius (Jan. 20 - Feb. 18)
The spotlight continues to be on networking and communication as you're encouraged to build your version of a dream team. When it comes to your hopes, dreams, and wishes it's time to take your goals seriously and align with others who can tap you into new opportunities.
Pisces (Feb. 19 - March 20)
You could have a dream, a stroke of intuition, or a creative idea that could help you to reach a major professional milestone. This should come as good news especially since your money and income has been on your mind. What you've been craving is within your grasp.