Here's Your Horoscope For Today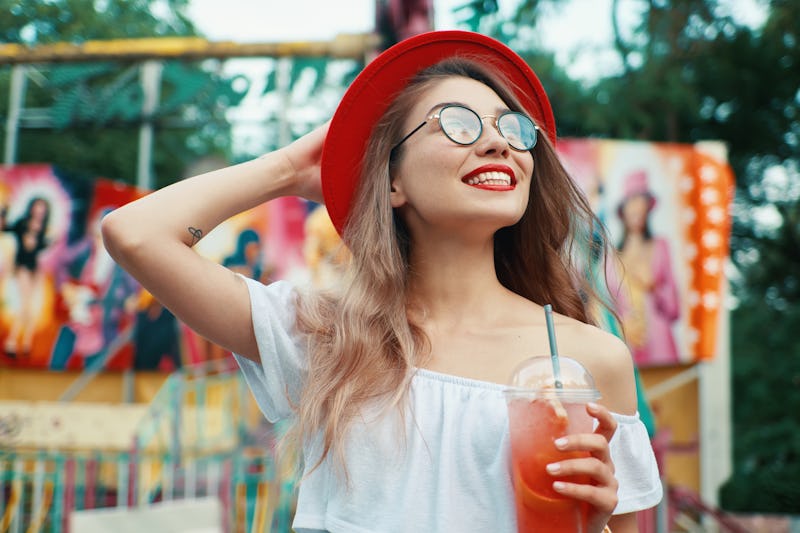 arthurhidden/Fotolia
We're constantly fascinated by what our zodiac sign says about our lives, whether it's which signs are most compatible or how each sign handles conflict in relationships. That's why Bustle has enlisted Mecca Woods, a New York City-based astrologer of MyLifeCreated.com, to tell us all about how astrology is affecting our lives each day. Today's topic: your daily horoscope for July 31, 2018.
The Moon rounds out its transit through dreamy and intuitive Pisces today, keeping us in the mood for chill vibes, intimate encounters, and borderline psychic experiences. The day kicks off with a meeting between the Moon and dreamy Neptune in Pisces, followed by a meeting between the Moon and powerful Pluto in Capricorn, which should provide us with the motivation and the mojo we need to go after something we've been wanting. Later this evening, the Pisces Moon moves into an opposition with analytical Venus in Virgo, which could have us feeling pulled between head and heart, especially when it comes to a relationship matter. The best way to handle this planetary combination is to marry intuition with the facts.
Read below to see what the stars mean for your sign today, and check out your August 2018 monthly horoscope.
Aries (March 21 - April 19)
If you've been considering looking for a new gig, you could come across a promising opportunity today. The same goes for a salary increase. There's no harm in asking for what you want. Keep the faith and you just might get it. In terms of your health and well-being, take good care of you today.
Taurus (April 20 - May 20)
Romance continues to sparkle as you could meet someone today through a friend, online, or someone you know. On another note, when it comes to your personal time and the things you enjoy, be mindful of letting an energy vampire in your midst take up too much of your time and attention.
Gemini (May 21 - June 20)
You might be feeling like you're being pulled in two directions today when it comes to your work life and your family demands. In what ways might you need to set some boundaries for yourself so you don't feel spread too thin? Also, you could receive some good news today regarding a financial matter.
Cancer (June 21 - July 22)
You're quite a force to be reckoned with today, specifically where your words and ideas are concerned. If there's an important conversation you need to have or you need others to hear what you have to say, you should find folks to be all ears. Don't worry about being right; just be you.
Leo (July 23 - Aug. 22)
Money and finances are on your mind today as you find yourself thinking about your short- and long-term security. A financial deal or a lump sum of money that you've been waiting for could come through today; though you could simply be ready to turn over a new leaf with your money management.
Virgo (Aug. 23 - Sept. 22)
"Take care of yourself first" continues to be the message today as you may find yourself caught between needing to look after yourself and wanting to help others. Look to ways that you can strike a balance between "me" and "we." You might even consider asking for help if you need it. Get what you need.
Libra (Sept. 23 - Oct. 22)
This is a perfect time for detoxing your environment and deluttering your space. If there are things around your home or office that you need to toss, you've got a green light to do it. By removing what you don't need, you create space to attract things that you do need. Let the old stuff go.
Scorpio (Oct. 23 - Nov. 21)
Love continues to sparkle for you today, which could bring an admirer or two to your doorstep. Overall, your magnetism is highest today when you're laughing and having fun. Look to activities and experiences that you can engage in today that can bring the laughter to you. Make joy a priority.
Sagittarius (Nov. 22 - Dec. 21)
A job offer or financial opportunity could come your way today, which is a sign that your hard work is paying off. Even if you're not currently job hunting, you could still receive some accolades, though overall, you might do best to reflect on where you are and whether you feel fulfilled.
Capricorn (Dec. 22 - Jan. 19)
You're in the mood for something different today, which is a good thing as you could use a change, namely where your perspective is concerned. In other words, give yourself permission to dream. It doesn't mean you're being impractical; it just means you're tapping into the magical pieces of you.
Aquarius (Jan. 20 - Feb. 18)
Money that you've been waiting on could come through today, but you'll have to make sure that you don't spend it as fast as you make it. In fact, now would be a good time to look into ways that you can save or invest your cash so it can grow for you. Meanwhile, don't let insecurity block you.
Pisces (Feb. 19 - March 20)
You may be in the mood to spend time alone today, but spending time in the company of someone you love may actually be your best bet. Not that you can't make time for yourself, but their company or support may be exactly the thing to boost your spirits. Lean on your community.