Here's Your Daily Horoscope For March 10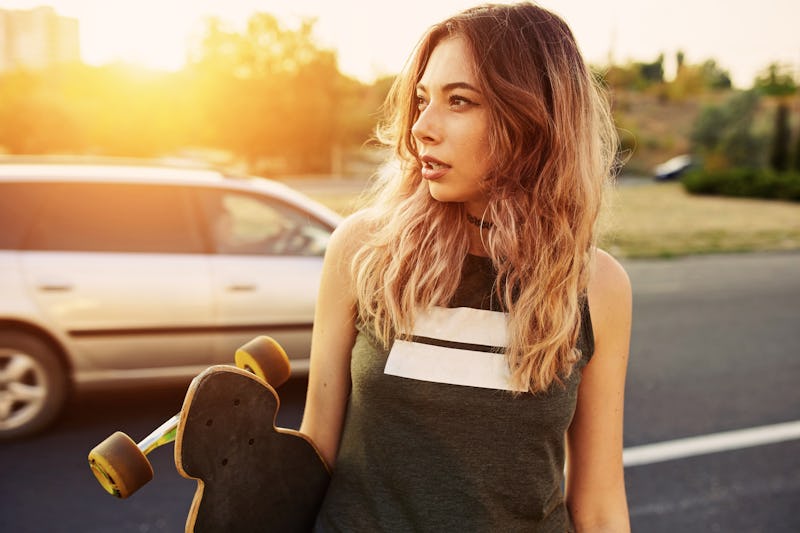 diignat/Fotolia
We're constantly fascinated by what our zodiac sign says about our lives, whether it's which signs are most compatible or how each sign handles conflict in relationships. That's why Bustle has enlisted Mecca Woods, a New York City-based Astrologer of MyLifeCreated.com, to tell us all about how astrology is affecting our lives each day. Today's topic: your daily horoscope for March 10, 2017.
The day doesn't really get started until the Moon in Leo meets up with Saturn in Sagittarius just a few minutes after noon. If we need to dig in and work and handle our business, this Moon-Saturn aspect can be helpful. By the late afternoon the Moon shifts into meticulous Virgo, which should put us in the mood to get things organized and in tip-top shape. When the Virgo Moon stops by for a friendly chat with Mars in Taurus by the early evening, it will be a good time for tackling tough projects or getting anything done that requires focus, courage, and determination. By the late evening, Mercury and Chiron join forces in compassionate Pisces and a little sensitivity goes a long way.
Read below to see what today's stars mean for your sign.
And remember to tune into Bustle's weekly horoscopes video live on Facebook every other Monday at 5 p.m. ET for a rundown of your weekly horoscope.
Aries (March 21 - April 19)
It's time to take those creative urges seriously. You could be sitting on a book, or another major piece of work that could catapult you into the spotlight or take you further than you've been thus far. Financially, it's time to be strategic with how you make your money. Channel a passion into dollars.
Taurus (April 20 - May 20)
You find the inner resolve you need to push past a challenge today, especially when you remember that the source of your true power is you. Don't be surprised if you're inspired to go after something you've always wanted to do or feel like you can conquer the world. Go for it.
Gemini (May 21 - June 20)
You may need to have a talk with a family member, partner, or someone close to you today. Though, don't feel like you need to take the high road or keep how you feel to yourself. If something's bothering you, it's time to speak up and let other know where you stand. All will work out.
Cancer (June 21 - July 22)
If you're on the hunt for a new job, today's a good time to not only get those job applications out, but it's also a good time to connect with people within your network for leads. Tools like LinkedIn or social media can help get the conversation started. Create your own opportunities.
Leo (July 23 - Aug. 22)
You should should be feeling the eye of the tiger today, which could help you to have a milestone day when it comes to your career. Look to ways you can monetize your creativity or take closer steps toward work that offers you more autonomy. Overall, it's all about you.
Virgo (Aug. 23 - Sept. 22)
If you find yourself comparing yourself or your progress to someone else today, stop. Reconnect to your center and remember you're meant to live from the inside out, not the other way around. Ultimately, you're coming back into your own. Don't lose sight of what truly matters.
Libra (Sept. 23 - Oct. 22)
It's time to dial it back a bit today and take some time out for some deeper reflection. Worry less about what you don't have control over and focus more on the things you do. You may find that you have more power than you think. Your intuition is strong now. Honor how you feel.
Scorpio (Oct. 23 - Nov. 21)
Make it a team effort today when it comes to your meeting your goals as aligning yourself with just the right person or people can help open doors for you. Romantically, you win when you and your love break away from the usual routine while single Scorpios learn where to draw the line.
Sagittarius (Nov. 22 - Dec. 21)
As you've been finding out as of late, it's not enough to have big ideas and dreams you have to want to work for them, too. Today, though, you may find that you don't have to push as hard as you have been. Your work is beginning to pay off. Just don't get too comfortable or lazy.
Capricorn (Dec. 22 - Jan. 19)
You may be feeling like you're in need of an escape today and you should totally indulge the craving. You could use some fun and laughter to offset some of the heavier stuff that you've been dealing with. Creatively, you're gold. Engaging writing or another medium of art could be cathartic.
Aquarius (Jan. 20 - Feb. 18)
A home- and family-related matter may take up most of your attention today, namely, when it comes to finances and debt. If your financial obligations have been an issue, reprieve could arrive today. On the flip side, if you're in the market for a new home, you could get just what you want.
Pisces (Feb. 19 - March 20)
If you need to address an issue or subject with your partner today (either in business or romance), you get the green light to kick off the convo, as you two could reach a mutual understanding. If single, get clear about what you want and your boundaries. Find someone willing to do the work.