Here's Your Horoscope For Today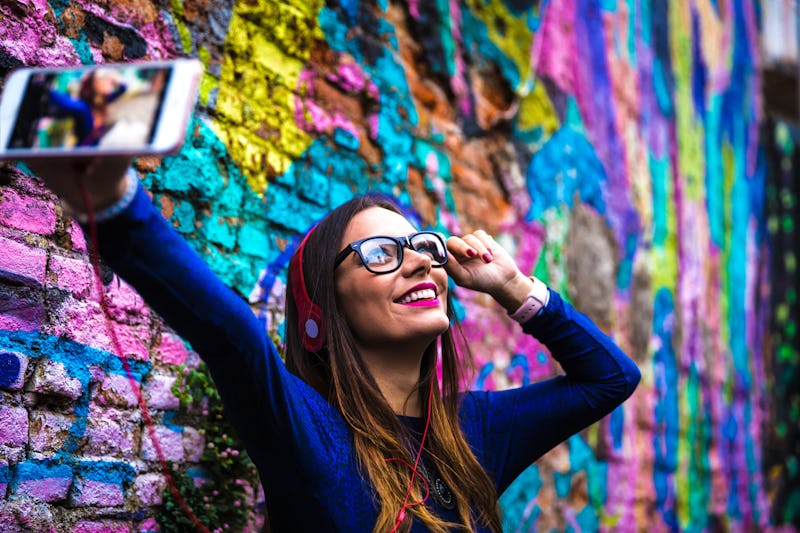 filipefrazao/Fotolia
We're constantly fascinated by what our zodiac sign says about our lives, whether it's which signs are most compatible or how each sign handles conflict in relationships. That's why Bustle has enlisted Mecca Woods, a New York City-based astrologer of MyLifeCreated.com, to tell us all about how astrology is affecting our lives each day. Today's topic: your daily horoscope for May 16, 2018.
The Moon is in curious and chatty Gemini today, putting us in the mood to talk and connect with others. Though how we connect with others may be the issue as aggressive Mars enters unpredictable Aquarius at the wee hours of the morning and spends the day squaring off with unpredictable Uranus in Taurus. As such, this Mars-Uranus combination may have us feeling on edge, creating the right atmosphere for arguments and explosive tempers. Since Mars tends to be quite impulsive, the square-off with Uranus can also create the perfect storm for accidents too if we're not careful.
While we may want to look before leap today, the Mars-Uranus square can be helpful when it comes to breaking free of anything that may be holding us back and taking an outside the box approach to getting what we want. Later this evening, the vibe calms down significantly as the Gemini Moon squares off with dreamy Neptune in Pisces. While this cosmic combination is good for making tough decisions, it is a great combination for catching up on sleep, unplugging and tuning out, and channeling our energy into creative outlets.
Read below to see what the stars mean for your sign today, and check out your May 2018 monthly horoscope.
Aries (March 21 - April 19)
You may be feeling a bit sensitive today around friendship. A group of friends, or a friendship in particular, that you found a sense of belonging with in the past, isn't living up to the hype anymore. In other words, you're changing and your circle of friends needs to change too. Embrace it.
Taurus (April 20 - May 20)
You may be caught between wanting to impress others and wanting to go off and do your own thing, regardless of how other's receive it. When it comes to today, your mission is to do the things that align with your values and your values alone. P.S, you might not value what you did in the past.
Gemini (May 21 - June 20)
How true are you being to yourself right now? As a matter of fact, what is your truth? It's time for you to go off and figure out what that is. It might not be something that you'll accomplish in a day, though when it comes to today, try being as authentic as possible with your passions and feelings.
Cancer (June 21 - July 22)
A sudden expense could through a monkey wrench in your plans today, which might have you in your feelings. Though try not to lose hope as it's only a temporary setback. Besides, being attached to a specific outcome can rob you of the joy of the present moment. Don't follow a template.
Leo (July 23 - Aug. 22)
Is a professional relationship working out the way it should? You might be ready to run for the hills today, especially if your supervisor or someone you work closely with presses the right buttons — your buttons. Though this situation can be helpful in determining what you really want. Tune in.
Virgo (Aug. 23 - Sept. 22)
You may be eager to take on a new idea or to take a different approach in fulfilling an idea that's already in the works. Though when it comes to the details of the project, it's best not to rush through it. At the same time, is it time for a new job? The work environment you're in may no longer fit you.
Libra (Sept. 23 - Oct. 22)
What used to matter to you in intimate relationships, may not matter to you anymore now. Don't be alarmed because it means you are learning to honor your own individual needs. You might be pushed to honor those needs today where a romance is concerned. Creatively, take a risk.
Scorpio (Oct. 23 - Nov. 21)
You and your partner, a family member, or someone you live with may get under each other's skin today. If there's been something brewing beneath the surface between you, it could come spilling out today. Though this may be necessary to draw better boundaries or release toxic family dynamics.
Sagittarius (Nov. 22 - Dec. 21)
It might feel like you're moving at the speed of light today. Though you may need to pace yourself so you don't get overwhelmed. At the same time, it may help to switch up or change the way you normally do things so you can be more efficient with your time. If you need help today, ask for it.
Capricorn (Dec. 22 - Jan. 19)
You might be in the mood to splurge on yourself today, especially in the name of fun, but take care that you don't make the mistake of overspending. Meanwhile, a creative idea or story that you're working on could bring you some extra income. In love, be open to someone different.
Aquarius (Jan. 20 - Feb. 18)
There's very little than can get in your way today, except you. As such, it's time to work on breaking free of the past or your family's demands so you can have more freedom to do what you want to do. Not that you should shirk your close relationships, but it's time to think about you for a change.
Pisces (Feb. 19 - March 20)
You may be feeling anxious or unable to sit still today. This means that you're going to have to focus on activities or meditations to help you get centered and calm. Spending time with family or close loved ones can help you too. Don't be shy about saying what's on your mind either. Be heard.